HOUMA – A first-of-its-kind ship for the offshore wind industry wasn't halfway built when an order for a second one came in to Edison Chouest, a Houma shipbuilder that has for decades specialized in vessels that service the offshore oil and gas industry.
And things are just getting started. Standing under the towering unfinished frame of the 262-foot-long Eco Chouest, company vice president Robert Clemons predicted even more ship-building contracts as wind turbines begin sprouting in U.S. waters.
"They're going to need 15 or 20 of these things over the next 25 years," he said. "And they're going to need whole flotillas of other assets to supply the industry."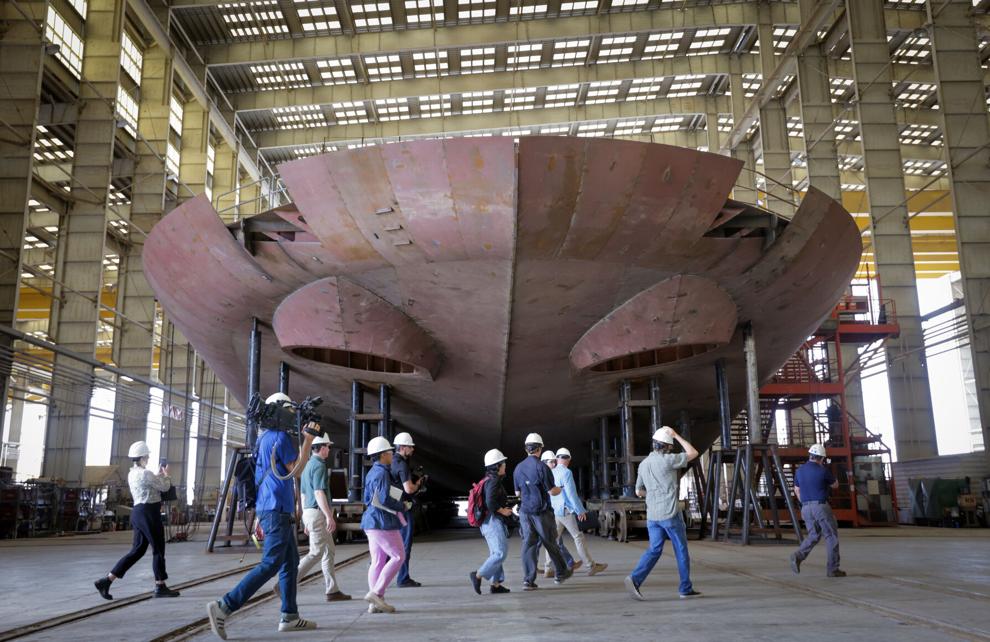 The Eco is the first offshore wind service ship built in the U.S. Once completed next year, the vessel will serve as a "floating hotel" for 60 technicians who will maintain the dozens of turbines planned or under construction on the East Coast, Clemons said.
While no wind farms have been built in the Gulf of Mexico, the region is already benefiting from the East Coast wind boom. That's because many of the skills needed in the Gulf's offshore oil and gas industry are directly transferable to building and servicing wind farms.
Louisiana companies helped build the U.S.'s first offshore wind farm, a five-turbine project that began operating off the coast of Rhode Island in 2016. The Block Island Wind Farm enlisted steel fabricators in Houma, ship operators in Galliano and engineers in Mandeville.
Constructing the Eco has employed more than 220 people at the 600-employee LaSafe shipyard on the Houma Navigation Canal. Edison Chouest wouldn't give an exact dollar figure, but Clemons estimated that the ship cost "many tens of millions" to build.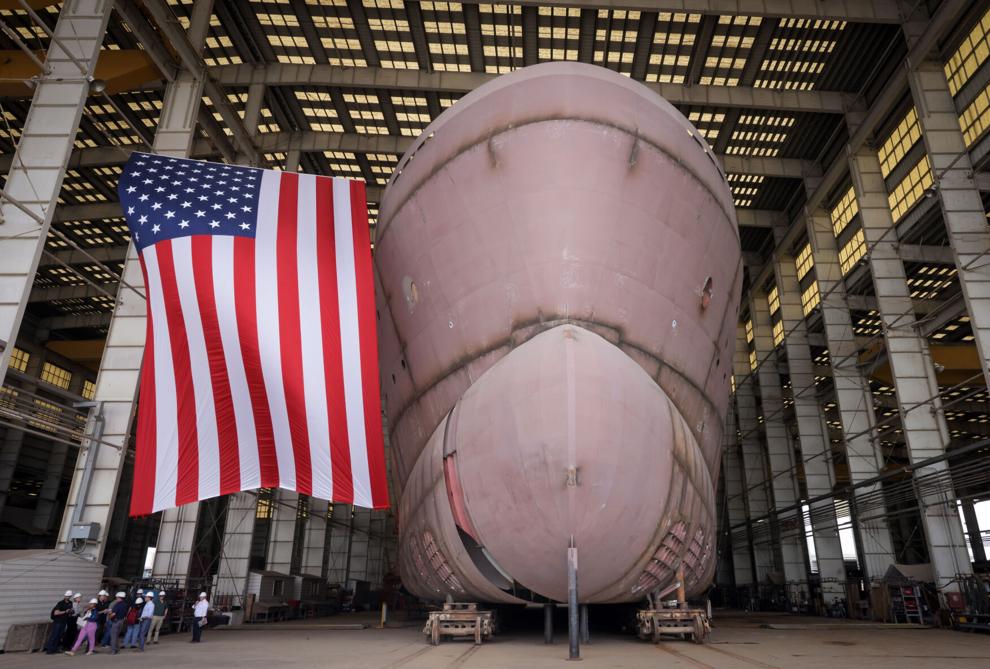 "This is an amazing advancement," said U.S. House Majority Leader Steve Scalise, R-Jefferson, after touring the shipyard on Tuesday. "Wind is the newest form of energy we will dominate. We need to open more of it."
The ship is designed with egg beater-like propulsion units that allow it to ease up to turbines and then deploy a gangway that automatically adjusts itself to the rough conditions far out at sea.
"The ship comes up alongside and the techs just walk to work on the the windmill," project manager Whit Carter said.
Turbine maintenance workers in the U.S. currently use small, unstable boats and have to climb wet, slippery ladders to access turbines.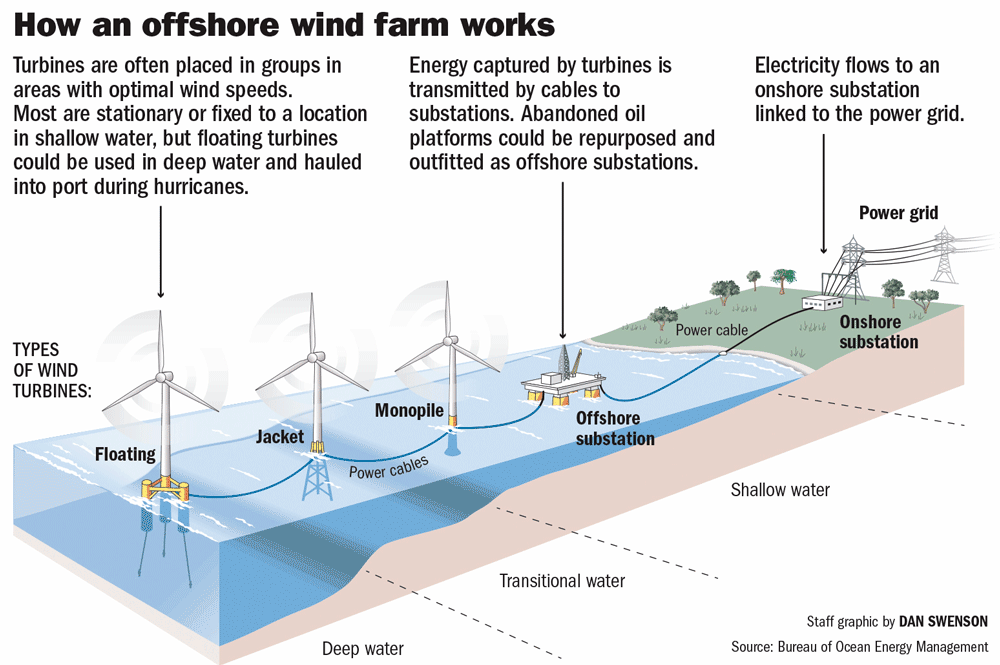 Worker comfort and safety was paramount in designing the ship, Carter said. Many workers and its crew of 23 will likely spend two weeks aboard the ship during maintenance rounds. Most of the bedrooms are for a single occupant. Shared spaces include a gym, cinema, video game room and even a "fire pit lounge."
"This is not your grandfather's oilfield," Clemons said.
Companies that offer cramped vessels with few amenities have a harder time competing for workers, he said.
Edison Chouest will contract the boat out to Orsted, a Danish offshore wind developer, and Eversource, a Connecticut-based energy company. Orsted and Eversource are teaming up on the Revolution, South Fork and Sunrise wind projects off the coasts of New York, Connecticut and Rhode Island.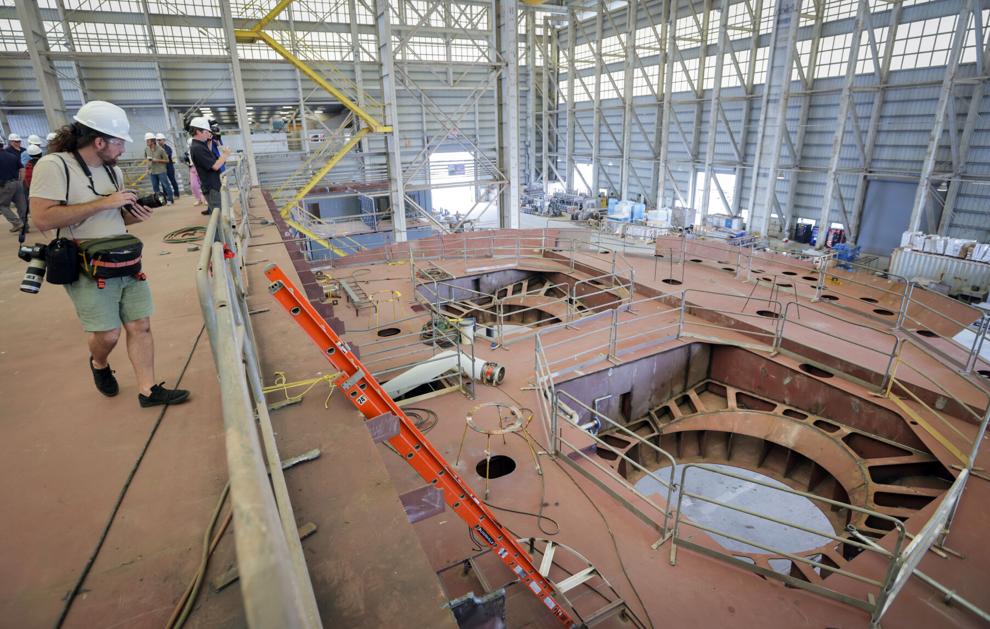 The shipbuilder recently agreed to build a similar vessel for Equinor, a Norwegian energy company looking to build wind farms off the coasts of New York, Massachusetts and California.
Clemons pointed to four smaller vessels in the shipyard that are bound for East Coast wind projects. One supply ship that once served oil rigs has been retrofitted for wind farms.
Opening more federal waters to offshore wind is part of a push by President Joe Biden's administration to generate 30 gigawatts of offshore wind power by 2030. Europe, which has had a 30-year head start developing offshore wind, plans to generate twice that much over the next eight years.
The administration recently delayed plans to begin leasing the Gulf's federal waters for wind projects to accommodate new oil and gas drilling.
Citing potential conflicts with the Gulf's other uses, including the oil and shipping industries, the administration in February decided to cut the Gulf's planned wind energy development areas by two-thirds.
Wind development on the West Coast recently jumped ahead of the Gulf Coast. In December, while the Gulf auction stalled, BOEM sold off five lease areas near California.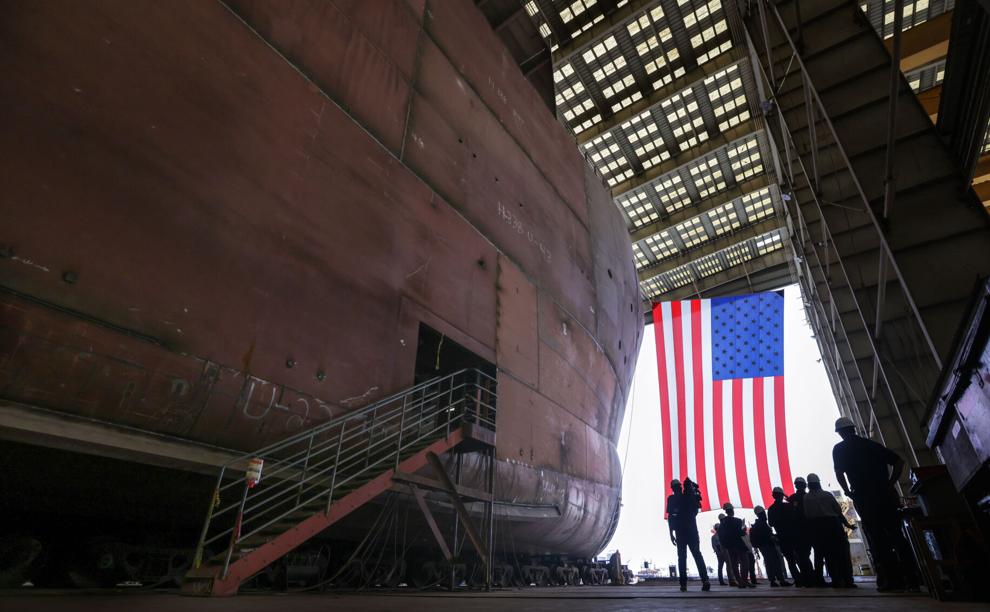 Barring any more slowdowns, wind farms could begin taking shape in the Gulf in 2030.
The Gulf's two proposed lease areas, which would occupy about 200,000 acres near Lake Charles and Galveston, Texas, could generate enough electricity for about 1 million homes, according to the U.S. Bureau of Ocean Energy Management.
Even if wind development is slow to take shape in the Gulf, the region is already benefiting, Scalise said.
"We can be exporters of this innovation," he said. "We can build the vessels but also the turbines and the foundations."
He stressed that the growth of wind energy doesn't mean Louisiana's ties to oil and gas have to fray.
"This is about greater energy independence from adversarial countries like China and Russia," he said. "We need more energy. All forms. Every kind we can find."
Louisiana is losing land at a rate of a football field every 100 minutes. The causes are varied: rising sea levels, erosion from oil and gas canals, land subsidence, hurricanes, and river levees, which prevent sediment from rebuilding coastal floodplains.
President Joe Biden's administration is tapping the brakes on offshore wind energy development in the Gulf of Mexico to make way for a new fas…