Musicians travel many roads to reach New Orleans. Mahmoud Chouki traveled more than most.
Born and raised in Morocco, he excelled on traditional and modern stringed instruments and performed throughout the Arab world and Europe.
Six years ago, he landed in New Orleans and found a new home.
He now teaches music at French immersion school Lycée Français de la Nouvelle-Orléans and collaborates with New Orleans jazz musicians.
The latest example of that collaboration is his new single, "Mahmoud's Blues," which pairs the traditional blues form with a Moroccan rhythm and melody. "Mahmoud's Blues" arrives via digital music platforms Thursday, the same day Chouki performs at 12:40 p.m. on the New Orleans Jazz & Heritage Festival's Lagniappe Stage.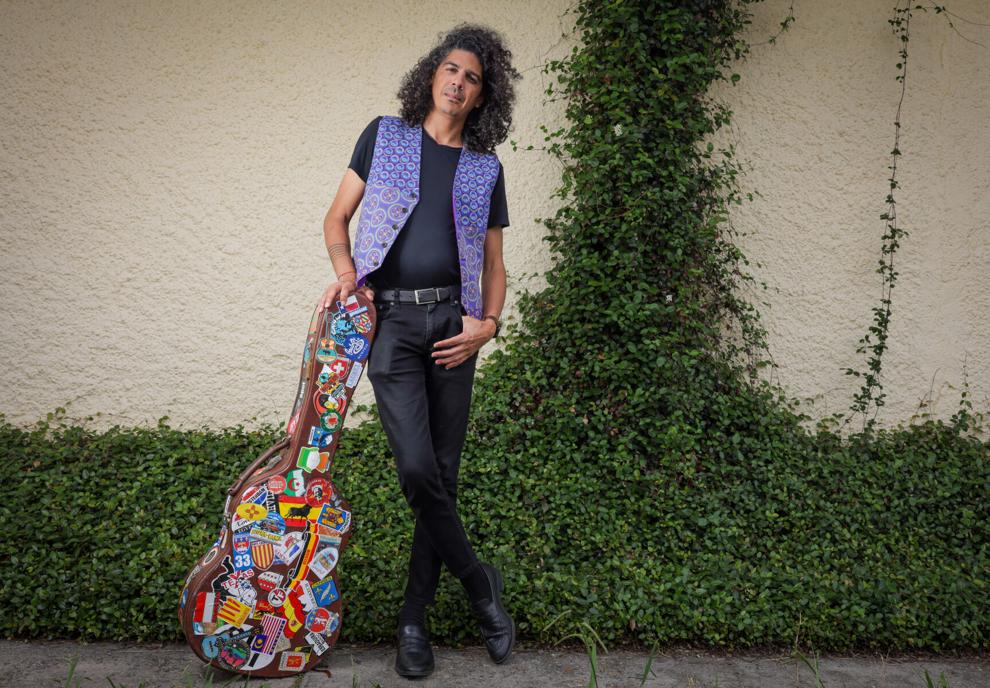 This summer, he plans to release a full album, "Love Letter to New Orleans," on the New Orleans Jazz Museum's Gallatin Street Records. A documentary about the cross-cultural recording is also in the works.
"People will hear a version of New Orleans music by a Moroccan guy," he said.
"It's a collaboration. Me bringing some new spice to the New Orleans gumbo, but also being inspired by the music here. It was a beautiful exchange."
A rock star in the UAE
Chouki grew up in Larache, on Morocco's northern Atlantic coast. With Spain just across the Straits of Gibraltar, he soaked in flamenco music and Spanish radio and TV channels. Chouki's mother listened to Egyptian and Lebanese singers; his father favored Neil Young, Cat Stevens and the Beatles.
At 7, he enrolled in a music conservatory, studying music theory and guitar. When his family moved to Temara, he commuted to Morocco's highly competitive national conservatory of music in the nearby capital, Rabat.
Initially, he adhered to a regimen of classical notes. When he was finally allowed to strum a chord, he was overjoyed.
At 14, he represented Morocco at a regional gathering of musicians in the United Arab Emirates. Flush with $1,000 in spending money and a gold watch courtesy of the emir, he got a taste of the rock star life.
In high school, he took up the electric guitar, cranking out Santana, Dire Straits, Nirvana, Metallica and the Red Hot Chili Peppers.
At 18, as a member of the conservatory's guitar ensemble, he traveled to Spain for an international guitar competition. He won with a traditional flamenco piece.
"I played it my way," he recalled. "The president (of the competition) said, 'You won because you're crazy. You played a traditional song from Spain in your way.'
"From that moment, I started playing music my way."
A New Orleans connection
After graduation, he worked briefly as a teacher, then quit to travel around Morocco and learn more traditional instruments. They inspired him to compose, which classical music didn't.
Travel and music, he realized, were his calling.
"I never wanted to be famous or rich. I want just to travel and play onstage. I'm the happiest guy when I'm playing music on a stage.
"I still have this happiness. I want to preserve that."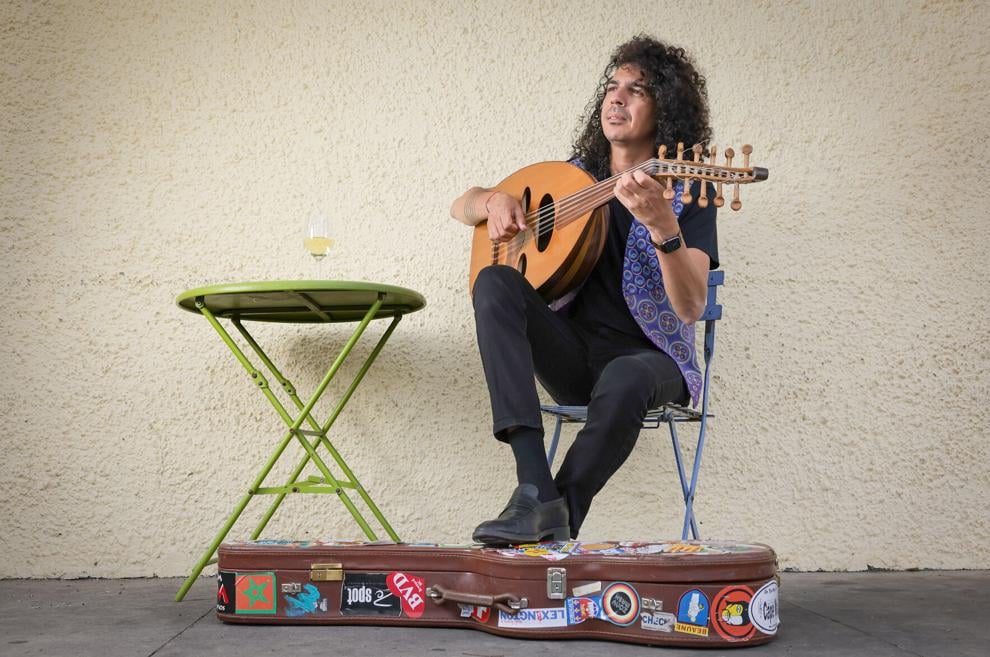 He and his now-ex-wife first came to New Orleans in 2015 on a pilgrimage to Southern music cities: Nashville, Memphis, Austin, New Orleans.
The planned three or four days in New Orleans stretched to two weeks. Despite not speaking any English at the time, Chouki felt welcomed. After hearing jazz guitarist Brian Seeger on Frenchmen Street, he thought, "I would love to play this music one day."
He bought a CD from Seeger and gave him a business card. Seeger, a University of New Orleans music professor, invited Chouki over for shrimp Creole.
"What impressed me was that Mahmoud was searching and looking to make his own path, while also being deeply interested in the indigenous music of his homeland," Seeger said. "He had the opportunity to just go be a classical guitar professor, but knew that there was more.
"Plus, he's just a very charming individual. He brings a great joy and passion to his musical endeavors."
Not the 'exotic guy'
By 2017, Chouki had moved to New Orleans. The lute-like oud and loutar may not be native to the city, but he found roles for them.
"That's what I love about New Orleans: you became part of the music scene from Day 1," he said. "I don't want to be the exotic guy, the ethnic guy. I hate that stuff. That's a Western thing: 'You're different!'
"Music is music. I'm not appropriating the music of New Orleans. When I touch my instruments, it's how I feel New Orleans music."
Jamison Ross, the jazz drummer and vocalist who produced "Love Letter to New Orleans," suggested Chouki play a blues with the oud. The result was "Mahmoud's Blues."
Elsewhere on the album, local vocalist John Boutte sings "Treme" accompanied by Chouki's oud. His loutar joins Dr. Michael White's clarinet on Sidney Bechet's "Egyptian Fantasy." The loutar is propelled by New Orleans jazz great Herlin Riley's drums on Duke Ellington's "Caravan."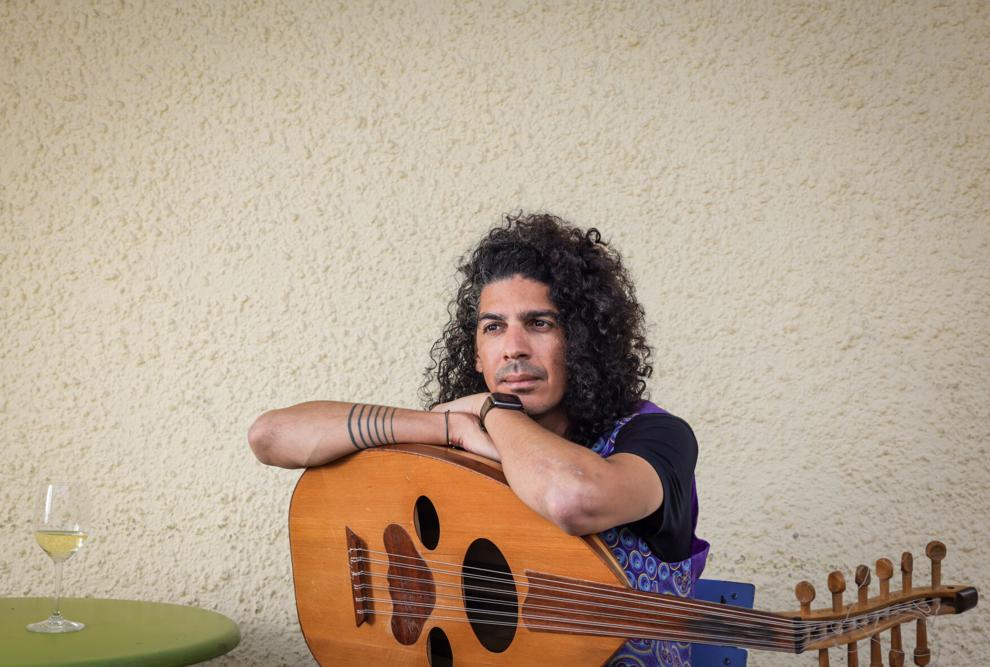 Chouki plays oud alongside Jason Marsalis' vibraphone on the Ellis Marsalis composition "Angelica" and on a solo rendition of "St. James Infirmary" sung in Arabic.
"It sounds very natural on the oud," he said. "I want to meld my culture with New Orleans. I don't want to appropriate or change anything. It's just my vision of the music I want to play here."
At 38, Chouki's wanderlust is not entirely gone. During the pandemic, he drove through 40 states.
"I'm a traveler. I will leave New Orleans at some time and go to another place. But I want to leave a souvenir here."
Or a "Love Letter to New Orleans."