When the giant fiberglass cow was spirited away from Saia's Super Market in the dark of night last month, it actually wasn't the first rodeo for the well-known bovine, which is about as iconic as iconic gets in Mandeville.
The cow, which stands perhaps a dozen feet tall and has graced Saia's parking lot on busy Florida Street since the late 1970s, had been purloined once before, maybe a couple decades ago, and deposited in front of another grocery, Saia's manager Natalie Lott said.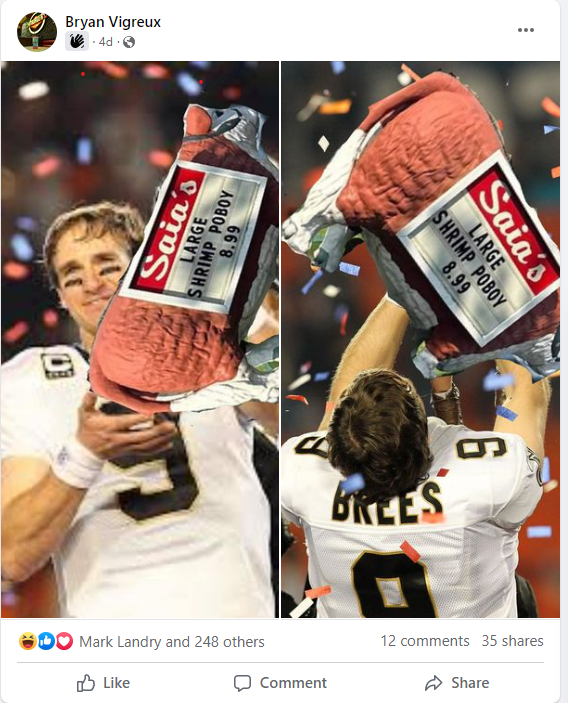 But that was pre-internet. And this most recent theft – a prank, the store owner thinks – is proof that the quote so often attributed to Andy Warhol is right.
Especially in these times of Instagram, Facebook and Twitter, 15 minutes of fame is a mere keystroke away.
Saia's cow has become a social media sensation.
No sooner had Mandeville police wrangled the cow on the lakefront that a Facebook group, "Saia's Cow Sightings," was being populated with pictures of the cow, it's well-worn "LARGE SHRIMP POBOY 8.99" sign affixed to its bellow, in all manner of settings.
Harry Potter riding the Saia's cow during a rousing game of Quidditch. Bob Ross painting the cow. The cow on the bowling lane in a scene from "The Big Lebowski," and taking up the middle square in "The Brady Bunch" TV show intro.
Even the Saia's cow on Mars — sitting in the parking lot of a Dollar General store.  
"It's really taken off," Lott said. "We've had so many calls. A lot of people think we did it on purpose!"
Lott laughed.
"No," Lott said, perhaps anticipating the next question. "We're just not that smart."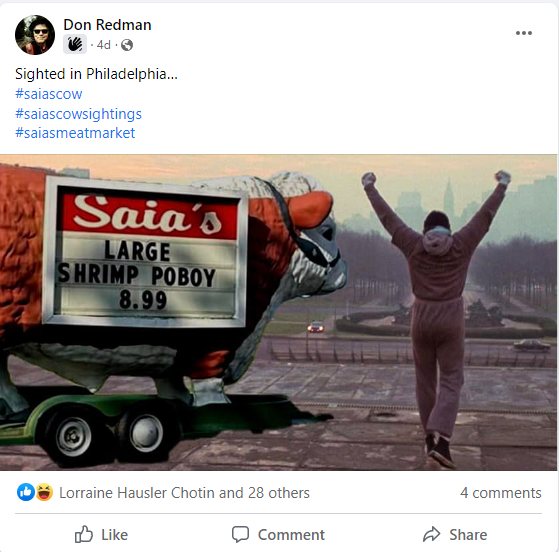 Jessie Whiteman of Mandeville started the Facebook group with a handful of memes to get a laugh from his friends. It caught on from there and has more than 4,000 subscribers now.
Saia's has been open since 1977. The former owner of the store bought the cow from a defunct steakhouse chain in 1979, Lott said.
The cow was rustled away from the store's parking lot sometime in the pre-dawn hours on May 25, the work of a group of kids with mischief on their minds, authorities said. Police found it hours later, where it had been dropped off on Lakeshore Drive, which runs along Lake Pontchartrain and attracts big morning crowds of walkers, runners and bicyclists.
Clearly, a message was being sent. Police have not announced any arrests and Lott said the store's owner isn't pushing things.
"It was a prank," she said.
One other thing: While it's widely become known as "Saia's Cow," the beast is actually a "beef steer," its former owner, Vincent Saia, told Lott.
"It's a lot of B.S. is what it really is," Saia's owner Alan Tyrone said with a chuckle.
Next stop on the fame train?
"We gotta find a name for it," Lott said. "Maybe we oughta have a contest."
Oh, and some minds might be interested in that $8.99 shrimp po-boy. It's delicious.