Lauren Daigle feared New Orleans had turned against her.
While writing her new, self-titled album, she invited producer Mike Elizondo and several co-writers to visit her adopted hometown.
On the first night, they walked through a misty rain to Frenchmen Street and watched a brass band busking on a corner.
A passing car slowed to a crawl. As a dark-tinted window rolled down, Daigle felt a flicker of unease. She was born in Lake Charles and grew up in Lafayette, but has spent enough time in New Orleans to recognize both the charm and the danger.
Are they about to witness a drive-by? she thought. Don't let this be the New Orleans they see the first night.
A trumpet, not a gun, poked out of the car window. As its owner riffed in tune with the brass band, Daigle breathed a sigh of relief and her guests got a taste of New Orleans magic.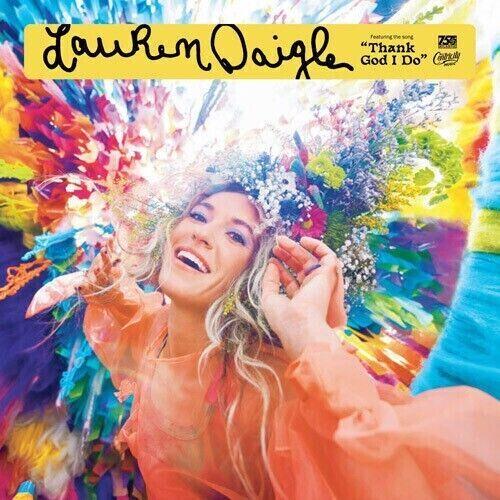 "Mike said that was the moment that the entire record changed for him," Daigle recalled. "It was completely revolutionary for him to experience that. It was pivotal."
She has often repeated the Frenchmen Street story while promoting her new album. Just as the incident was pivotal to the album's creation, the album itself is pivotal to her career.
It was released May 12 via a new joint venture between independent, Nashville-based Christian music label Centricity Music and Atlantic Records, home to everyone from Cardi B to Led Zeppelin.
The success of her 2018 Centricity album "Look Up Child" and its powerhouse ballad "You Say" anointed her contemporary Christian music's biggest star — the so-called "Christian Adele" — and introduced her to a mainstream pop audience.
The goal with "Lauren Daigle," her fourth album overall, is to build on that crossover success. Its eponymous title signals a reintroduction and rebirth.
That rebirth took root in New Orleans, not without some hard lessons along the way.
Moving to New Orleans
Two weeks before the release of "Lauren Daigle," the album's 31-year-old namesake was at her parents' house in Lafayette. They moved into it in the early 2010s, around the time Daigle left Louisiana State University to chase her dreams to Nashville.
So even though this wasn't her childhood home, "I feel like I grew up here in my 20s," she said during a Zoom interview. "This, in a weird way, has become my childhood home because of how much life has happened here just in the past 10 years."
A lot of life happened that very day. Following an afternoon crawfish boil, she headlined Festival International de Louisiane in downtown Lafayette.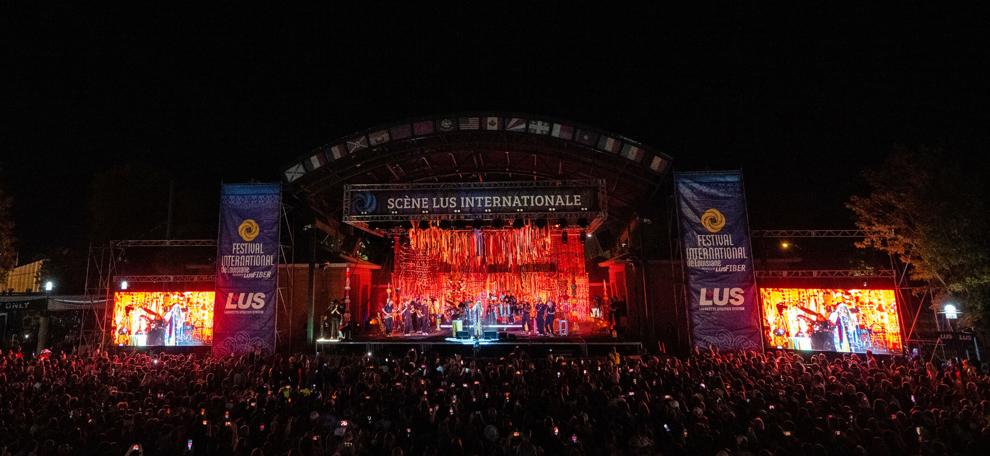 "I grew up going to Festival International. It shaped me musically. It taught me what I love about my culture (and) how to celebrate other cultures."
Including New Orleans culture, from Black Masking Indians to her pals Jon Batiste — who contributed melodica to her new song "Saint Ferdinand" — and Troy "Trombone Shorty" Andrews.
Prior to making her New Orleans Jazz & Heritage Festival debut in 2019 at the Gentilly Stage, she worried that everyone would be at the opposite end of the Fair Grounds waiting for Katy Perry.
"Right before I went out, I asked my manager, 'Did anybody show up? I just have to brace for impact if there's only a few people.' I'm always the one who's on the outside of how known I am. I kind of like it that way."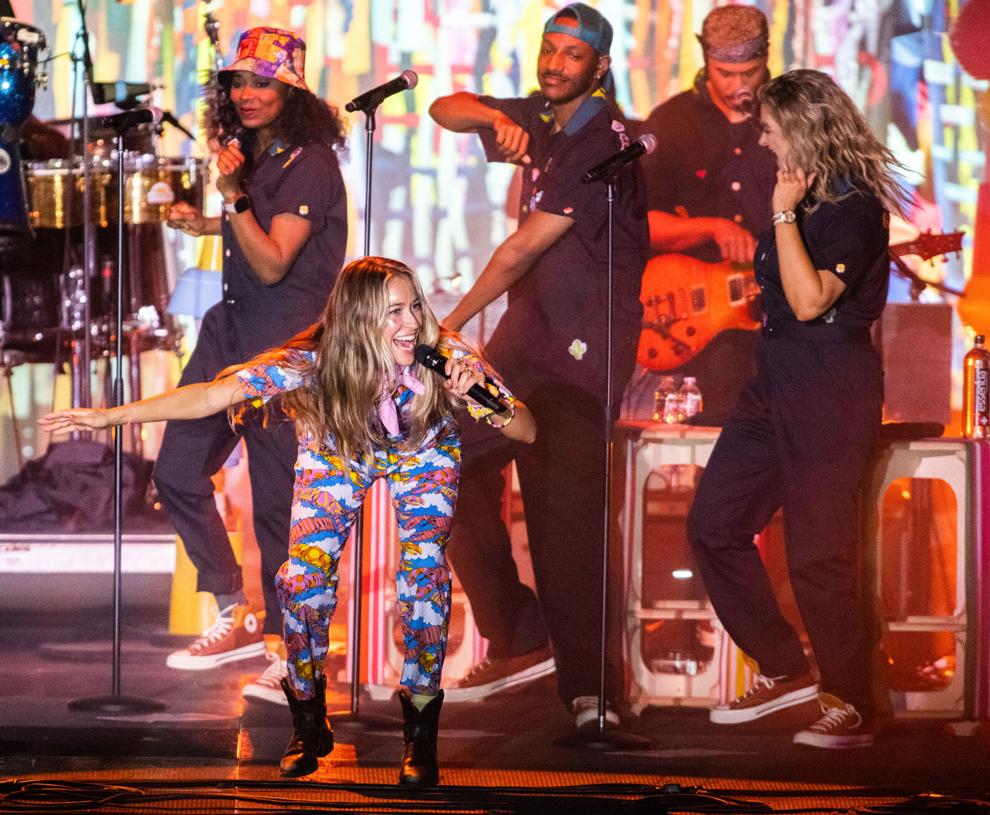 To her relief, the crowd filled the entire Gentilly Stage field.
"I remember thinking, 'This is the turn of something.' It wasn't just, 'Oh, there's a lot of people here.' It was the city coming out and supporting me and being part of my journey. It was life-changing."
Months later, in early 2020, she left Nashville and bought a place in New Orleans.
"Lafayette's always going to be my true home. But I remember dreaming as a child, 'Someday I'll move to New Orleans.' It's the place that just makes me come alive. So New Orleans is home."
An accidental firestorm
Her local residency got off to a rough start. First, the pandemic pulled the plug on essentially everything. And then Daigle found herself at the center of an accidental firestorm.
On Nov. 7, 2020, with the city still on COVID lockdown, she made a brief, unannounced appearance at controversial California-based worship leader Sean Feucht's "Let Us Worship" rally near Jackson Square.
The blowback for this unpermitted gathering of several hundred unmasked worshippers was swift, sharp and largely directed at Daigle. Mayor LaToya Cantrell criticized her profusely, even after Daigle met with the mayor to try to smooth things over.
"Someone once told me, 'True freedom is giving people the permission to misunderstand you,'" Daigle said. "That was the essence of that entire debacle.
"I learned how corrupt things are, unfortunately. I had to find that out the hard way. I would (be lying) to say I didn't come home and put the sheets over my head and just lay there for a couple days."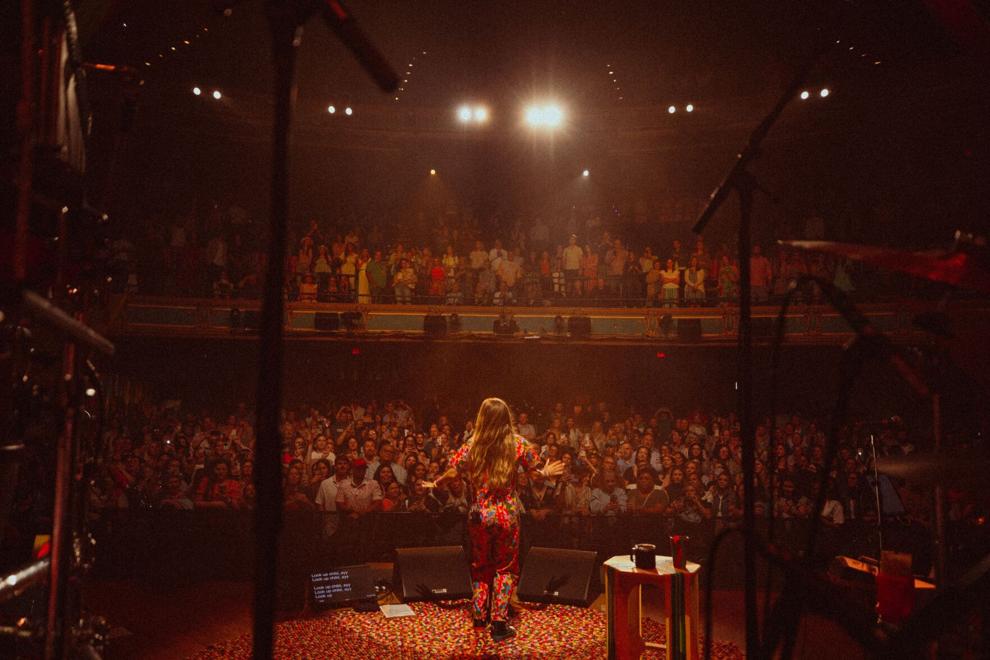 But she also received support. "The people that came up to me when I went to the grocery store or walked down the street ... the hate paled in comparison to the amount of love. There's a lot more love than hate, even though the hate might seem louder."
Having learned a lesson about the increased scrutiny that comes with increased fame, she adjusted accordingly.
"The reality is, it just made my voice stronger. If I'm going to be under this level of scrutiny, it better be for stuff that I really want to stand up for."
Inspired by adversity
While in high school, Daigle spent nearly two years quarantined with a weakened immune system after contracting cytomegalovirus. Her illness, and the voice lessons she took during her isolation, were formative experiences.
So, too, was the pandemic. Daigle caught COVID in late 2021 and, according to a recent New York Times profile, suffered migraines for months. Post-virus, she grappled with panic attacks and paranoia, and started going to counseling.
But she also found a creative spark.
"I found myself longing for New Orleans to come alive again. In that longing (was) so much of what I wrote about. The more I sat and just observed, the deeper the places I was able to write from."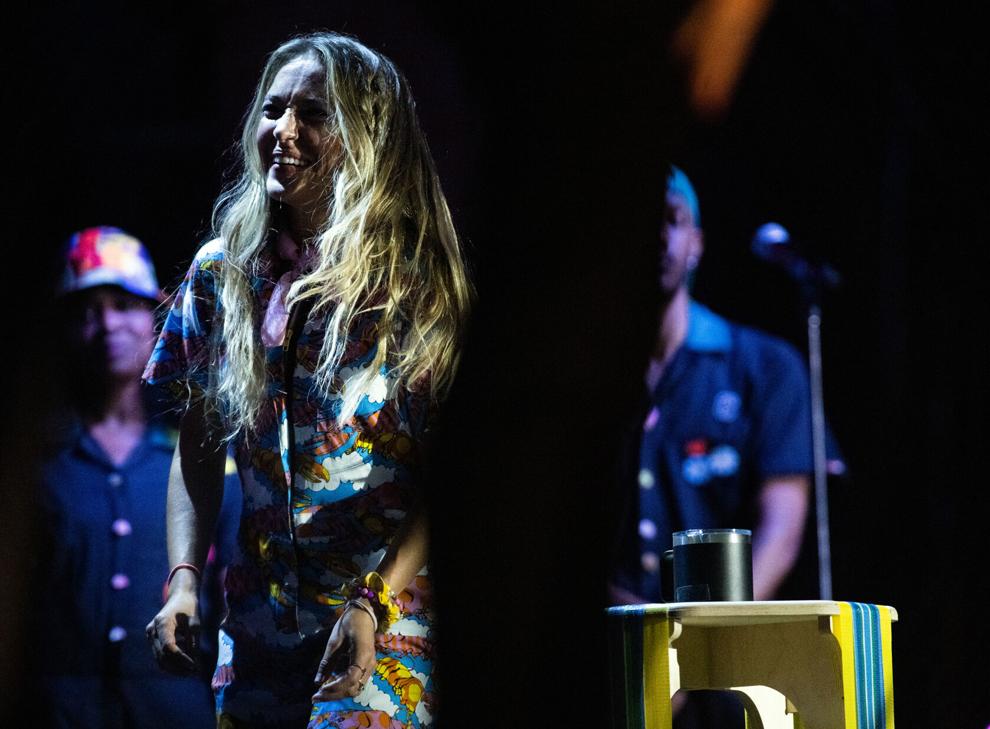 Her new album's first single, "Thank God I Do," is a logical successor to "You Say." Both songs are slow-burn ballads that showcase Daigle's potent alto with lyrics that invite either spiritual and secular interpretations.
Over a bed of piano and strings, she sings, "It's been a hard year/so many nights in tears/All of the darkness, trying to fight my fears ... alone/So long alone."
The narrator finds strength in someone — maybe Jesus, maybe a romantic partner. The song's video, shot partly on the streets of New Orleans, is a technicolor dream of colorful stoops, doorways and florals, a visual representation of rebirth.
"The city became such a place of rejuvenation for me, even during COVID and the intensity of that time. The sound of silence was absolutely crushing. There's nothing like that feeling of seeing someone play the trumpet on the corner again. I will never forget the way that impacted me."
Strategizing with producer Elizondo, a protégé of hip-hop mogul Dr. Dre who has worked with Eminem, Ed Sheeran, 50 Cent, Mary J. Blige, Carrie Underwood, Twenty One Pilots and many others, Daigle said, "I don't want to make a record that sounds 'soul-ish.' I don't want to make a record that is 'horns-ish.' I don't want anything to be 'in the relative idea of.' I want it to be the thing.
"It was really important for this record to hold some sounds of the city and for the people who were making it with me to understand where I came from, why I love this culture, why these musicians are so special to me."
Which is why she brought Elizondo and her co-writers to New Orleans for four days. They ate Daigle's home cooking, patronized shops and galleries on Royal and Magazine streets and wrote songs.
"The city made such an impact on them. It was every single thing that I had hoped would come out of the trip."
Loving her back
She was so energized and ecstatic that she finished a second volume of 10 songs, which is slated for release this fall.
How all this music will be received by both Christian and crossover audiences is anyone's guess.
"You never know," Daigle said. "It's the weirdest thing. People always say, 'Did you plan 'You Say' (to be a hit)?' No way. I wrote that four years before it ever came out."
This summer and fall, her Kaleidoscope Tour — named for her song "Kaleidoscope Jesus" — will visit arenas across the country, including Bossier City's Brookshire Grocery Arena on Sept. 7 and Baton Rouge's Raising Cane's River Center on Sept. 8.
Before the release of "Lauren Daigle," she showcased its 10 songs at a handful of intimate, informal shows, including April 30 at New Orleans' opulent Orpheum Theater.
On a stage draped in colorful fabric, her musicians sported matching black coveralls and purple Converse high-tops, contrasting with Daigle's kaleidoscope coveralls.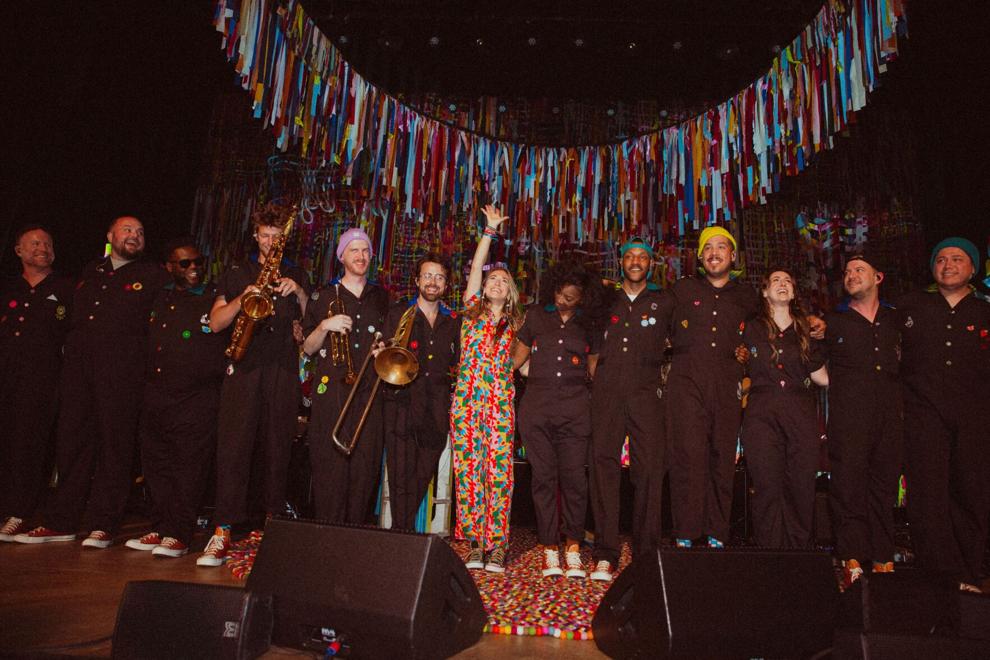 Between sips from a striped plastic cup — sourced, she noted, from Mardi Gras World — she was as disarmingly vivacious, unselfconscious and relatable as ever. Her hairstyle was "put it in a braid when it's wet and that's what you get."
She praised the local Roots of Music and KID smART programs, recipients of a share of more than $2 million her philanthropic Price Fund has distributed.
She told stories about each new song, most of which she designated "one of my favorites." She wrote the chorus of "Valuable" in the parking lot after a counseling session. "Don't Believe Them," with its mallets on the drums, "is a song that scares me to sing ... a song that makes my insides quiver."
Her burnished alto hinted at Lauryn Hill in the chorus of the horn-spiked "New." "Waiting," with its throwback Amy Winehouse vibe, "is what I've always wanted to sound like."
After performing the new album, she encored with "You Say" and "How Can It Be." But her fans wouldn't leave, shouting and clapping for more.
After a few minutes, she and her band returned to the stage and solicited song suggestions for a second, impromptu encore. They settled on "Rescue," "Look Up Child" and a final "Tremble."
"This," Daigle gushed, "is why I love music."
At that moment, there was no question that New Orleans was loving her back.