The New Orleans Jazz and Heritage Festival's Congo Square poster may be a relic of the past.
Starting in 1991, Jazz Fest produced both a standard annual poster and a Congo Square poster that celebrated the continued African influence in modern music. But there's been no Congo Square poster since 2018.
The Congo Square poster was inspired by the early 19th-century gathering place of enslaved Black people just outside the French Quarter. Historians credit the music shared at Congo Square with the perpetuation of African musical customs into the era of jazz and rhythm and blues music.
The historic Congo Square site is located on North Rampart Street in Armstrong Park, which was the original location of Jazz Fest before it relocated to the Fair Grounds racetrack. One of the current Jazz Fest stages is also called Congo Square.
The 27 Congo Square posters featured Black musicians such as Jon Batiste, Ernie K-Doe and Philip Frazier, rendered by artists including Brandan "BMIKE" Odums, Richard Thomas and Terrance Osborne. The most recent Congo Square poster was a Big Freedia portrait in 2018 by Kevin Brisco Jr.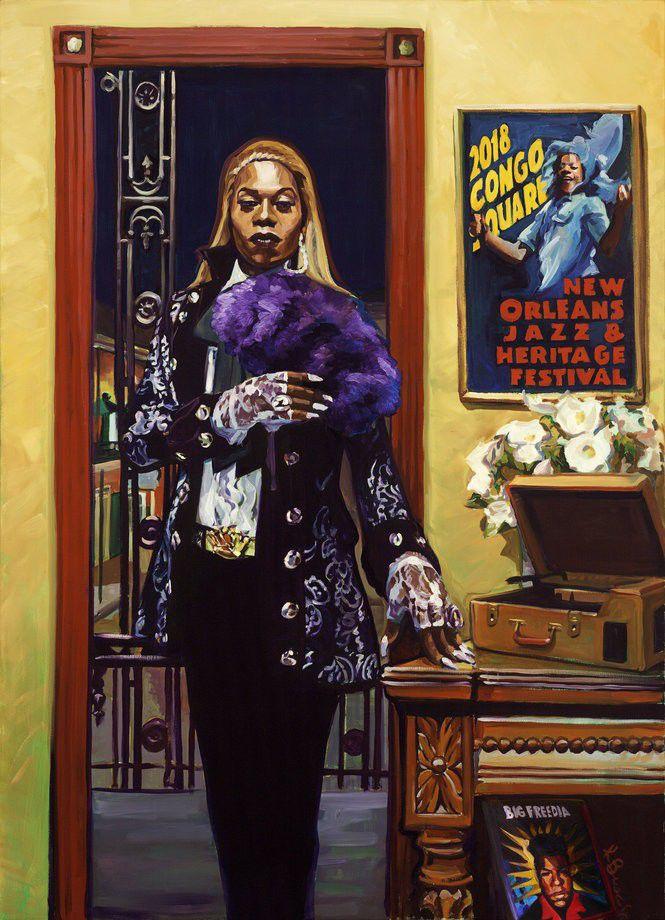 Jazz Fest's 50th anniversary in 2019 apparently led to the suspension of the Congo Square series. That year, the standard Jazz Fest poster by artist Scott Guion included scores of renowned New Orleans musicians dating back a century. According to Jazz Fest's poster publisher art4now, that all-encompassing collection of stars satisfied the need for a second poster.
As art4now explained via email: "The Congo Square poster series was suspended in 2019, when art4now published the monumental 50th anniversary poster celebrating the history of the Festival and the breadth of New Orleans music, which by its nature telescoped the legacies of both the Classic and Congo Square poster series."
Though the COVID-19 pandemic caused the cancellation of Jazz Fest for the next two years, art4now optimistically produced standard Jazz Fest posters. But the Congo Square poster remained on hiatus.
As art4now put it: "The 2020 and 2021 pandemic-related Festival cancellations necessitated a singular focus."
The Congo Square series did not make a comeback in 2023. According to art4now, "the Congo Square poster series may resume, but we cannot project a specific year at this time."
Go ahead and add outstanding inspirational speaker to Jon Batiste's list of talents. Fresh from a triumphant performance at the recent New Orl…
Aerosol painter and political activist Brandan 'BMIKE' Odums is New Orleans' most famous artist. He's the dude who orchestrated the incredible…