When you visit Google.com, you're greeted with the iconic red, blue, yellow and green letters that spell 'Google.'
Sometimes the word features art commemorating a special holiday, person or event.
On June 6th, we'll learn if a Gretna student's artwork could grace the site.
At 13 years old, Annalise Perez is a nationally recognized artist.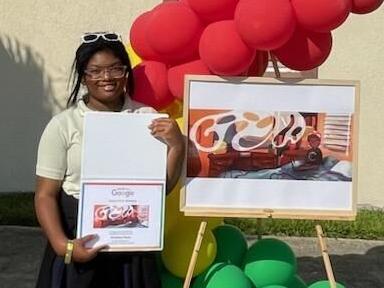 "I've been doing art for a while," Perez said. "My dad is really focused on art, so I got that from him."
Perez submitted a design in the "Doodle for Google" competition. The theme was "I'm grateful for."
Perez said her artwork features her in her room.
"I was thinking about a lot of stuff, and I was like out of all those things the thing I'm most grateful for are the quiet, serene moments," Perez said.
After Perez was selected as the best design from Louisiana, the public weighed in.
"I felt like a politician. I was asking for votes from everyone," Perez's mom, Janine Clarke, said.
Perez racked up the votes and she placed in the top five nationally.
When Google called Clarke, she was surprised.
"They didn't say what they called about, they were just like this is so and so from Google. We have news," Clarke said.
All the time Perez spends drawing on her tablet is literally paying off. She was awarded a $5,000 college scholarship for placing in the top 5.
If she wins first place, she'll walk away with a $50,000 tech package for her school, Young Audiences Charter School, and a $30,000 college scholarship.
Clarke said that's really exciting news for Mom.
"I am glad she's being recognized for her talents. She does not show it off enough, and she's very humble with it," Clarke said.
In fact, when we asked Perez what's next for her and her art, we learned she's a young woman of many talents.
"I do still want to pursue art, but it may not be my main focus going forward," Perez said.
Perez said theatre may be her main pursuit as she starts high school. Regardless, she's already in the spotlight.
The national winner is announced on June 6th, and then their art is displayed on Google.com for 24 hours.