Hey, you there! Yes, you! Drop that floaty, lower those sunglasses and set down that beer.
The 16th Annual Bayou Boogaloo starts today, which obviously means it's time to party, but not before you prepare.  
This year's Bayou Boogaloo has several new features, including a comedy tent, a crawfish eating contest, a sober safe spot, a prize for the best barge, and a late-night silent disco. And, to everyone's delight, tickets are cheaper this year. 
Here's what else you need to know before you go.
Times and tickets
The festival takes place on Friday from 4:30 p.m. to 9:30 p.m. with the silent disco until 11 p.m. And on Saturday and Sunday from 11 a.m. to 9:30 p.m., with the silent disco until 11 p.m.
Tickets are $25 per day, and $45 for a three-day pass. Three-day VIP passes are $220. Kids 12 and younger are free.
According to a Boogaloo spokesperson, 2023 regular admission is slightly lower than last year, when daily tickets were $30 and 3-day passes were $55.
Regular-priced tickets are required for boaters and floaters, who may enter the festival site at Lafitte Street or Dumaine Street (river side). Passage under the Dumaine Street bridge will not be prohibited, as it was last year. Those nautical designers who plan to launch homemade barges will also be required to leave a $100 deposit, which will be refunded upon the user's removal of the barge. Barges enter at the Lafitte Street launch.
Buy tickets here. 
Parking
Several businesses surrounding the bayou are opening their parking lots to festival goers as paid public parking. 
Here's where to find those lots:
The Cannery, 3803 Toulouse Street: Due to street closures, the best way to access Toulouse Street is via N. Scott Street. or N. Cortez Street, which can be reached from Bienville Street, or the lake side of Orleans Avenue.
401 N. Norman C. Francis Parkway
Deutsches Haus, 1700 Moss Street: The best way to access this lot is to come from Esplanade Avenue or Desaix Boulevard. A free shuttle runs between this Deutsches Haus and the festival. 
While there is some legal street parking available in the surrounding neighborhoods, it's limited. Tickets are frequently issued throughout the weekend for failure to observe signage or the required distances from driveways, corners, and fire hydrants and for parking against the flow of traffic. Bayou Boogaloo organizers recommend careful observation of all parking laws. 
Handicapped parking will be available at Armstrong Supply, 3600 Orleans Avenue. Vehicles must have the proper handicapped identification for access.
No parking is allowed on the grass surrounding the bayou. 
Weather forecast 
As the New Orleans area enters its usual summer weather pattern, scattered showers and thunderstorms can be expected most days, the National Weather Service of New Orleans said Thursday. 
Forecasters say temperatures will likely rise into the upper to mid 90s this weekend, and there's a marginal risk of severe thunderstorms Saturday afternoon and evening. Large hail and damaging winds are possible, forecasters say, and "a tornado cannot be ruled out." 
Wear sunscreen and drink lots of water.  
Music
Festival goers can expect a lineup of mostly local musical talent, including Juvenile, the Rebirth Brass Band, Boyfriend, Bonerama and People Museum, on three stages.
Find the full music schedule here.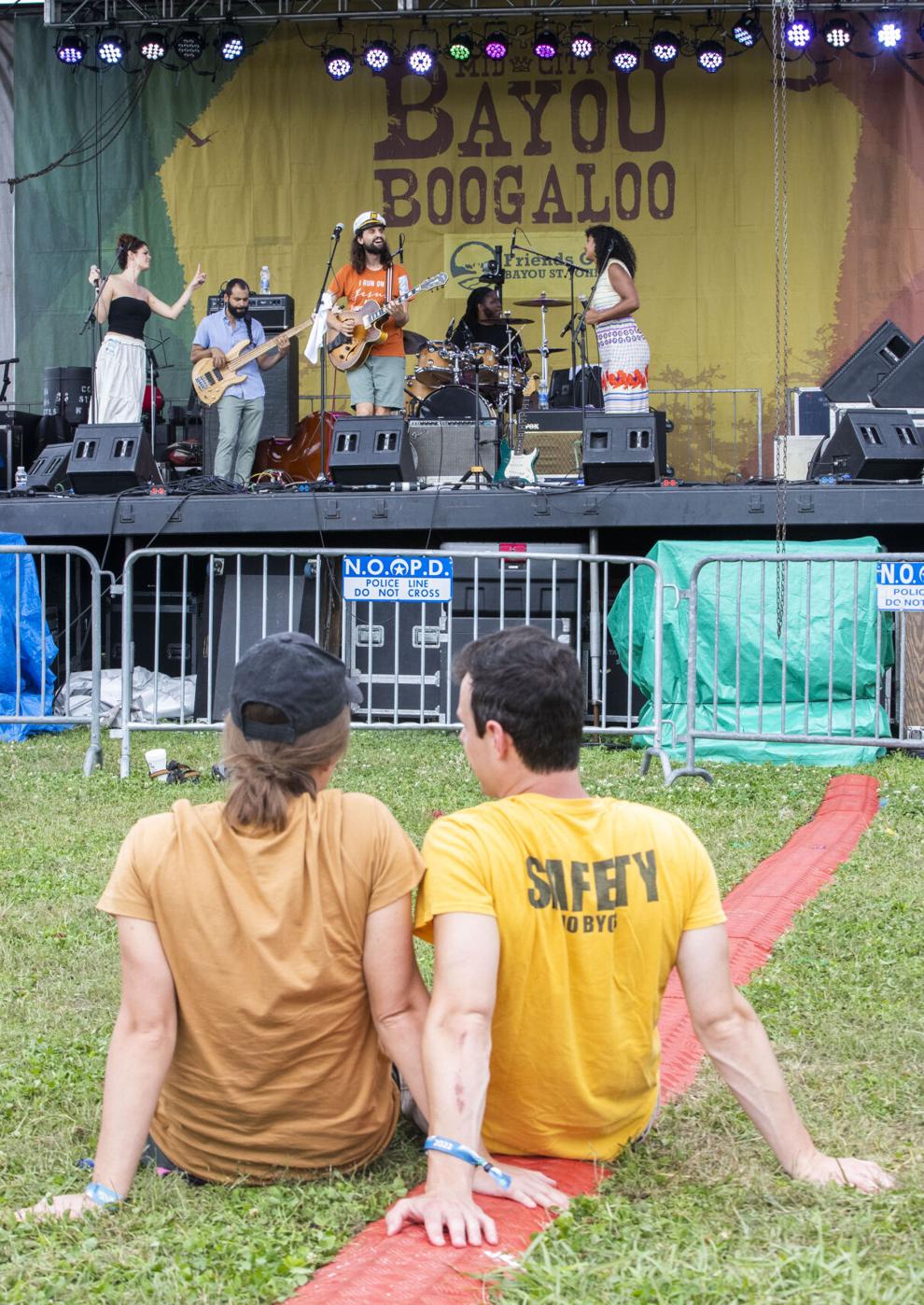 What to bring and what to leave at home 
Bring: 
Single, collapsible chairs. 
Empty, 12-pack-sized soft coolers. 
Wheelchairs, medical scooters and strollers. 
Sealed water bottles. 
Leave at home: 
Dogs and other pets. 
Personal transportation devices, such as bikes and scooters are not allowed on festival grounds. 
Wagons, pull carts and rolling bags. 
Tents, tarps and beach umbrellas. 
Snacks and drinks. 
Drugs and weapons. 
Water rules 
The Bayou Boogaloo website has said in years past that "it is not technically safe to swim in Bayou St. John due to wildlife (hello, gators!) and sharp, dangerous debris that lives at the bottom. We highly discourage swimming. There are no life guards on duty."
Rafters who build their own floats are required to register and submit a $100 deposit, which will be refunded upon the user's removal of the vessel and materials from the bayou. Barges are required to have official Coast Guard sticker, which is provided by Friends of Bayou St. John once the deposit is paid.
Barges are launched on the south end of Bayou St. John, near the intersection of Moss and Lafitte Streets on Friday, Saturday, and Sunday mornings between 9 and 11 a.m.
Other boating rules: 
Only flotation devices designed for outdoor water activities are allowed.
No motorized vessels.
No littering.
All vessels must have lifejackets for those on board.
Those under 16 are required to wear lifejackets at all times.
No glass containers. 
All vessels are subject to inspection by law enforcement. 
All children under 12 must be accompanied by an adult.
No floating vendors.