Alligators are a common sight in and around Louisiana's waterways, but the extremely rare white alligators can only be found locally at Audubon Zoo and at the totally reimagined and redesigned Audubon Aquarium that opens June 8, in New Orleans.
The Zoo is home to two white alligators – Two-Spot, who is 35 years old, and Victor, who is 12. Both have leucism, a rare condition that results in the alligators having translucent white skin, deep blue eyes and a hint of pigmentation around their bodies. Leucism differs from albinism, which results in pink eyes and no pigmentation at all. Experts believe there are only a handful of white alligators in the wild, although it is difficult to determine an exact number since young leucistic alligators are easy for predators to find because they lack protective coloring.
Dominique Fleitas, Assistant Curator of the Louisiana Swamp Exhibit and Jaguar Jungle at Audubon Zoo, spoke to us about Two-Spot and Victor and what makes them favorites of staff and visitors alike.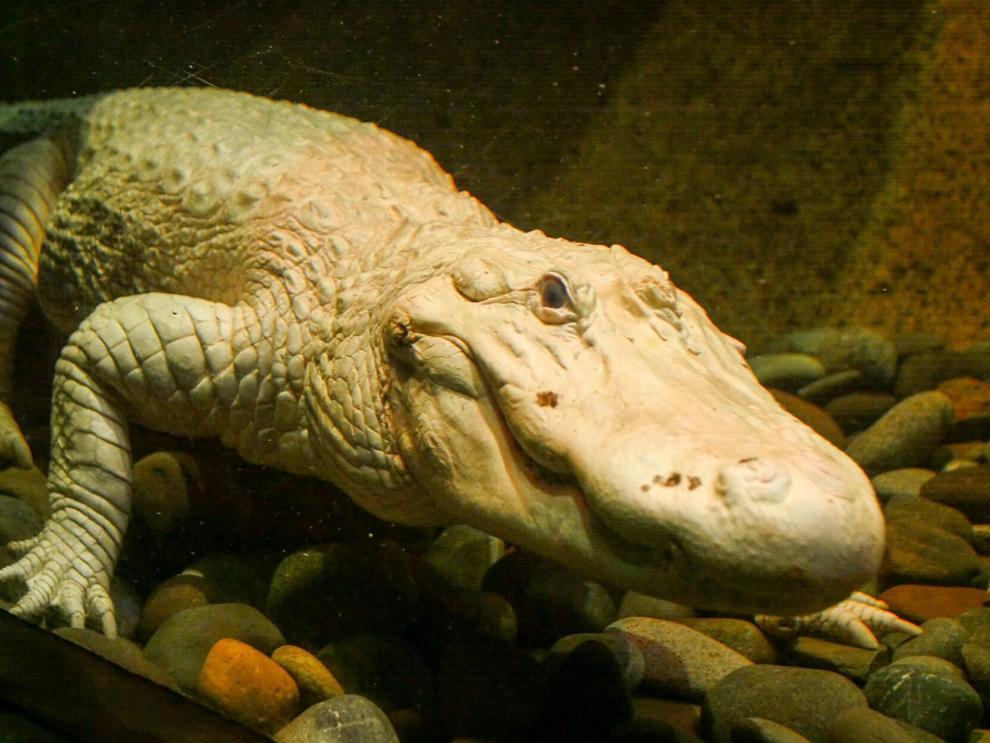 How would you describe the white alligators' personalities?
Two-Spot is older and more chill. You'll usually see him on the dock in his habitat. He's a great animal to work with during training. He's always very respectful and calm. Victor is much younger and, as is typical of gators of his age and size, he's more energetic. He's the one that's swimming around and moving back and forth around the habitat. He's great with the trainers as well. It's always a treat to work with both of them.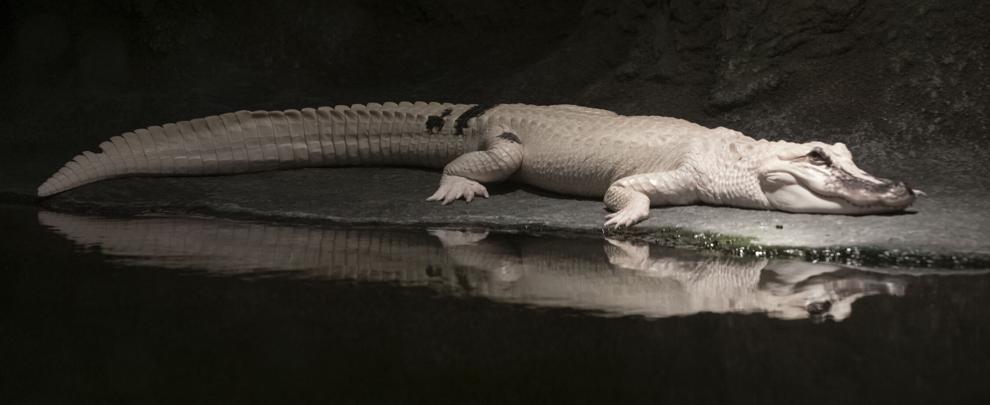 What types of food do they eat and how often do they eat?
Both of our white alligators eat quite a bit. Because they live in an indoor habitat with a temperature-controlled pool, we feed them year-round. They don't have to eat every day, so they usually have one big meal each week or two smaller ones if we are doing training sessions. They like to eat a variety of meat, beef steaks, chicken that has been cut into quarters, fish such as mackerel and trout, and frozen whole quail that has been defrosted. Similar to our other animals, they also sometimes get a special biscuit that's made just for their species and has a lot of vitamins and nutrients.
What kind of habitat does Audubon Zoo provide for the white alligators?
Both of them live in an indoor habitat that is temperature-controlled. We've found that this is the most effective way for them to avoid getting sunburns. The water in the habitat's pool is kept around 84 to 85 degrees and the building is at about 80 degrees. The gators love it when it's nice and warm and humid.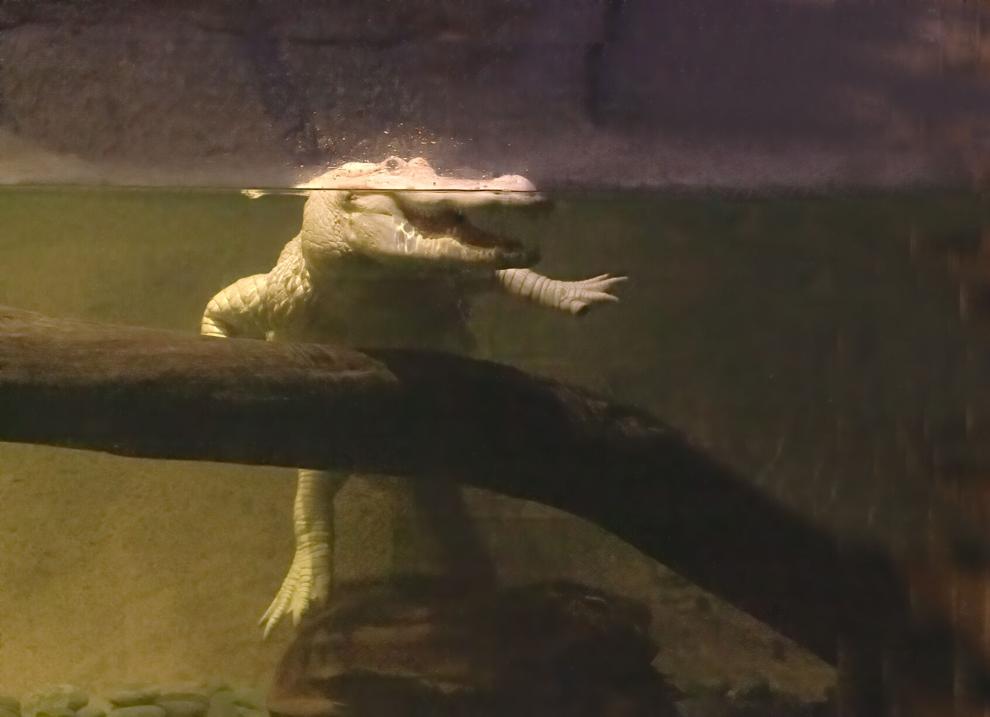 How do the white alligators interact with Audubon Zoo visitors?
Two-Spot has been here a long time, so he's used to visitors and enjoys people coming up to him. He likes to sit front and center and observe everything. Victor really likes to follow people around. If you're walking by his exhibit and catch his eye, he'll stay close because he's very curious about what people are doing.
In general, what is the status of alligators in the wild?
Fortunately, alligators are no longer endangered in the wild. At one point, they were threatened with extinction because of overharvesting. Since then, there have been a lot of efforts around the world to improve their numbers. Many alligator farms have permits to collect and raise eggs and they are obligated to release a certain amount of them into the wild based on the alligators' size. There are many organizations and agencies that are constantly monitoring the numbers and it's great to see that the alligator population has recovered.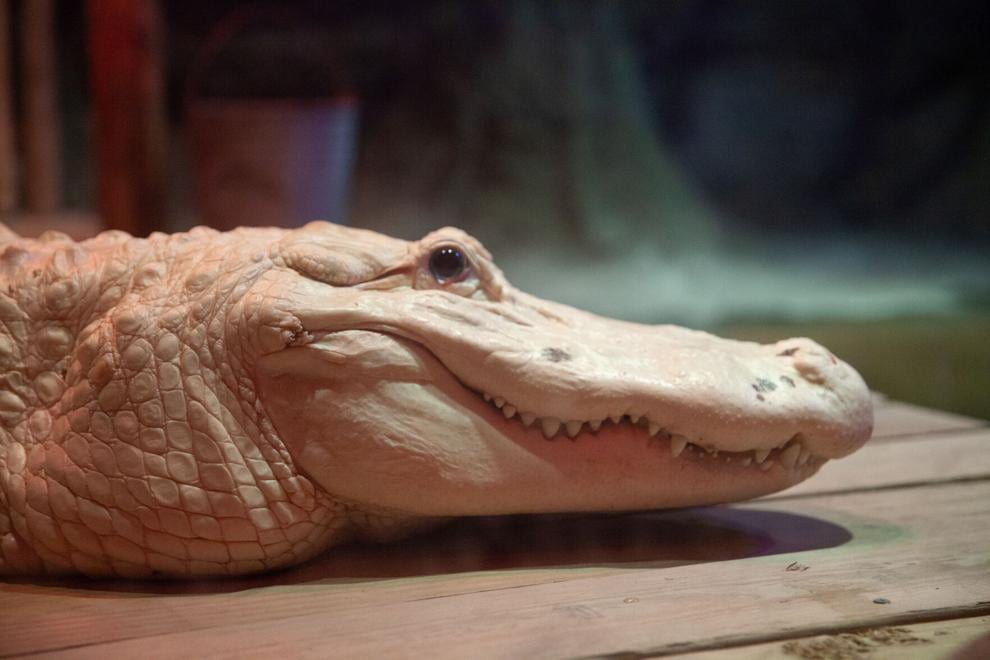 Want to visit?
The spring is a great time of year to visit the white alligators at Audubon Zoo. The Zoo is open daily from 10 a.m. 5 p.m. through Labor Day. Visit www.audubonzoo.com for information on tickets, free parking and planning your Zoo trip.
The best value if you plan on visiting the Zoo more than once or plan to visit Audubon Aquarium and Audubon Insectarium after they open on June 8 is to purchase an Audubon Membership. In addition to unlimited visits, Members enjoy discounts at Audubon gift shops, concessions, special events such as Zoo-To-Do and Zoo-To-Do for Kids, Zoo Camps, and much more. For a full list of benefits and to find out how you can become a member, visit www.audubonmembership.com and save.