If you hear the Audubon Zoo staff talking about blondes and brunettes, there's a good chance they are discussing the spider monkeys that call the zoo home. Six spider monkeys live at the zoo, with three having darker fur (aka the brunettes) and three with lighter fur (aka the blondes). The reason for the different fur colors is largely unknown, although researchers believe it may be because of genetics and sunlight exposure.
We spoke to Dominique Fleitas, assistant curator of the Louisiana Swamp Exhibit and Jaguar Jungle at Audubon Zoo, to learn more about the spider monkeys and what is being done to protect them in the wild.
Tell me about the spider monkeys at Audubon.
Brock is our only male. He is 30 years old and has lived here since 2018. The other five are females. Topaz is also 30 years old and has lived here since 1997. Tazo is 36 years old and has lived here since 2010. Teresa and Tille are both 27 years old and have lived here since 1997. Tea is our youngest at 17 years old and has lived here since 2010.
How would you describe their personalities?
The brunettes are very chill and easygoing. They enjoy training and spending time with their keepers. The blondes are always checking things out and are a little more willing to get into monkey antics. Tea will sometimes start doing alarm calls, which are high-pitched calls to get the other monkeys' attention, either for no reason at all or for very trivial reasons. When that happens, Brock will come running to take care of things. Since he is the only male, he is the dominant and protective one.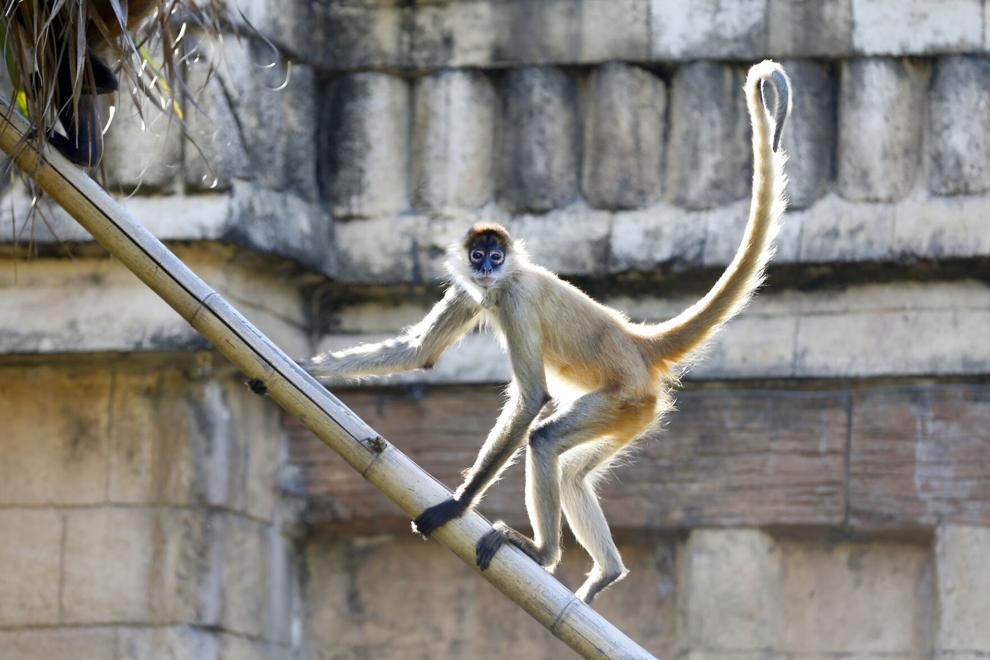 What kind of food do they eat?
Their diets include greens, fruits and vegetables. We change it day to day so they don't eat the same thing all the time. One day, they might get a lot of spinach. The next day, it might be leafy greens like kale and romaine. It's usually a rotation of things like green beans, corn, carrots, apples, pears, peas, sweet potatoes and peppers. We also give them specially formulated biscuits with protein, vitamins and nutrients. We also have high value items for them like yogurt, peanut butter or plain Cheerios. Those are used for enrichment or training.
What kind of training does the Audubon staff conduct with the spider monkeys?
We do a lot of activities that let them participate in their medical treatment. Being able to ask them to come to us and stand on a scale is really important because we like to track their weights. Brock in particular likes to steal food, so we make sure his weight is not getting too high. We also work with them on receiving hand injections. Every animal here gets a big physical at least every two years. Whenever possible, we work with them to take an injection to make that process easier.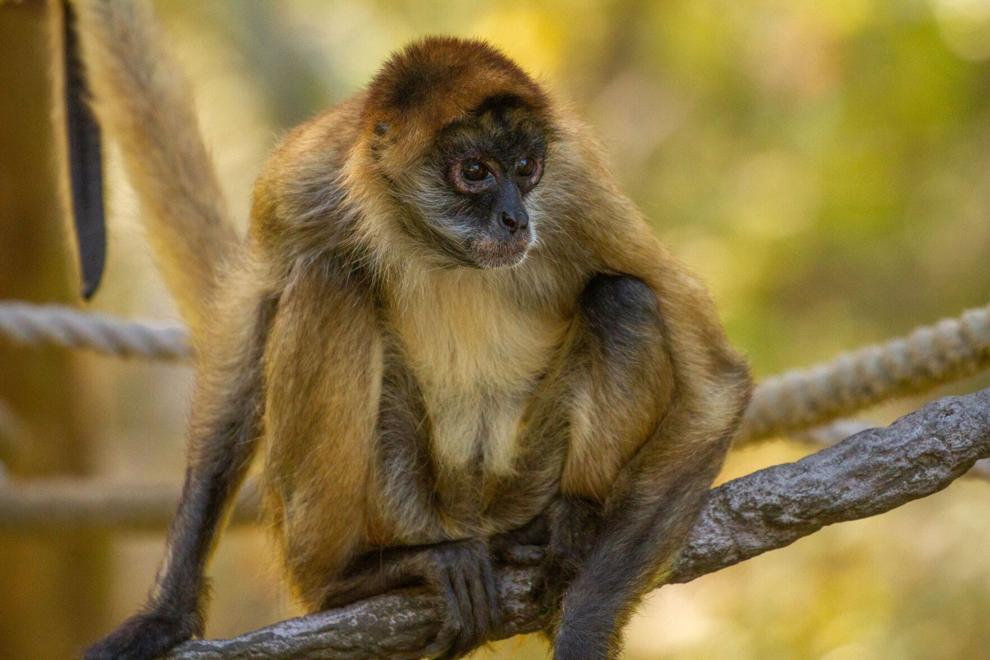 How would you describe their habitat at Audubon?
They have an island in Jaguar Jungle with palm trees and big columns that are designed to look like a Mayan temple. This allows us to change the configuration of their ropes every so often so it doesn't get boring for them. There is a little water in front of the lagoon and they like to hang out at the edge. Like most primates, spider monkeys are afraid of water, so they will drink the water or put two feet in and leave two feet on the land, but not submerge themselves. Their habitat also includes a building with multiple dens. They go into that at night quite a bit and sometimes during the day. During bad weather, we'll move them in there.
Their habitat is actually getting an upgrade. We've been working hard on erosion control and the expansion will aid with that and provide them a good area to explore.
Do the spider monkeys enjoy visitors?
They don't try to get attention, but they like knowing they are being watched and people are interested in them. If a big group stops by them and then walks away, they'll look in their direction to see where they went. Whenever we go for an extended period of time without visitors, like after a hurricane, we'll see them peeking around a lot because they are looking for people.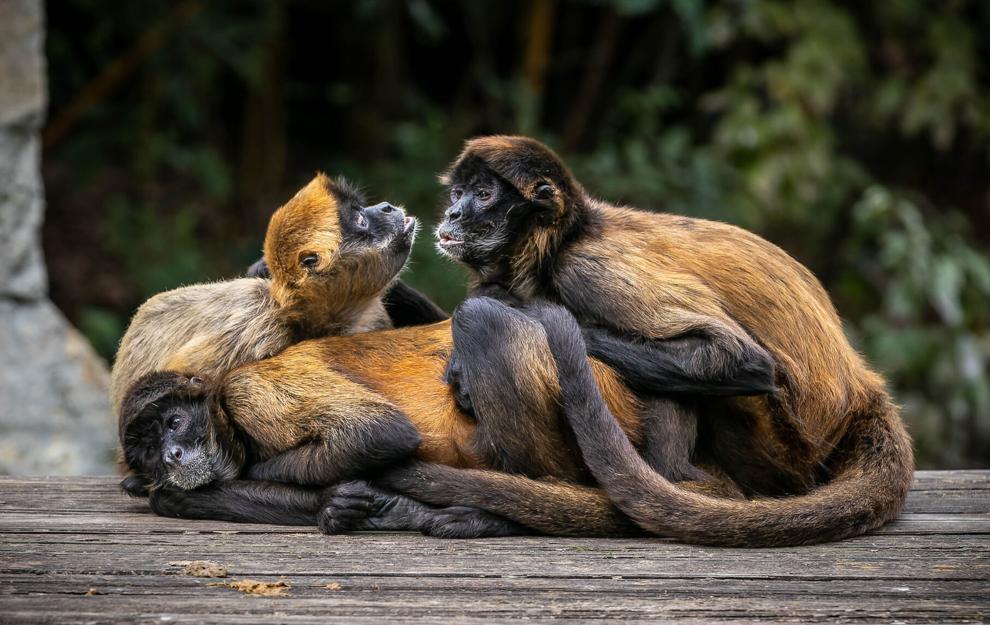 What is the status of spider monkeys in the wild and what kind of conservation work is Audubon doing in this area?
They are considered endangered. Their habitats are experiencing deforestation and degradation, so they are feeling those effects. Here at Audubon, we are fortunate to partner with the Max Planck Institute on a project to do regular studies to see how primates use their native habitats, what they are foraging for, how their diets change as they lose land, and how they are utilizing their space. That helps us understand what we can do with our own spaces and share the message more broadly about preserving those spaces in the wild.
Want to visit?
The spring is a great time of year to visit the spider monkeys at Audubon Zoo. The Zoo is open daily from 10 a.m. to 5 p.m. from now through Labor Day. Check audubonzoo.com for information on tickets, free parking and planning your Zoo trip.
The best value if you plan on visiting the Zoo more than once or are planning on visiting Audubon Aquarium and Audubon Insectarium later this year, is purchasing an Audubon Membership. In addition to unlimited visits, Members enjoy discounts at Audubon gift shops, concessions, special events such as Zoo-To-Do and Zoo-To-Do for Kids, Zoo Camps, and much more. For a full list of benefits and to find out how you can become a member, visit audubonmembership.com and save.