Within the Indian culture, known for its swagger and braggadocio, Big Chief Monk Boudreaux stands out — for his humility.
He's a house painter and carpenter by trade, and he is low-key by nature, though his style carries a certain panache because he coordinates his quintessential collection of bucket hats with all of his outfits.
"People give me these hats from around the world," he said. "They call them 'Monk hats.'"
But, if he wanted to, Big Chief Monk could strut.
After all, at age 81, he's thought to be the oldest living Indian chief in his culture.
He's the big chief from way Uptown, leading the pretty, pretty Golden Eagles.
On his crowns, ostrich plumes are set perfectly, framing his famous face. He sews all of his own patches, stitching thousands of tiny seed beads, one by one, onto canvas.
And, even beyond his vast discography and his recent Grammy nomination, Boudreaux may have more song lyrics inside his head than any other living Black masking Indian. Forty years ago, he was one of the first to record his tradition's call-and-response chants, sung to the beat of drums.
A Jazz Fest regular
Boudreaux has also played at every single New Orleans Jazz & Heritage Festival. In 1970, he and longtime friend Bo Dollis, of the Wild Magnolias, each brought four members of their tribes to Armstrong Park to play the first festival.
The combined act was wrongly billed as the Wild Magnolias, without mention of the Golden Eagles, notes Boudreaux, shrugging. "We didn't fuss about it," he said.
For seven decades, these have been the rhythms of his life: sewing, singing and playing Indian. He started masking young, at age 12. He started his children and grandchildren even younger, usually when they turned 1 year old, he said.
Now, all of the youngsters sew their own suits. So his granddaughter, Natché Pleasant, 22, can't fathom how he used to draw and bead and hook up everyone's outfits.
"When we were young, how did you have the time to put together your chief's suit and all of our suits in such a short amount of time, knowing how many grandkids you have?" she asked him.
His eyes light up at her question. "You just gotta know how," he said, modestly. "You know when to start and how long it's gonna take. Then you gotta sit there and do it. Just doing a little bit each day."
Family secrets
His father, Raymond Boudreaux, who masked Indian, had a mother who was Haitian and a father with Cherokee ancestry. While she was dying, his maternal grandmother called for Monk, to tell him that her side of the family was Choctaw.
In those days, being Black was hard enough without adding the stereotypes against indigenous people, he said. "So, a lot of times, the elders, they didn't tell us too much about themselves," he said.
Authorities were often wary of Indians, he said, recalling how, in the late 1950s, when he was almost a teenager, the police stopped them in their suits on St. Joseph's Night and arrested the tribe's elders, who couldn't run fast enough to get away. "They went to jail," he said. "But when they went to a hearing, the judge told the police to never bring Indians to his court again. To the police, he said, 'This is their tradition.' "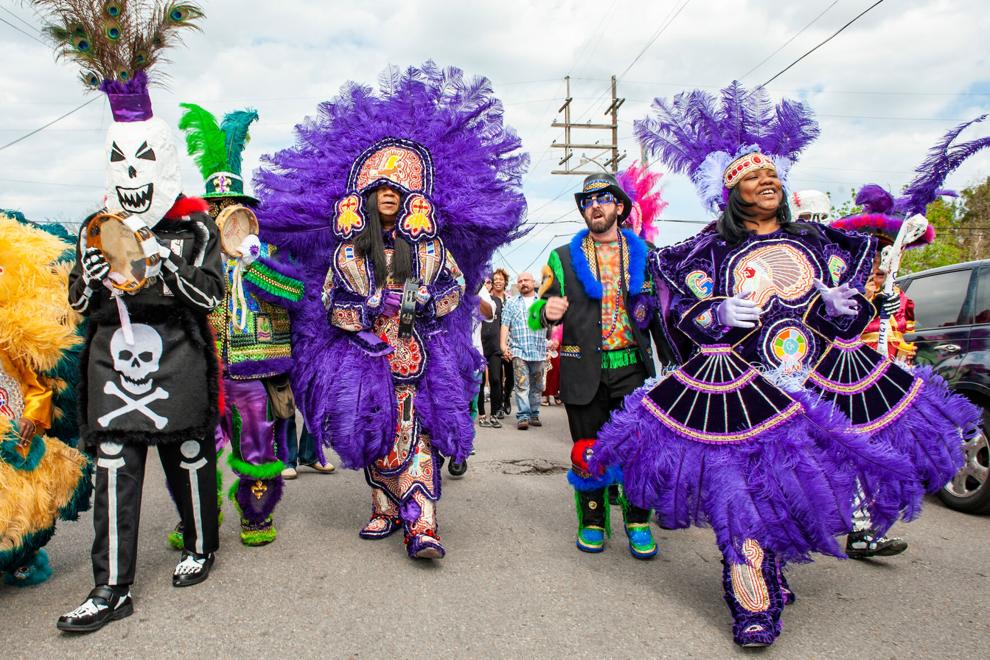 The materials used for Indian suits were much more rudimentary then. He fashioned his first makeshift stick tambourine out of a mop handle and bottle caps, he said, and used chicken quills, costume jewelry and fish scales to decorate suits. Now, his suits use ostrich feathers, rhinestones and velvet. But it still feels like his culture, passed along through generations, he said.
'I never get tired of seeing that'
On Sunday, about half an hour before they climb onto the Jazz & Heritage Stage, the Boudreaux family patriarch will gently issue a reminder. "Time to get dressed now," he'll say. "Go find Nigel." While everyone else puts on their feathers, someone else will run to fetch 18-year-old Nigel Pleasant, the grandson most likely to wander away on the Fair Grounds.
As the chief takes the stage, he'll be flanked by family. His son, second chief Joseph Boudreaux Jr. is a well-known singer, as is Spy Boy J'Wan Boudreaux, who leads the band Cha Wa.
They're joined by Flag Boys Marwan Pleasant — a popular 23-year-old clothing designer who uses Black masking Indian motifs in his work — and Marwan's little brothers Nigel and Naquan Pleasant. Plus, there are three generations of queens: his wife Charlene Boudreaux, daughter Wynoka Boudreaux and granddaughter Natché Pleasant.
In middle school, Natché had a history lesson that featured her grandpa. She sees photos of him all the time on her social media feed. When she braids hair, her clients all seem to know who he is. "They'll say, 'I saw your grandpa,' " she said.
He may be an Instagram superstar. But he's still predictable, she said. "Whenever I call him, he'll say, 'I'm sewing.' He always be sewing."
On Mardi Gras, everyone knows that Boudreaux starts his day by emerging from his home on Valance Street.
"I've never even seen a Rex float," he said, referring to the St. Charles Avenue parade that rolls on Fat Tuesday morning.
Still, Boudreaux never feels like he's missing out on Mardi Gras, he said.
"It's so beautiful when you see one Indian out there and he be dancing and then there's another Indian behind him and another Indian behind him, as they're coming down the street. I never get tired of seeing that."