The corner of South Claiborne Avenue and First Street has been gripped by deadly violence longer than Ronnell Owney lived.
He grew up there in the murderous 1990s, in a two-story apartment house near the corner store where someone gunned him down in April. He was 31.
Owney hadn't called Central City home for years. But from his mother's house in Algiers, he'd catch the ferry and hop a bus to the old neighborhood.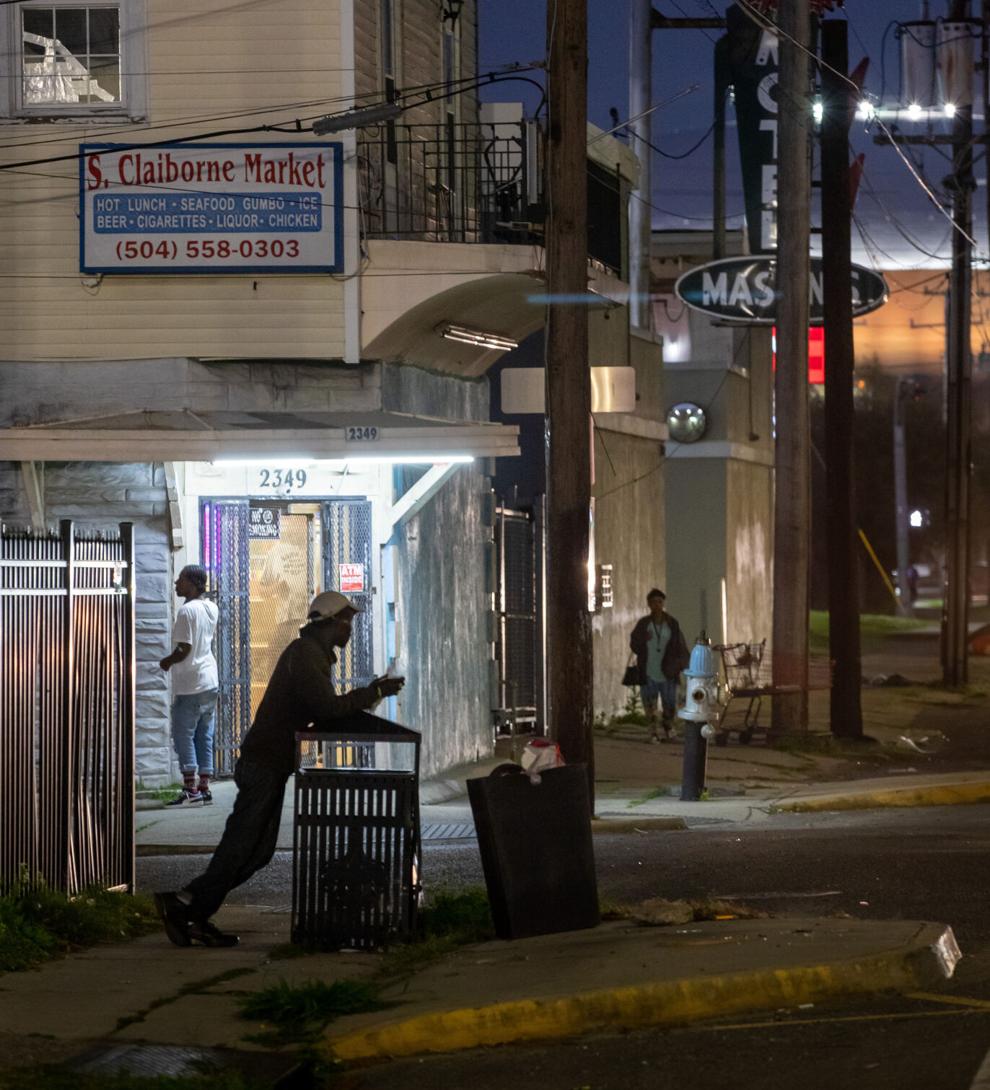 "Every day I used to tell Ronnell, 'You don't need to go Uptown. There's nothing Uptown,'" said Tina Owney.
Neighborhood ties are hard to shake in New Orleans, and nowhere do they spark more bloodshed than in the stretch of Central City where Ronnell Owney was slain, a murder that remains unsolved.
A decade ago, Owney became a symbol of an aggressive strategy that city leaders deployed to curb rampant murder and gun violence: identifying scores of violent group or gang members and sweeping them off the streets in bunches.
Now, with gun violence and murder surpassing that earlier surge and the city leading the nation in mass shootings, interim New Orleans Police Superintendent Michelle Woodfork is aiming to revive the tactic.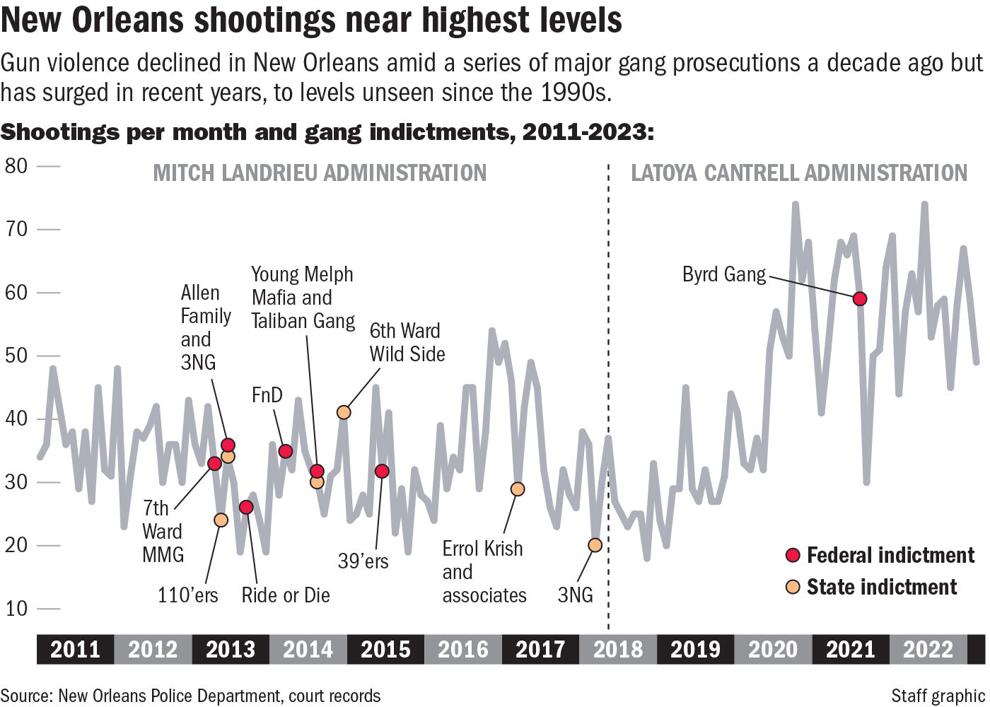 Woodfork, appointed by Mayor LaToya Cantrell in December, called last month for "collaborating with our federal partners to create a list of 50 individuals who are responsible for multiple violent crimes" and working to "identify groups and the hierarchies within them."
Ballistics links from the federal Bureau of Alcohol, Firearms, Tobacco and Explosives will connect suspects through shared weapons and groups, Woodfork said. They can be prosecuted in state or federal court, she added.
Those were all hallmarks of the dragnets of the early 2010s and a raft of conspiracy cases that pinned dozens of seemingly unrelated drug crimes, shootings and killings on associates of clans named for streets, wards and families.
The campaign, adopted and ultimately abandoned under Mitch Landrieu's administration despite research showing early success, revealed a massive toll coming from the same sets of people. They ran in numbers, shared guns and inflicted terror across the city.
If Woodfork aims at a reprise, former law enforcement officials and academics who were involved in the earlier effort say, it will require a level of coordination and political support under Cantrell that lasted only a few years under Landrieu.
The strategy Landrieu adopted was focused on identifying and quashing violent groups in a city where a majority of shootings and murders happen in relatively few blood-soaked neighborhoods.
It called for a shock-and-awe campaign from law enforcement against scores of suspected killers and their friends.
In quick order, prosecutors unfurled a dozen major state or federal indictments, often relying on the Racketeer-Influenced and Corrupt Organizations Act to target drug or firearms conspiracies.
Several cases numbered 10 or more defendants and charged a litany of murders. The prosecutions were "retrospective," linking a series of past offenses. They didn't need a fresh crime.
The payoff was swift: Researchers later credited the initiative with a 20% reduction in homicides in 2013, with the strongest impact on young Black males. Homicides involving identified group members declined by 30%, the research found.
The pace of shootings fell rapidly, though a study in 2018 found the strategy packed its biggest punch at the opening bell, with "diminished returns" after a few years.
The initiative's ultimate demise, according to some who were involved, came from inattention. The result was a police force that lost much of its grasp on the shifting group forces taking lives on New Orleans streets.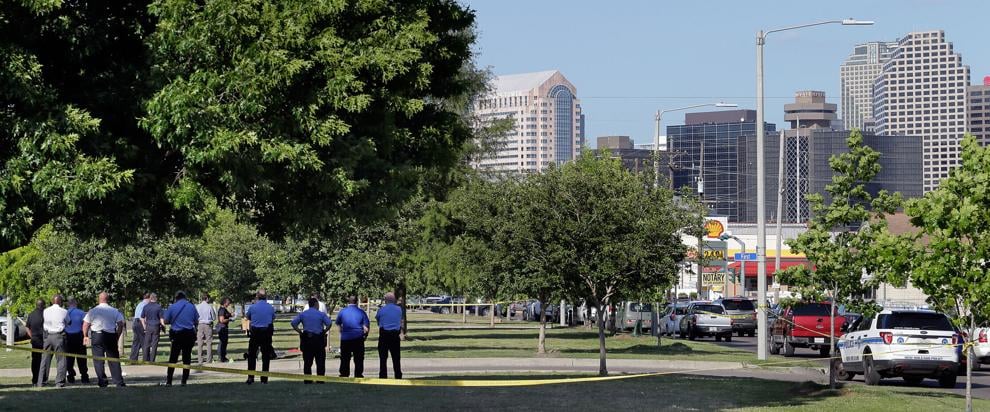 Gang violence in focus
The impact of group dynamics on the city's historically sky-high murder rate wasn't a big NOPD priority before 2011, when New Orleans last held the title of the nation's murder capital before now.
Over the two years before 2011, New Orleans homicide detectives noted gang connections in only about 2% of killings.
But police soon reached a different conclusion, with the help of researchers and federal support. In-depth homicide reviews in 2012 identified 59 street gangs in the city, and perhaps 700 people associated with them. Some were small — a handful of neighborhood friends — but virulent.
In the new calculus, more than half the city's killings involved a group or gang member as victim, suspect, or both. The high likelihood that most murders could be tied to members of a small subset of connected people was jarring.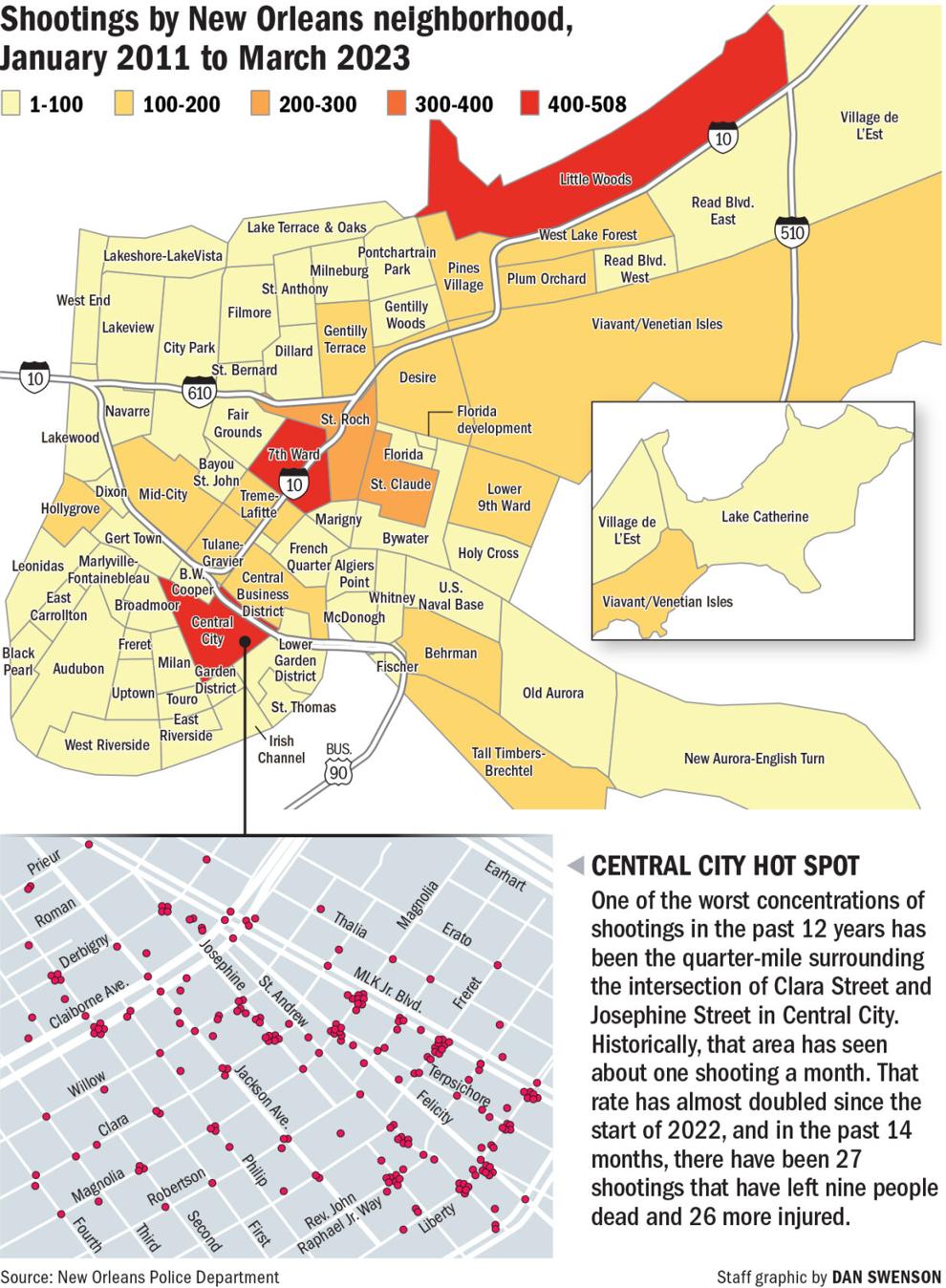 The gang focus came under Landrieu's broader "NOLA for Life" murder reduction campaign, which deployed an array of government and nonprofit resources.
NOLA for Life ranged from streetlight fixes to midnight basketball, inmate reentry to health programs, ex-cons intervening to quell retaliatory violence, school counseling and beyond. Filmmaker Spike Lee launched the promo campaign. The Bloomberg Foundation kicked in $3.5 million.
But the program most directly linked to a decline in shooting and killing was NOLA for Life's harder edge.
It began in late 2012 with a series of "call-in" sessions addressing scores of allegedly violent probationers and parolees tied through shared guns, surveillance, informants and social media videos.
The message in those call-ins came in three parts. Community leaders demanded an end to the violence; officials made "no-strings" offers of help and safety for those willing to give it up; and law enforcement warned that the next shooting or killing by one would draw a bead on the group.
Research showed just 1 in 6 people who were called in to those sessions participated in the offered social services.
"By and large, most people succumbed to Door C," said then-Police Chief Ronal Serpas, now a Loyola University professor. "By the time you get a 21-, 22-year-old called into these meetings, they've been involved in a lot of stuff."
A child's death; a new response
In New Orleans, the engine for breaking up those violent groups was the Multi-Agency Gang Unit, created after the May 2012 slayings of 5-year-old Briana Allen and passerby Shawanna Pierce in Central City.
Briana died on her grandmother's porch in the arms of her father, Burnell Allen, now serving life in prison over a federal drug conspiracy. Members of the 110'ers gang, hailing from the former St. Thomas housing projects, were later convicted in the deadly shooting spree.
The MAG Unit included a dozen police detectives, several federal agents, analysts and prosecutors working out of the ATF's Metairie offices. Data analyst Jeff Asher, now the City Council's public safety analyst and a former CIA officer, worked there on a risk-scoring system for violent offenders.
"Damned if that risk list wasn't accurate. There were no surprises (in) who got shot and who got murdered, and who would be next," said Frank Young, then an assistant commander in the 6th District who later led the MAG Unit.
"Nobody made the list by accident."
Fueling the unit's work was an NOPD street gang squad that at its peak was staffed with 20 officers and supervisors.
The indictments flowed mostly from the initial gang list developed in 2012.
Young said the first investigation built on police surveillance of Owney and some of his friends with 3NG in Central City, an area he described as the city's "group and gang Mecca."
Young recalled an immediate impact when those older gang cases took off.
"I watched shootings and murders take a very steep, steep decline in Central City. It was obvious," he said. "When we would take off 3NG, 110'ers, and all of these people got arrested, the numbers plummeted."
The area has long been a hotbed of turf battles with historic roots in the former Magnolia, Calliope, Melpomene and St. Thomas public housing projects. Years after their closure and the dispersal of residents, it remains among the city's most violent killing fields.
Owney was among 35 people reported shot, including nine fatally, within a four-block radius of Third and Clara streets since the start of 2022 — the highest concentration in the city.
Tied to the old neighborhood
Only Hurricane Katrina and prison kept Owney away from his old corner, his mother said.
As a boy, he attended nearby John W. Hoffman Elementary and was held back, said Peter Gardner, a local developer who tutored a young Ronnell while attending Tulane.
"He couldn't put the vowels or the consonants together. He wasn't capable of doing it," Gardner said. "This kid had a learning disability. Kids told him he was stupid. He was frustrated, and he's older than everybody."
It wasn't long before Gardner saw Ronnell again, this time on the news. At 12, he was with a church group as they watched a man chase 7-year-old Ishmael Combre down First Street and stab him 49 times with a steak knife.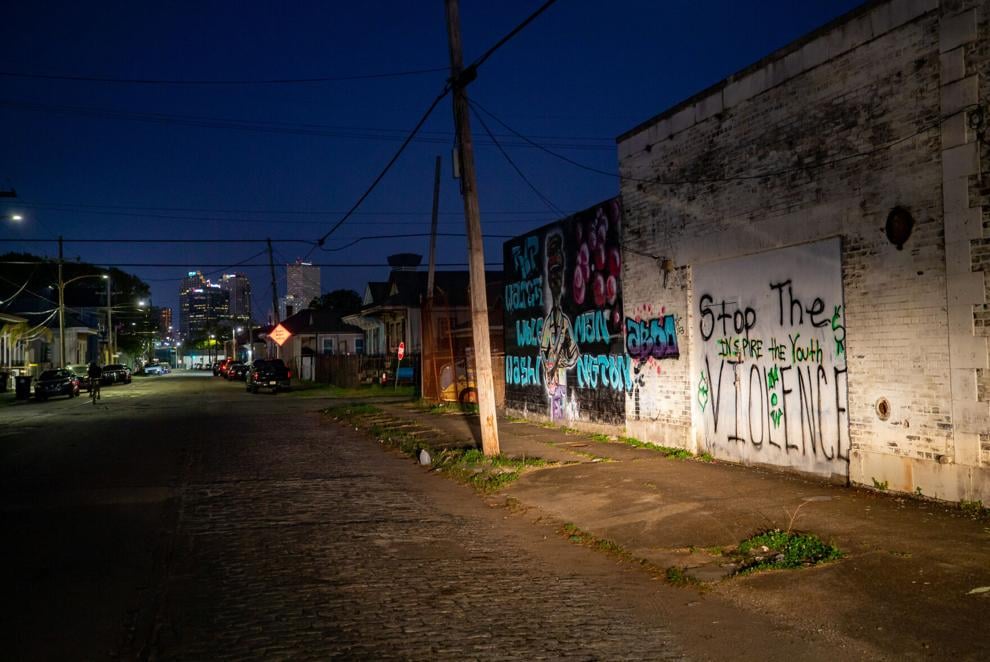 "I saw the man stabbing the little boy to death," Ronnell told reporters. "I couldn't even see a tear. He was so hurt (he) couldn't even cry or nothing."
Tina Owney said he locked himself in the apartment after that.
"Ronnell wasn't no person to be into conflicts. His feelings was soft. He just always tried to make everybody laugh," she said. "He loved church. He'd preach to me."
One of nine siblings, Ronnell was "the humble child among all of us," added a sister, Ronshell Owney. "He'll go through the pain."
Ronnell Owney spent his 10th grade year in Scotlandville, in north Baton Rouge, after Katrina. He returned home before dropping out of L.E. Rabouin High School at 18, his mother said.
Prosecutors dated Owney's role in a conspiracy to his 17th birthday. By 21, he was booked for the murder of Floyd Moore, who was slain in April 2011 as he rode a bicycle outside the old Calliope. It was Owney's first adult arrest.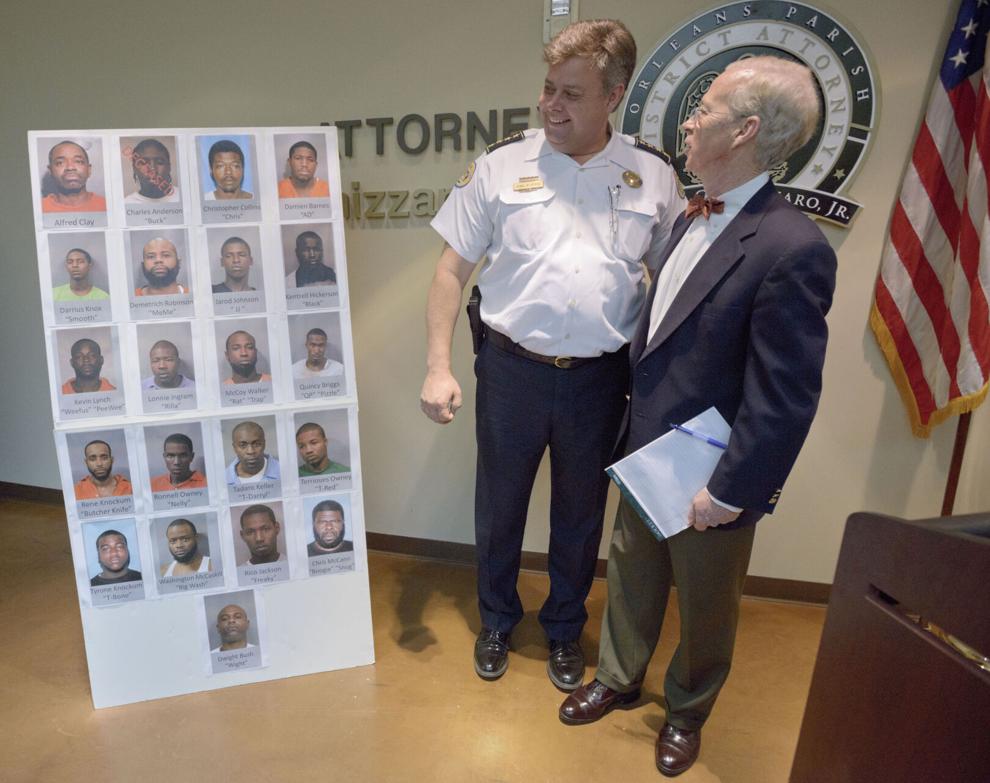 The killing helped land him in a 30-count state racketeering indictment listing 20 defendants and 10 murders. It cast Owney, who went by "Nelly," as a veteran drug dealer and killer for 3NG, named for its turf at Third and Galvez streets. But a few years later, prosecutors dropped the murder charge.
Gregory "Rabbit" Stewart, who admitted to a role in a dozen murders, including Moore's, said Owney wasn't involved. Washington "Dumplin'" McCaskill, a gang henchman who admitted to being the driver for Moore's murder, said he kept Owney out of the car that day.
"I said no, he couldn't get in there," McCaskill testified. "Being a new face, I'm not used to running with him. He seemed kind of young, and I didn't want him to accidentally shoot me in the back, or the gun go off whilst I'm driving."
By the time prosecutors yanked the murder charge, it was too late, Tina Owney said. He later became one of 19 men to plead guilty in the conspiracy, receiving a 20-year state sentence.
She said the gang case marked her son as a target when he returned home "broken" in 2018. Ronnell Owney's death last year came about 16 months after a gun assault off South Claiborne on New Year's Day 2020 that killed fellow convicted 3NG member Christopher "Boogie" McCann.
"He wasn't perfect. He was out there selling drugs. They acted like he was some kingpin," she said. "He didn't have a damn dime to rub together. They sure got Ronnell wrong."
Prosecutions by the dozen
The MAG Unit's blockbuster indictments often grouped 10 or more defendants with monikers tied to geography or blood: 3NG, 110'ers, the Allen Family, Young Melph Mafia, 7th Ward MMG, to name some.
Nearly all of the defendants were eventually convicted, and several received life terms.
Criminologist David Kennedy, who first developed the "group violence reduction" model in the 1990s in Boston and brought it to New Orleans, credited a commitment from the U.S. Attorney's Office.
"One of the innovations in New Orleans was a focused local, state, and federal effort that led to a small but critical set of conspiracy cases against groups known to have been involved in multiple homicides," Kennedy said.
He described them as "extremely unusual and serious prosecutions distinctively suited to this New Orleans environment, where for years there had been almost complete impunity for exceptionally high levels of lethal group violence."
The cases gave weight to the talk of severe consequences at the call-ins, he said.
"The streets recognized that very quickly," Kennedy said.
Supervising some of the federal cases was Assistant U.S. Attorney Maurice Landrieu, a brother of the mayor. Then-District Attorney Leon Cannizzaro's office made aggressive use of a previously obscure state racketeering law.
Current District Attorney Jason Williams, who ran as a progressive, said in a statement that his office would "zealously" pursue conspiracy cases developed by law enforcement.
Williams, who as a defense attorney represented some of those alleged gangsters, called the RICO campaign effective in its time, though he described a different problem with group violence today.
Stolen guns and cars, not drugs, are the driving forces in today's gun violence, he said.
"Adults are grooming and coercing marginalized youths who are disconnected from schools and community supports to participate in shootings and the theft of cars and guns to sell for pennies on the dollar, funneling them into the black market," Williams said. "These networks look very different than the criminal street gangs that existed before."
What hasn't changed, he said, is the concentration of shootings among "a relatively small finite subset of our community." That offers hope, he added, that "a citywide prevention and intervention strategy can still make an impact in a short time if it is focused and targets those individuals."
Defense advocates have long argued that the broad gang indictments cast too wide a net, grouping street-corner drug dealers with cold-blooded triggermen.
Outside of its utility to law enforcement, the traditional image of a gang with rules and structure doesn't apply, said Loyola University criminologist Christian Bolden, a former youth gang member who studies gang dynamics.
"You see a lot of independent people loosely affiliated with each other," Bolden said. "So there's no leaders or shot-callers."
Death by inertia
After a few years, the NOPD's street gang unit began to wither. Key officers were transferred, and the unit shrank.
"It was allowed through attrition," Young said. "It didn't get priority."
By then, the gang database was growing stale. The call-in sessions petered out by the end of 2015, when NOPD turned its focus to skyrocketing 911 response times. Those were partly a function of a growing staffing shortage that has since significantly worsened.
NOPD supervisors began to narrow their definition of a gang or group member, researchers found.
By summer 2018, when two gunmen unloaded on Jeremiah Lee as he ran into a crowd in front of Jazz Daiquiris lounge at South Claiborne and Louisiana avenues, police were scouring a dated list.
Killed were Lee and two bystanders, while seven others were wounded. The mass shooting made clear then that the 2013 state racketeering indictment hadn't put a stake through 3NG.
The old intelligence tied Lee to the group through an associate, Arnold Learson, Owney's little brother. Learson was shot at First and Claiborne in 2016, in an attack that killed 63-year-old Earnest McKnight.
Police then caught Learson with a handgun as he left Lee's funeral. He pleaded guilty to a federal gun charge and was released last month after a 46-month sentence.
The MAG Unit also shrank. Young dated its last breaths to early 2018.
That's also the last year NOPD analysts maintained a gang database, a spokesman said.
Cantrell took office in 2018, and her transition team broadly rejected the NOLA for Life campaign, citing a "lack of sustainable results." After hitting a historic low in 2019, the murder rate has more than doubled.
Tyronne Walker, a former Mitch Landrieu aide who helped spearhead NOLA for Life, argued that the effort was a clear success.
"I know one thing: We saw four, five, six years of sustained decreases in murders and shootings in the city," Walker said. "You had to be deaf in New Orleans at the time to not hear in the community that all of the things were giving people oxygen, breathing room again."
'Not the best decision'
Gang cases now are sporadic. The last federal indictments came in 2021, targeting violence between two rival Central City groups, the Byrd Gang and Ghost Gang.
U.S. Attorney Duane Evans said such cases remain part of a two-pronged approach that includes "a significant number of smaller, individualized prosecutions" aimed at repeat violent offenders.
"Those cases are long and protracted in terms of the ultimate resolution," he said of the big racketeering sweeps. "But gang cases are and always will be on our radar."
Other cities that have attempted Kennedy's model also have struggled to maintain initial gains. Serpas called it "an incredibly effective program that required an awful lot of coordination."
"I just think they lost interest in doing it. I think it was not the best decision," said Serpas, who retired as police chief in 2014.
The campaign's shelf life may also reflect the stubborn nature of group violence in New Orleans, and the limits of law enforcement to prevent crime, said Myles Ranier, a former federal prosecutor. As the big cases played out, new shooters soon filled the void.
"That can be discouraging," Ranier said. "These things have a timeline. They can burn out or lose their purpose. Especially when dealing with multiple agencies."
Ranier led the 2017 racketeering trial of 10 accused "39'ers," an ultra-violent hybrid that included allies from 3NG and "G-Strip," named after Gallier Street in the 9th Ward.
Their name derived from their respective wards, though the group plied heroin and murdered across the city — often in retaliation for the slaying of its own members, or in an attempt to preempt it.
"I feel bad for these kids," Ranier said. "Deep down, many are scared. They're watching their friends be murdered. How are you going to react to that?" Ranier said. "Some of them choose to arm themselves and surround themselves with a group to create some security."
Staff writer Jeff Adelson contributed to this story.