Despite changes around the world due to the COVID-19 pandemic, Freeport-McMoRan Audubon Species Survival Center continues its work increasing the numbers of the world's rarest crane species. This season, Audubon welcomed seven whooping crane chicks that hatched at FMASSC. The whooping crane chicks will stay at the Westbank location until the fall, when six of the chicks, three males and three females, will be released into the White Lake Wetlands Conservation Area. One female chick will remain at FMASSC to be part of the breeding program because of the importance of her genetic makeup. Of the six chicks set to be released, five of them were costume reared by Audubon team members. One chick (male) was parent raised.
The anticipated date of release in White Lake is November 3 where they will be delivered to Louisiana Department of Wildlife and Fisheries for gradual release to the wild.
"We are thrilled to have bounced back after the COVID-19 pandemic," said Freeport-McMoRan Audubon Species Survival Center Assistant Curator Richard Dunn. "These chicks represent the collaborative effort that we and our partners share in making an impact on the survival of this precious species."
Whooping cranes used to be plentiful in Louisiana, but unregulated hunting and habitat loss contributed to them disappearing from the wild in the state 70 years ago. In 2011, this changed when 10 cranes from the U. S. Geological Survey's Patuxent Wildlife Research Center in Maryland were released to the Louisiana Department of Wildlife and Fisheries' White Lake Wetlands Conservation Area in Vermilion Parish. This marked a significant conservation milestone with the first wild whooping cranes in Louisiana since 1950. In 2016, the first chicks hatched in the Louisiana wild since 1939—a significant sign of recovery for the species. Audubon is proud to be part of this recovery.
This year's chicks were named after video game characters.
Along with whooping cranes, Audubon has also seen success this year with another endangered species. This season, eight Mississippi sandhill crane chicks hatched at the FMASSC. These chicks help bolster the population of this North American crane subspecies and add to the more than 250 chicks produced at the Survival Center. With most of the chicks being released back into the wild, the goal of the recovery program is to create a self-sustaining population of Mississippi sandhill cranes.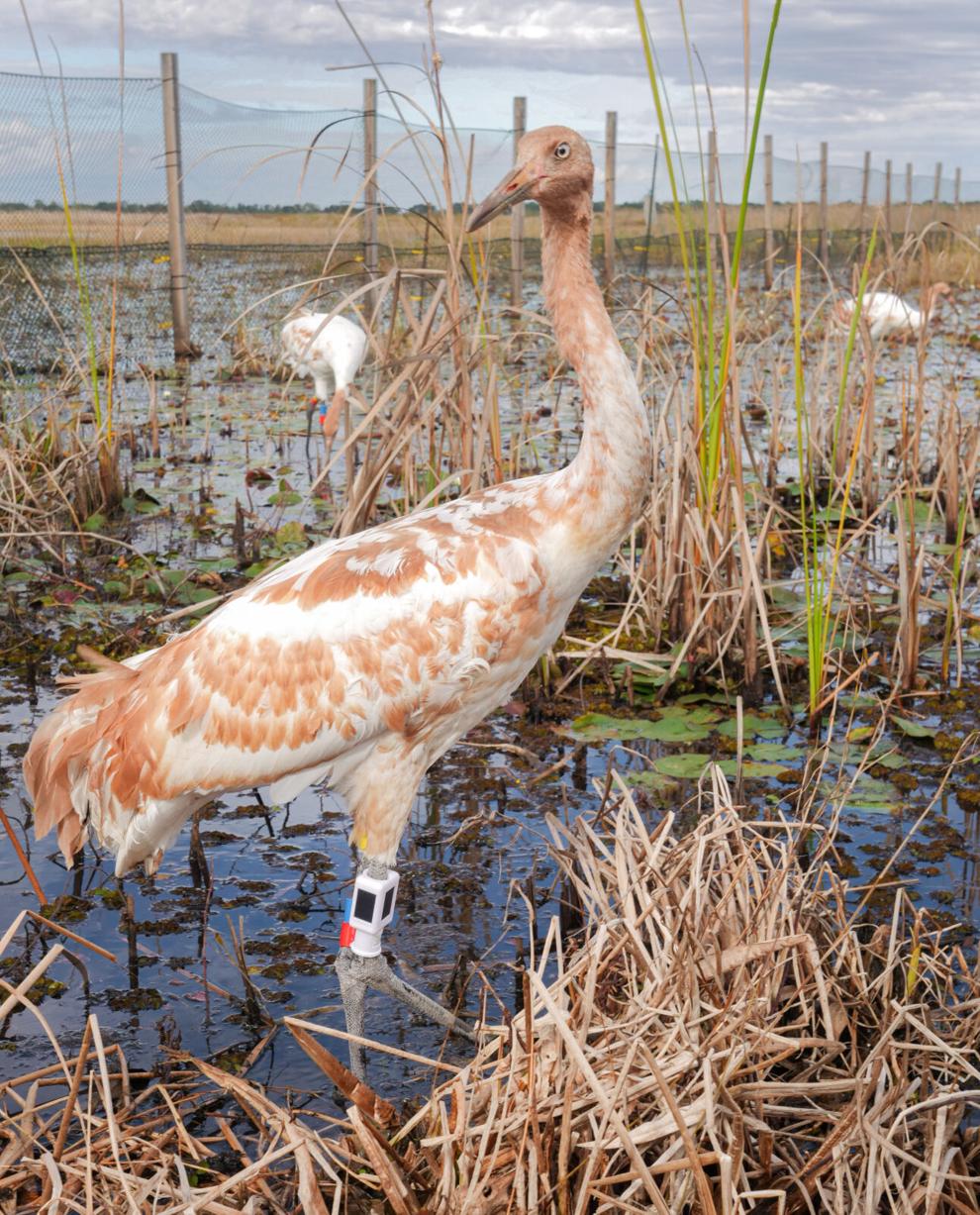 The U.S. Fish and Wildlife Service (USFWS), Louisiana Department of Wildlife and Fisheries (LDWF), and Audubon have been longtime leaders in whooping crane conservation and are continuing to expand their partnership with the goal of developing a self-sustaining Louisiana whooping crane population. This partnership is an example of the importance of collaboration between federal and state agencies and non-profit organizations, leveraging the strengths of all to achieve measurable conservation results and make a significant, historic impact on the future of this species. Through this partnership and with the support of USFWS, Chevron, and other generous supporters, Audubon is committed to the long-term growth and stability of the whooping crane population to save the species from extinction.
As part of the Whooping Crane Recovery Team, Audubon works collaboratively with the USFWS, International Recovery Team, the Association of Zoos and Aquariums' Whooping Crane Species Survival Plan, Louisiana Department of Wildlife and Fisheries, International Crane Foundation, White Oak Conservation Foundation, Smithsonian Conservation Biology Institute, Dallas Zoo, San Antonio Zoo, Calgary Zoo, and Wisconsin Department of Natural Resources to achieve a self-sustaining population of wild whooping cranes through reintroduction programs.
Anyone encountering a whooping crane is advised to observe the bird from a distance and to report the sighting to LDWF online at www.wlf.louisiana.gov/page/report-a-whooping-crane-sighting-or-violation. Whooping cranes are large-bodied, long legged, white birds with a red head and black facial markings on the side of its face. Birds measure a height of five feet and a wingspan of seven to eight feet, which makes them very distinctive. In flight, whooping cranes display black wing tips, a fully extended neck, and legs that extend well beyond the tail.