The last Mardi Gras float passed a month ago, but a few wrinkled ribbons of toilet paper still sway in the spring breeze along the St. Charles Avenue route. To some onlookers, they have apparently worn out their welcome.
The use of toilet paper as a parade throw dates back decades. The custom may have originated with the Krewe of Tucks, a parading organization known for its devotion to bathroom humor. In addition to TPing the route, the men and women of Tucks toss glittered toilet plungers, and their royalty rides atop an enormous, gilded commode.
Tucks co-founder Lloyd N. Frischhertz issued a press release on Monday, seeking to spread some of the responsibility for the lingering litter among other krewes. According to Frischhertz, riders in the Thoth and Alla parades also tangled the Uptown oaks with long strands of bathroom tissue.
"Now, since two additional parades are throwing toilet paper, the amount that is thrown has tripled," Frischhertz said.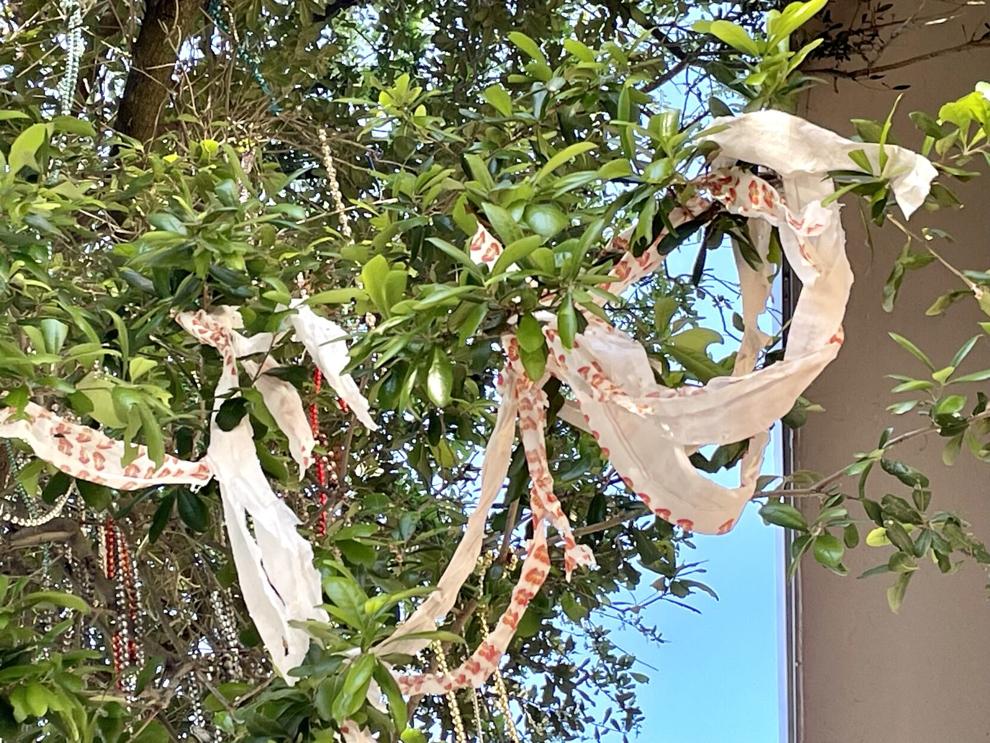 Beads still abound
In the lower reaches of St. Charles Avenue, near Harmony Circle, the strands and bunches of arboreal toilet tissue were not terribly conspicuous on March 20, especially in the context of the glinting plastic beads that hang from the trees in profusion.
Here and there, a reporter found ragged ribbons emblazed with Tucks and Thoth logos. There were also some almost exhausted strands marked only with a pattern of scarlet lipstick kisses.
Frischhertz did not explain what had provoked him to issue his press release Monday. Nor has the krewe captain replied to a request for comment.
It's not the first time lingering toilet paper has caused the Krewe of Tucks consternation.
Beginning in 2013, then-Councilwoman LaToya Cantrell and fellow councilwoman Jackie Clarkson attempted to outlaw the some-would-say distasteful throw because it complicated the cleanup after parades. But their proposed ban did not ultimately come to pass.
Later, according to Frischhertz, concerns surfaced that the ink in Tuck's custom-printed paper could be harmful to children if consumed. Thereafter, Tucks began tossing tissue that was safe, even if somehow eaten.
"In fact," Frischhertz wrote in Monday's press release, "my son ate a substantial amount of toilet paper in front of the City Council when the issue was before them."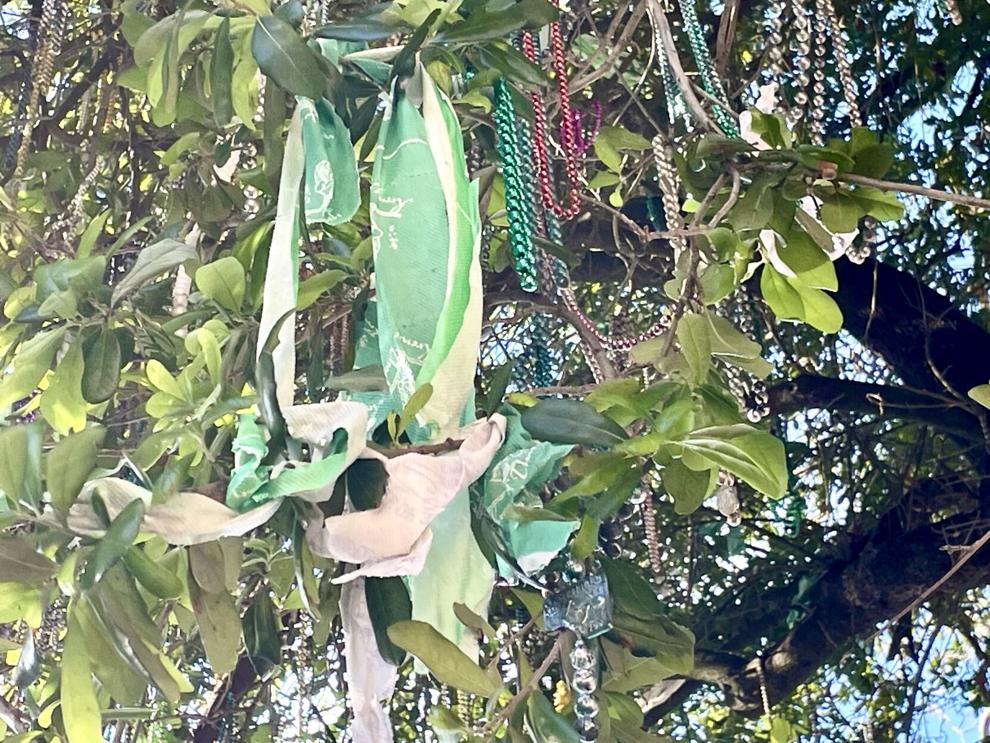 A brief lifespan
Like all things, toilet paper eventually disintegrates in nature, but Frischhertz said that Tucks has ensured that the rolls they toss have an especially brief lifespan.
"For the last eight or nine years," he wrote "Tucks toilet paper has been marine toilet paper that disintegrates when it comes in contact with water."
He believes that if the paper ribbons have survived longer than usual in 2023, it's simply because there have been few late-winter downpours.
Some press coverage of the apparently delayed deterioration of the toilet paper in 2023, which took place more than two weeks ago, may have sparked Frischhertz's Monday announcement.
According to a March 2 WWL-TV report, the Mayor's Office planned to rely on the weather to flush away the problem of lingering 2023 toilet paper.
"Cleaning trees is not a part of the city's Mardi Gras cleanup duties, nor is it the krewes' duties," the mayor's representative John Lawson reportedly said. "Rain typically washes the toilet paper off of the trees; however, as we have seen, there has been no rain in the forecast immediately following Mardi Gras this year for the first time in a while."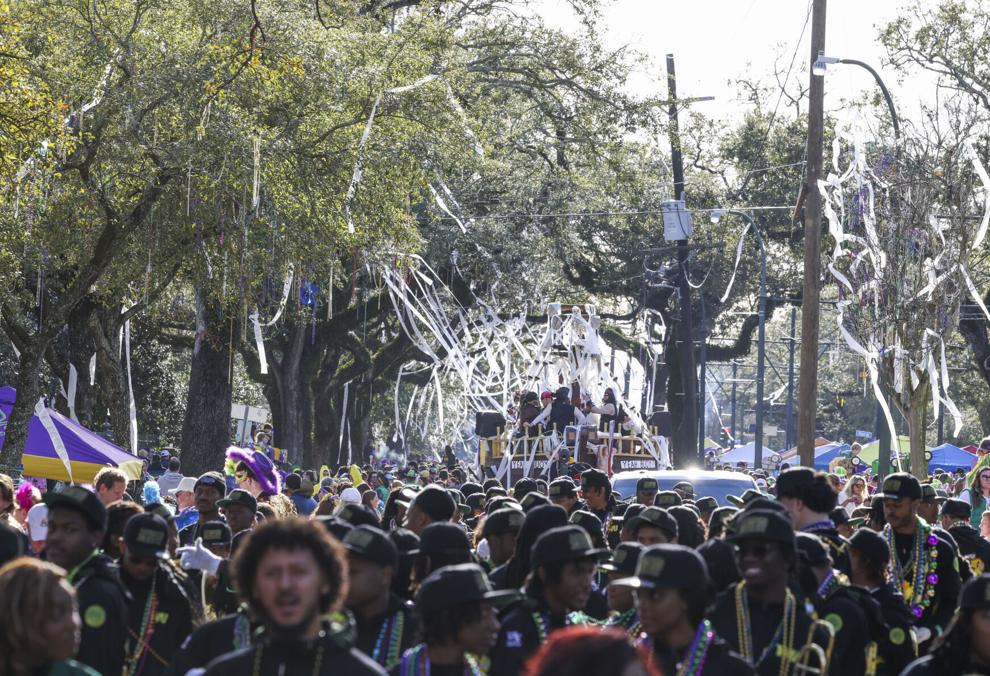 A signature throw
Frischhertz is protective of Tucks toilet paper. He views it as the organization's signature throw, "much like the Zulu coconut, the Muses Shoe and the Nyx purse," he wrote.
Sometimes toilet paper is just toilet paper.
Adam Strickland, the captain of the krewe of Alla, said the riders in his parade did indeed toss toilet paper this year, but it wasn't meant to be a bawdy tree decoration. It was meant to be, well, toilet paper. Like other krewes, Alla has added sustainable and reusable items to its arsenal of parade throws.
This year, krewe members threw packages of jambalaya and coffee, toothbrushes, and, yes, biodegradable toilet paper made from bamboo pulp. Most riders, Strickland said, didn't throw the paper into the trees.
Strickland said Frischertz contacted him before Carnival 2023 to express concern that Alla was straying into Tucks' territory by tossing bathroom tissue.
Strickland said that his organization "in no way wanted to infringe on their signature throw, and that Alla has no plans to toss TP in the future."
The Krewe of Tucks has apologized to Mayor LaToya Cantrell for an obscene gesture made by one of its float riders during the krewe's annual Ma…