Rainbow flags will fly, glitter will shimmer, and LGBTQ+ identity will glow on Saturday, as the New Orleans Pride parade rolls through the French Quarter, starting at 6 p.m.
The procession will include 10 to 15 sponsored floats, several of the Crescent City's marvelous Carnival marching clubs, such as the Krewe of Dolly (Parton), Disco Amigos, NOLA Cherry Bombs, and the Rolling Elvi. Plus various social and support organizations.
Though the 2023 parade has no official theme, organizers predict that participants may exhibit the sentiment that "drag is not a crime," referring to recent restrictions on drag performances in Tennessee – which a federal judge has deemed unconstitutional.
Thanks to actions in the Louisiana Legislature attacking the rights of lesbian, gay, bisexual, transgender and queer people, parade organizers predict a large turnout of community members and allies along Saturday's route.
The state Senate recently approved bills, that, if approved by the governor, would ban gender-affirming medical care for young people, the discussion of sexual identity in schools, and students' rights to be addressed by the pronouns of their choice – he, she, or they.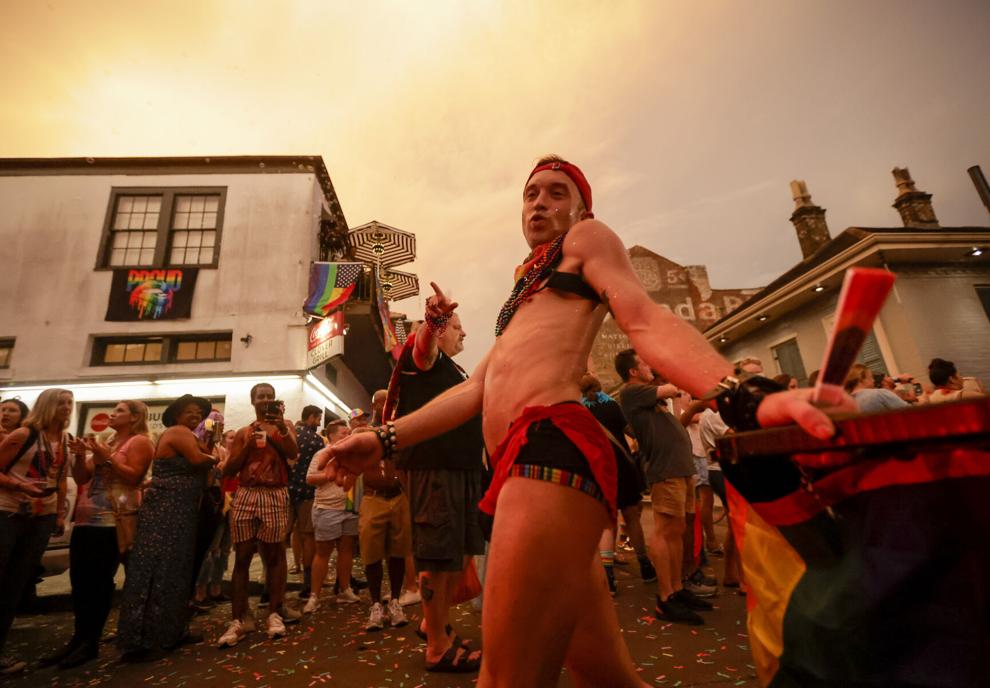 As in past years, the Pride parade lines up on Elysian Fields Avenue near Washington Square Park in the Marigny. Near the start of the parade lies the Phoenix Bar, at 941 Elysian Fields Ave., the anchor of PrideFest 2023, a free outdoor block party, that will take place from 11 a.m. to 5 p.m.
Expect food and beverage booths, dozens of vendors and organization representatives, plus continuous live music, with headliner Amanda Shaw from 3 to 4:30 p.m.
The parade will begin on the river-end of Elysian Fields Avenue and will turn right on North Peters Street to head into the French Quarter. The parade continues on N. Peters Street until it merges with Decatur Street, passes Jackson Square, then turns right on St. Louis Street, right on N. Rampart Street, right on St. Ann Street, and left on Bourbon Street, ending at Café Lafitte in Exile at 901 Bourbon Street.
For more information, visit the Pride website.
Pride Month, a celebration of LGBTQ+ identity, has begun. But it's probably not a particularly comfortable time for lesbian, gay, bisexual, tr…
Expect a cross between the Tour de France and a Trixie Minx show. The World Naked Bike Ride 2023 is scheduled to roll at 5 p.m. on June 10 thr…