Jefferson Parish has cited real estate magnate Joe Jaeger for installing a billboard-sized campaign sign for council member Jennifer Van Vrancken on the side of his building on Causeway Boulevard, in violation of parish rules.
The banner — which was paid for by Van Vrancken's campaign committee — was put up without a parish permit, according to a notice issued Monday by the Building Permits Department.
Van Vrancken said in an interview that it was news to her that a permit was needed. She said that in previous elections, she put up similar-sized signs on the building at 3330 North Causeway Boulevard without obtaining a permit.
The sign was erected Wednesday ahead of a fundraiser for Van Vrancken's campaign for an at-large seat on the Parish Council.
"It hasn't been an issue in the past," Van Vrancken said. "Why is it an issue now? Maybe because my opponent's consultant has an office in the building."
Veteran political consultant Greg Buisson has an office at 3330 North Causeway and is working for incumbent council member Ricky Templet, Van Vrancken's opponent in the race.
Buisson said he didn't file a complaint and doesn't care about the sign. Templet said he had no comment and preferred to focus on the "issues affecting people's everyday lives."
According to parish records, the complaint was received on Monday, though it's unclear who made it.
The rules
Jefferson Parish allows candidates to install temporary political signs during election season without a permit, but they can't be larger than 32-square-feet.
To install a larger sign, a permit is required.
The permit application must include construction drawings by a registered architect or civil engineer that indicates the material used, method of attachment, sign location and dimensions.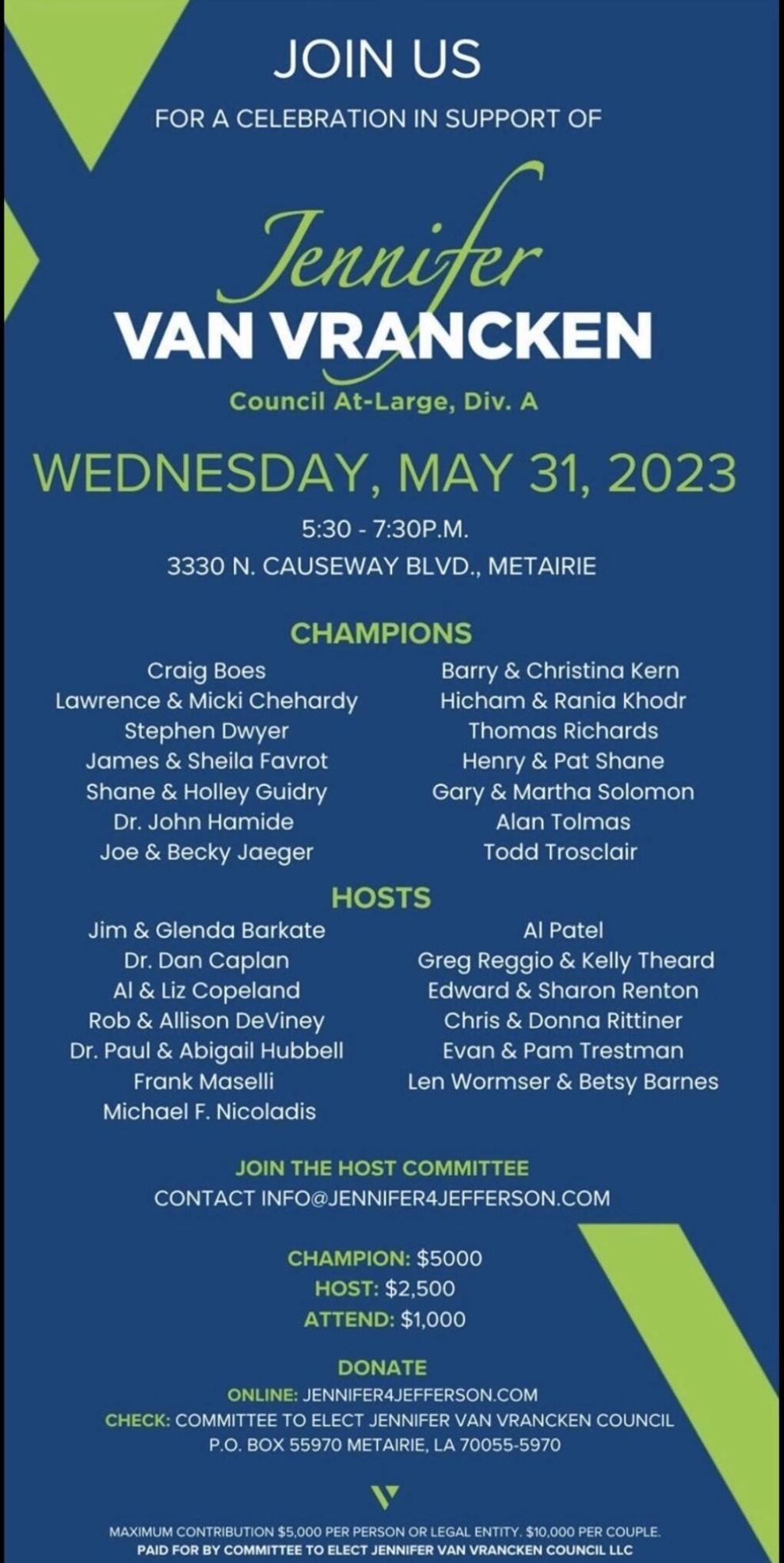 Van Vrancken said she felt "singled out" and argued that political candidates regularly put up similar-sized signs on private property.
"I hope there is consistent enforcement," she said.
Jaeger, who owns 3330 Causeway Boulevard through his company, JAJ Ventures LLC, has 10 days to either take down the sign or apply for a permit. Jaeger didn't respond to a request for comment.
Van Vrancken said a permit application was submitted Tuesday.
Jaeger hosted the fundraiser for Van Vrancken alongside a number of heavy-hitters in Jefferson Parish business and politics. Van Vrancken's husband, Stephen Dwyer, is an attorney for Jaeger. 
Van Vrancken, who is term-limited in her Metairie-based District 5 seat, said she raised around $100,000 at the event.