The 2023 Atlantic hurricane season is forecast to have a "near normal" number of named storms, NOAA announced Thursday during a news conference aimed at reminding coastal communities to begin preparations now in advance of potential effects.
NOAA makes its predictions in ranges of storms occurring during the June 1 through Nov. 30 season. For this year, it is forecasting 12-17 named storms, with winds of 39 mph or greater; five to nine hurricanes with winds of 74 mph or greater; and between one and four major storms, Category 3 or stronger, with winds of 111 mph or greater.
But in a sign of changing climactic conditions, this year's "near normal" also would have been considered a more active season just a decade ago.
An average year includes 14 named storms, seven hurricanes and three major hurricanes, based on a 30-year history of storms between 1991 and 2020. The average 10 years ago, based on storms between 1981 and 2010, was 12 named storms, six hurricanes, and three major hurricanes.
In April, forecasters at Colorado State University predicted there would be slightly fewer storms than normal this year: 13 named storms, six hurricanes and two major hurricanes. 
The expected drop in the number of storms this year, compared to recent more active seasons, is the result of an uneasy relationship between two key climate patterns that influence the creation of tropical storms and hurricanes, NOAA officials said during a news conference at its Center for Weather and Climate Prediction in College Park, Maryland.
El Nino's role
The feature likely to depress storm formation is El Nino conditions in the eastern Pacific Ocean, which increase the chances of upper level wind shear in the Atlantic that can rip up the tops of thunderstorms attempting to form tropical systems.
There's a 93% chance that El Nino will be in full swing during the height of the season, between August and October, said Matthew Rosencrans, a climatologist with NOAA's Climate Prediction Center and lead seasonal hurricane forecaster.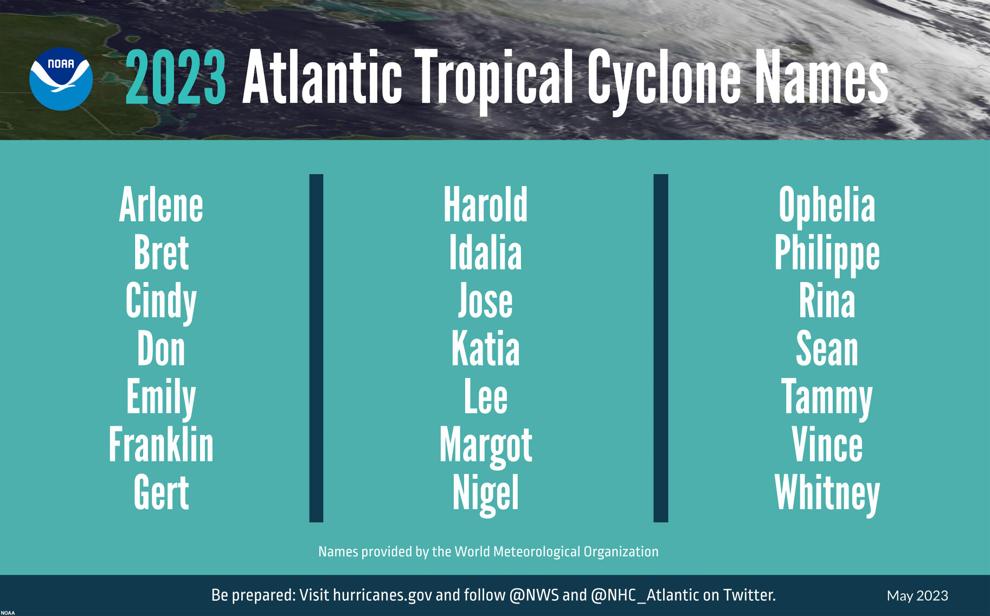 But a key factor that favors formation of tropical storms and hurricanes is warmer sea temperatures in the tropical Atlantic, just north of the Equator where most tropical systems form. The warmer water provides energy and lift to thunderstorms, increasing the chance of tropical storms forming and intensifying.
The warmer temperatures in that area are believed to be in part the result of a 25-year to 40-year "Atlantic multidecadal oscillation" pattern. The most recent AMO pattern began in 1995, and has not yet ended. Warming temperatures due to climate change are also believed to play a role.
Rosencrans said the sea temperatures in that part of the Atlantic are warmer than last year, when cold water La Nina conditions in the Pacific reduced windshear in that part of the Atlantic, and about on par with 2020 Atlantic sea temperatures, during another active hurricane season.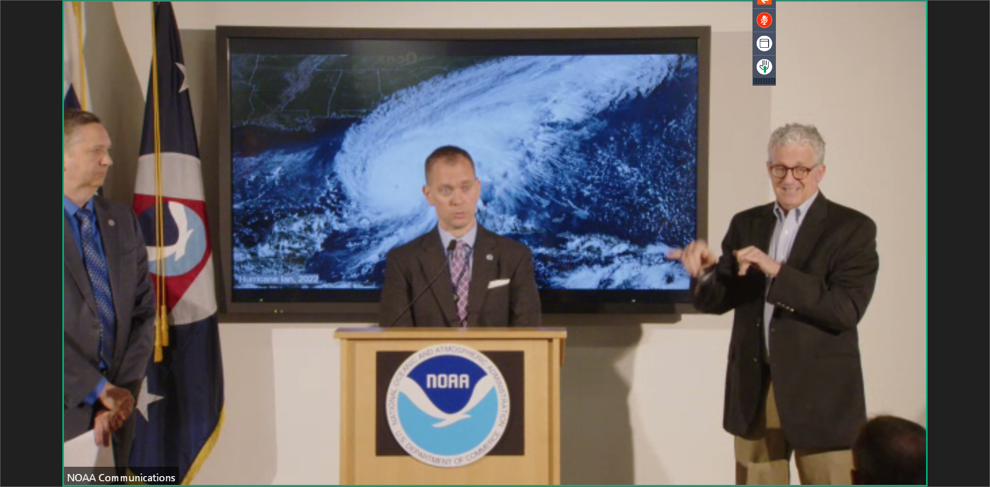 NOAA officials pointed to several improvements in tropical weather forecast products that are being rolled out this year, the result of recent improvements in forecasting the tracks and intensity of tropical systems. A review of forecasts between 2020 and 2022 show that the accuracy of forecast track predictions has improved by 40% since 2017, and the accuracy of forecast intensity improved by 46%, said Don Graves, deputy secretary of the Department of Commerce.
Those improvements led to upgrades in forecast products for the upcoming season, including expanding the forecast range from five days to seven days for the National Hurricane Center's Tropical Weather Outlook forecast, which is published as a graphic map.
NOAA's Weather Prediction Center also has extended its Excessive Rainfall Outlook from last year's three days to five days, increasing the warning time for the risk of flash flooding.
The National Weather Service also will be using a new generation of forecast flood inundation mapping – including views of street-level flooding -- for parts of Texas and portions of the Mid-Atlantic and Northeast in September 2023. The forecast maps are expected to be expanded to the rest of the U.S. by 2026.
NOAA announced in May an update of its Probabilistic Storm Surge, or P-Surge, model that will improve estimates of surge water heights and their timing along the U.S. coast and for Puerto Rico and the U.S. Virgin Islands. Improvements include the ability to run the model simultaneously for two storms at the same time.
NOAA also will declare its newest hurricane forecast model to be operational in late June. The Hurricane Analysis and Forecast System, or HAFS, model will be added to a variety of others already being used in writing forecasts by meteorologists with the National Hurricane Center and National Weather Service.
NOAA Administrator Rick Spinrad said that running the new model on storms that occurred between 2020 and 2022 indicated it provides up to a 50% improvement in both track and intensity forecasts, compared to existing models.
And NOAA is expanding its computer capacity by 20% to assist in running such complex models, he said.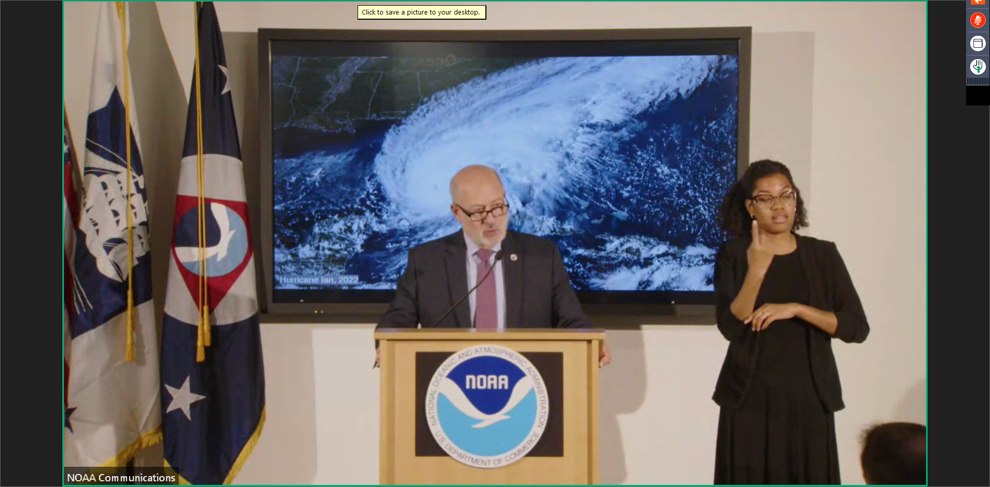 Sailboat drones
Spinrad said many of the forecast improvements in recent years are the result of the use of unmanned drones that fly in and around storms; sounding balloons to capture atmospheric information; saildrones, small sailboat robots that travel in and around storms on the water surface; and underwater gliders that can measure water temperature and salinity deep beneath the surface.
But he said all the forecast improvements don't mean communities are not at risk.
"Remember, it only takes one storm to devastate a community," Spinrad said.
Graves used last year's hurricane season to remind the public of those risks, even during a season with an average number of storms.
"Last year alone, we saw 14 named storms, three of them hurricanes that hit the United States, causing a collected $117 billion in damages when adjusted for inflation," he said.
He pointed out that the World Meteorological Organization retired the names of two of those hurricanes, destructive Hurricane Fiona, which devastated the island of Puerto Rico, and Hurricane Ian, which destroyed several communities on the southwest coast of Florida.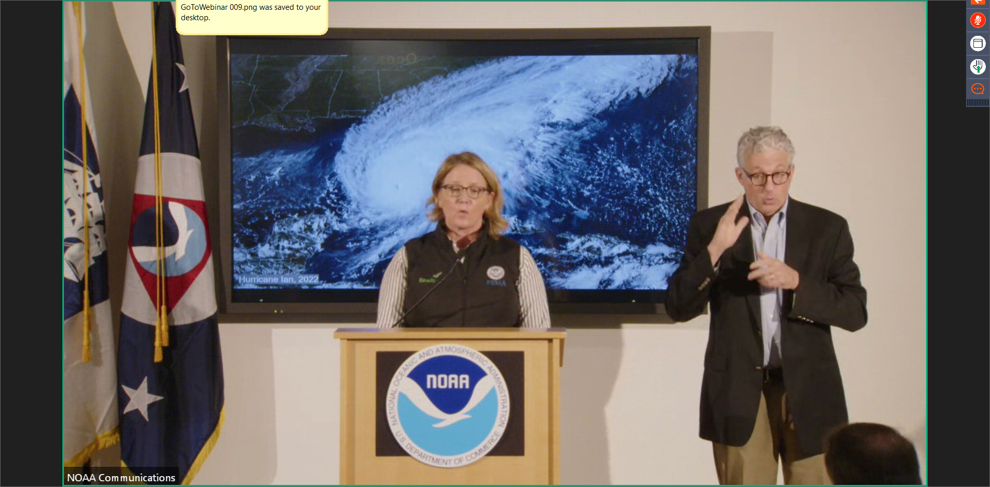 FEMA Administrator Deanne Criswell used Super Typhoon Mawar, which made landfall on the Pacific island of Guam on Tuesday, as an example of why the beginning of hurricane season is the time for the public to have preparations in place for a potential disaster.
"Regardless of the number of named storms that are out there, regardless of the time of year, whether we're in the peak of hurricane season or not, it just takes one, and it can happen with the very first storm, which is what we're seeing right now, the very first storm of the Pacific hurricane season causing significant damage," Criswell said.
She said a key change FEMA made in 2022 will assist in assuring that more storm victims are assisted in the future.
FEMA loosened its rules for the kinds of documentation that were required for individuals to prove they own or occupy homes, she said, which resulted in more than 128,000 individuals and families getting coverage totaling $754 million since the change went into effect.
Criswell also said FEMA's disaster relief fund is projected to have a shortfall in funds as early as August because of the numerous disasters, including hurricanes, wildfires and even the Feb. 3 Ohio train derailment.
She said her staff is working with the Biden administration on making a request to Congress for supplemental funds at a time when Congress and the administration are negotiating over elevating the national debt limit cap.
"I can tell you that we will always have enough money to be able to respond and make sure that we can support any lifesaving efforts that need to happen," she said. "But if we do end up with a shortfall, you would see some impacts to the ability to continue ongoing recovery operations."