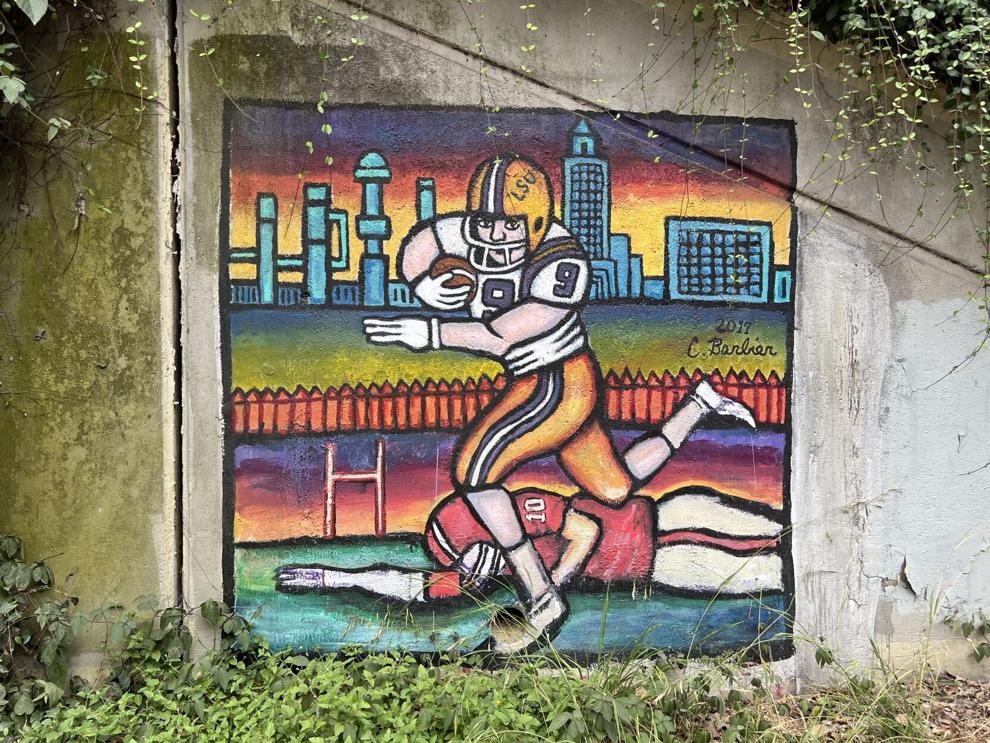 The football player has become a landmark of sorts for drivers exiting Interstate 10 at Dalrymple in Baton Rouge.
They usually turn right for the LSU campus after stopping, so it only made sense that Charles Barbier would paint the player in purple and gold.
Barbier is the artist who painted the football player wearing the No. 9 jersey in 2017. He also painted another character he called "Lord of the Ducks" on a small wall on May Street that cuts in between two of University Lakes, a short walk from where the football player is frozen in mid play at the Dalrymple exit.
"And if you're driving on Nicholson, you'll see his paintings on pylons beneath the interstate where the African American Museum is, as well as the pylons near the Pastime Lounge," said Jason Andreasson, executive director of Baton Rouge Gallery, where Barbier was an artist member.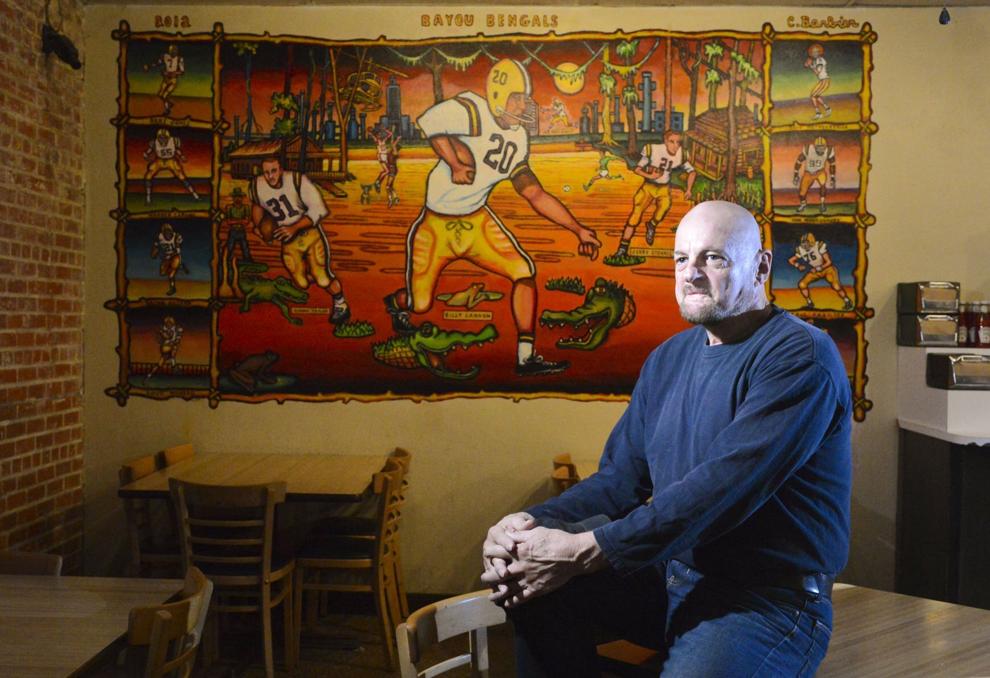 Barbier was a Vietnam veteran who enrolled at LSU later in life to earn his bachelor's degree in fine arts. He was known for his bold colors and distinct artistic style, which sometime resembled street art.
Unfortunately, Barbier died suddenly at age 71 in 2018, which makes Miriam Tiritilli's Curious Louisiana question particularly important.
"Work on I-10 is starting up around the LSU Lakes," wrote Tiritilli, who lives in Baton Rouge. "I want to know if anything will be done to preserve the artwork of the football player at the Dalrymple exit. I'm assuming most people who attend the games know this special LSU football artwork. I believe this is the work of Charles Barbier, who is sadly no longer with us. Also, I believe he did the duck artwork on May Street."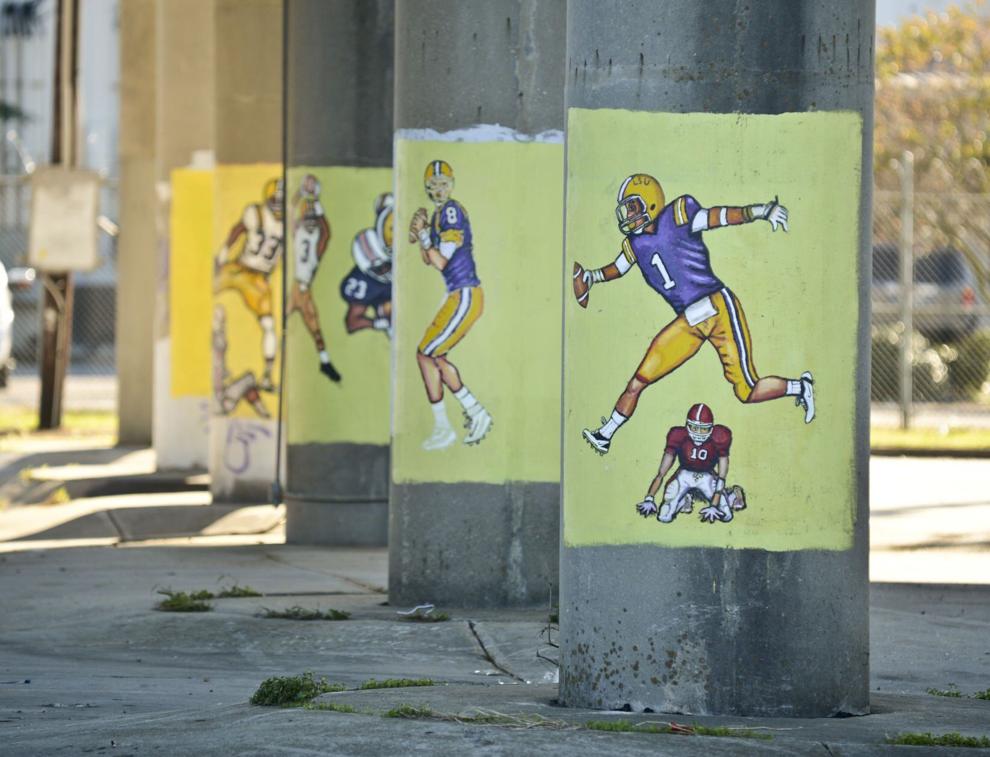 Kelsey Livingston, director of exhibitions at Baton Rouge Gallery, has been looking into this question.
"I've contacted the Department of Transportation and Development, and they said they would get back with me, but I haven't yet heard from them," she said. "But I have contacted some other agencies in the meantime, and though they don't have definitive answers, they say it doesn't look good."
Meanwhile, Brandi Bordelon, public information officer for the DOTD, provides a definitive answer to Livingston's and Tiritilli's questions.
"The painting on the retaining wall on Dalrymple will be impacted by the new frontage road and will be removed," she said. "We are still in discussions on what will happen to this mural. We do not have a timeline of when it will be removed yet."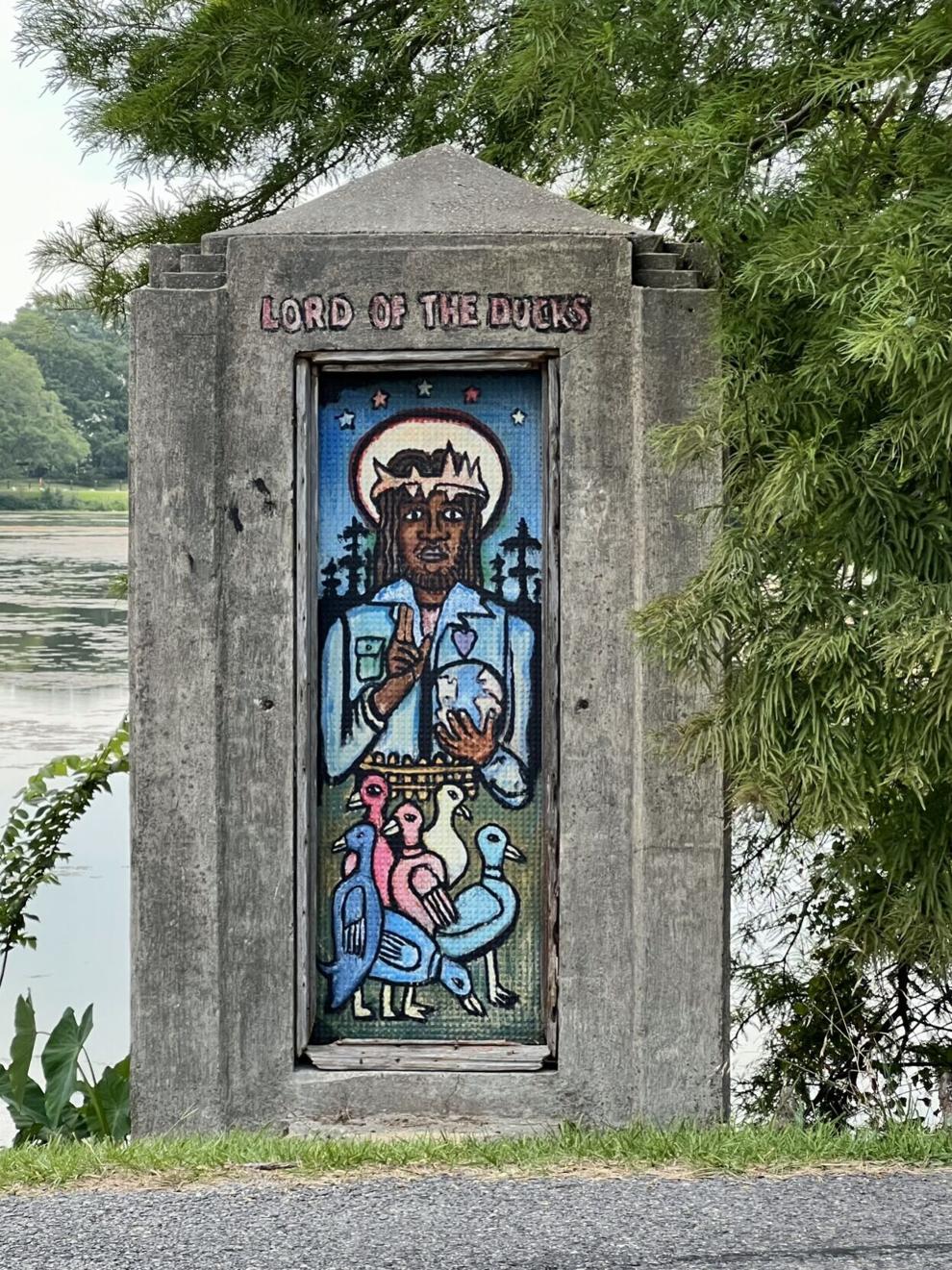 Andreassen said some of Barbier's other public artworks around the city have fallen to similar fates.
"He was a rogue painter, meaning he didn't always ask permission before he painted something," Andreassen said. "But that was also the great thing about Charles and why there was joy in seeing one of his works appear, because they weren't commissioned or sanctioned by anyone. They just appeared, and they were so colorful. They really did give us so much joy."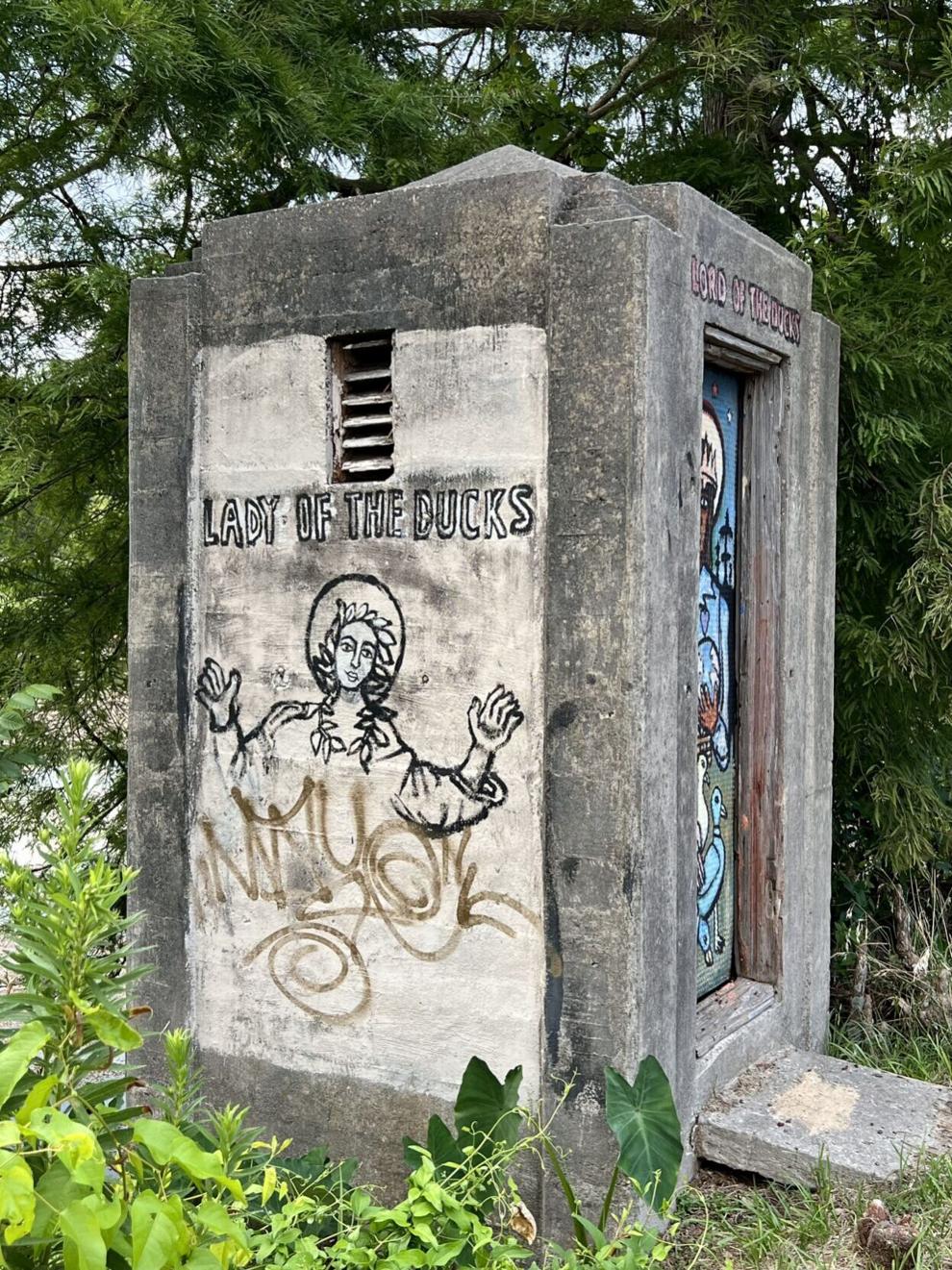 Being noncommissioned also means they could easily be removed. Barbier was a known artist in Baton Rouge, and some of his work was commissioned as murals. 
Barbier is no longer around to recreate or restore his work, so once it's lost, it's lost, which could be the fate of the football player wearing No. 9 at the Dalrymple exit. On the other hand, perhaps it will be preserved and find a new home where people can still appreciate the piece. 
Update:
Kelsey Livingston, Director of Exhibitions at Baton Rouge Gallery, received a call from the Louisiana Department of Transportation and Development later in the week. The spokesperson told her work on the Dalrymple exit's retaining wall will not begin until October.
She said the spokesperson also said Barbier's football player probably will not be saved.
Livingston added that she's contacted the Barbier family to find out what steps they might want to take in preserving the image.
"It might be just taking high resolution images of the piece," she said. "I'm not sure how it can be saved if the retaining wall is made of brick or cinderblock, because carving it out would be difficult, and it would require a lot of money. But we're in touch with the family, and we'll see where it goes from there."  
Curious Louisiana is a community-driven reporting project that connects readers to our newsrooms' resources to dig, research and find answers about the Pelican State. Bottom line: If you've got a question about something Louisiana-centric, ask us.