New Orleans Military and Maritime Academy has largely flown below radar since it was founded on the West Bank, during the post-Hurricane Katrina rebuild a dozen years ago. Its leaders now hope to raise the charter school's profile as it embarks on a $50 million expansion at Federal City.
The school was the brainchild of two Marine Corps officers, Col. Terry Ebbert, who is now president of the school's governing board, and Major Gen. David Mize. They initially wanted to fill a gap in the New Orleans public school system with an open enrollment school that could accommodate the children of Marine Corps personnel transferring to the city. The concept, Ebbert said, quickly grew to provide a military-style education to any New Orleans area student whose family understood and accepted the school's principles.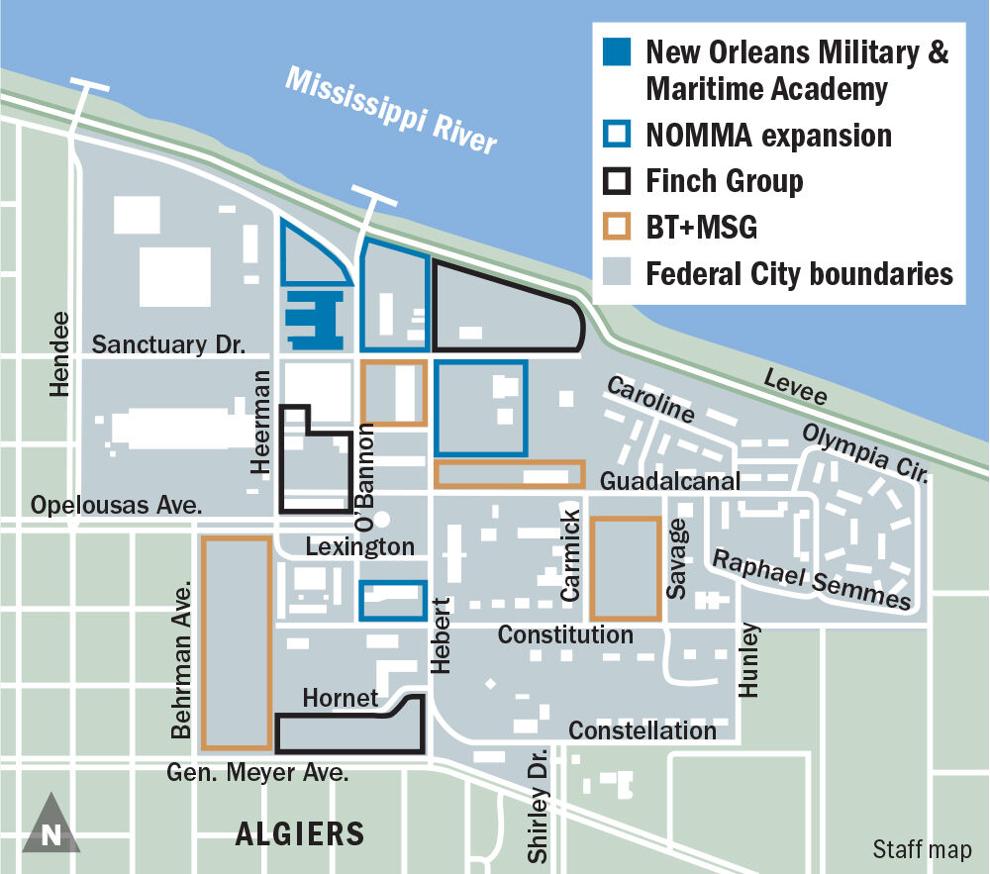 "We've been trying to fill that hole we saw and bring the structure and discipline students need to be successful in life," Ebbert said. "We now have the advantage of reflecting what the Marine Corps is: a mixture of America -- racially, ethnically and we're 38% young women."
The school enrolls almost 900 students, which makes for the largest dedicated Marine Corps Junior Reserve Officer Training Corps unit in the United States, said Col. Chris Schlafer, the academy's commandant since 2015. Under the academy's structure, the commandant is the leader; there is also a school principal, currently Alexis Long.
Schlafer said the school gives admission preference to students of Marine Corps and other military families; currently that component is only 5% of enrollment As the school has drawn from the wider metro area, it has been careful to take a large portion of students from economically disadvantaged households; currently they make up 80% of the student body, he said.
The largest component of the student body comes from Jefferson Parish. Its ethnic makeup is about 40% Hispanic, 30% Black and 20% White, with the rest from Asian and other heritages, Schlafer said.
Some of the academy's unusual features have kept it off the regular Top 10 lists of most-sought New Orleans public high schools.
"NOMMA continues to be a highly regarded choice among high schools in the city, although it doesn't experience the same level of demand as Willow, Warren Easton or Edna Karr," Taslin Alfonzo, a school system spokesperson. In a city where most high schools start in ninth grade, the military academy's 8-12 grade structure means it effectively has two entry levels, which dilutes its popularity in the data, Alfonzo added.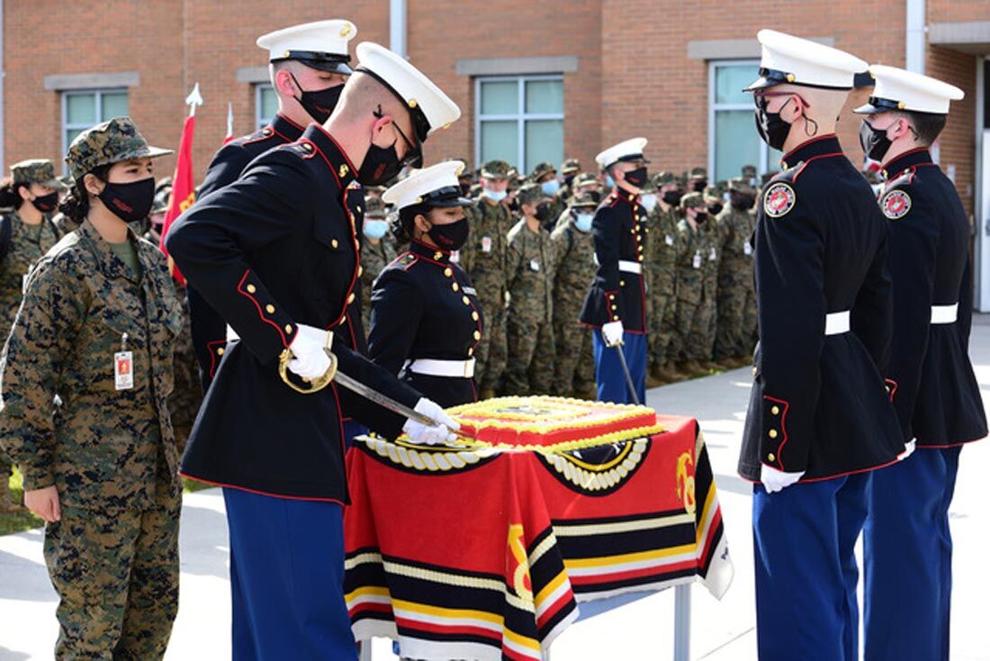 Another factor is the military aspect. While other schools, such as the private Jesuit High, offer Junior ROTC programs, New Orleans Military and Maritime Academy requires that all students be enrolled in the program, wear a uniform and abide by its principles.
That might give parents the false impression that it puts kids on track for a military career, Ebbert said. "That's a continual educational piece that we're working hard on," he said. "Our job is to try and ensure that our cadets have the basics to be successful in life, wherever they choose to go, be that college, the maritime industries, public safety or any other profession."
The school was authorized by the Louisiana Board of Elementary and Secondary Education, rather than Orleans Parish School Board, making it one of a handful of local schools -- such as International High and Lycée Français de la Nouvelle-Orléans -- with a Type 2 designation. That means it must accept student applications from across the state, not just New Orleans.
The school opened in 2011 with 95 ninth graders, operating out of the condemned Murray Henderson Elementary building across from the Fischer housing development in Algiers. It moved a year later into one of the historic buildings in Federal City. It was one of the early tenants of the Algiers Development District, the state body that has had mixed results since it was tasked with reimagining the century-old Naval Support Activity base in 2011.
Eyeing expansion
New Orleans Military and Maritime has long planned to expand in Federal City, and can move forward now after buying from the Algiers Development District three parcels of land totaling almost 11 acres, for $2.8 million.
It paid for the land in cash, and received an attractive sweetener, Ebbert said: a 60-year lease, at $1 a year, for the 4,000-square-foot gymnasium that LSU Health abandoned during the COVID-19 pandemic. LSU Health had been the third operator of that gym since it was built for more than $6 million a decade ago.
The New Orleans Recreation Development Commission has taken over the swimming pool attached to the gym, and will open it to the general public as well as the military school's cadets.
"This is our first effort to expand in a major way," Schlafer said. "Having site control, we can now move forward with the expansion program."
New Orleans architects Eskew Dumez Ripple are drawing up plans for the land and buildings, some of which are historic and must be preserved. The priority for both students and staff is more classroom space, as currently the school has 14 classrooms in temporary structures in a leased parking garage across from the main building, school leaders said.
"Now it is just a small matter of raising $50 million," Schlafer said. "We know it's not going to happen overnight, but will be done over many years."
Since the start, the school has had to be creative in its funding, Ebbert said. Its basic source of money is the Louisiana Minimum Foundation Program, which provides financing to Louisiana public schools based on enrollment. It also received capital expenditure money from the Legislature, and money from historic preservation tax incentives when it moved to the Federal City building. It will now look to local, state and federal government sources for money, as well as the private sector, Ebbert said.
"We haven't really tapped philanthropic sources before, but we intend to," Ebbert said. "We know we're going to be on a major capital campaign to build the phases we want to incorporate into the final design."
The expansion will elevate the academy to "anchor tenant" status at Federal City.
Mark Major, chair of the Algiers Development District, said the military school's move will build population on the Federal City campus, which is needed to kickstart the private sector developments that have so far struggled to take off.
"What is going to make these projects happen is more population on the campus, and this is going to add to that," Major said.
Anchors aweigh
The Marine Corps reserve headquarters station, with 2,000 personnel, has been the major anchor at Federal City campus, along with the Coast Guard regional headquarters. Another success for the site has been Delgado Community College's 35,000-square-foot technology center, partly funded by a $13 million grant from the state.
One of the two private developers that came on board four years ago, a joint venture of Shreveport-based Brown-Taylor Development and New Orleans-based MSG, which is owned by garbage hauler Jimmy Woods, said in January that it soon plans to start building affordable housing for elderly people. Major said that is still contingent on "complicated financing" falling into place. He said the other private developer, Finch Group, which owns three plots, including a riverside plot, still hasn't decided on its plans.
Schlafer said the target for the military school's first phase of expansion is to raise enrollment to 1,200, with a commensurate rise in the number of teachers and support staff close to 200. But he said the school has been dealing with the post-COVID malaise that has hit schools across the U.S.; it has seen enrollment decline from more than 1,000 in 2020 to fewer than 900. There is also a teacher shortage and difficulty recruiting.
"Because I did not want to dilute the quality of our product, I dialed our enrollment numbers down to ensure we would have an adequate number of teachers for all students and classes," Schlafer said.
The prospect of more room, new classrooms, a huge new gym and other amenities will now be part of the effort to attract new teachers and expect student enrollment to follow, he said.