In the most literal sense, you'll have to look hard to spot New Orleans in the locally shot adaptation of the Stephen King horror yarn "The Boogeyman."
Sharp-eyed viewers might catch a shot or two of McDonogh 35 High School in the city's St. Bernard area — and that's about it, as recognizable locations go.
Figuratively, though, the city is very much a part of director Rob Savage's horror film.
"We wanted this to feel like Anytown, USA — like every Stephen King movie," Savage said. "You want it to feel like it could be anywhere, like it could be your hometown. But when I first got to New Orleans, the aesthetic qualities were so powerful, I was really pushing to get more and more of that in the movie."
There were the moss-draped trees, for example. The alluring architecture. The supernatural sense of a place suspended in time.
Even if they aren't front-and-center on the screen, those sorts of things have a way of impacting any film by affecting its cast and crew.
That was no different for "The Boogeyman."
Young social media users and the parents who just don't understand.
For his part, the 30-year-old Savage admits to having been a NOLA newbie when production got underway in February 2022. The first visit to the city by the British expat — now living in Los Angeles — was a location scouting trip shortly before principal photography began.
He was immediately smitten.
'A unique vibe'
"There's such a unique vibe in New Orleans that I love," he said. "I love just walking around. I love the people. I love the culture of day-drinking — as a Brit, that really appeals to me.
"There were some locations that I just thought were so cinematic I was just like, 'We've got to shoot here,' and my production designer was like, 'Well, if you shoot there, everyone is going to know it's New Orleans because that looks like New Orleans through and through,' so I had to be dissuaded from a few locations."
One thing he couldn't be dissuaded from was sending his main cast members — Chris Messina, Vivien Lyra Blair and Sophie Thatcher — on a sort-of family boot camp once they arrived in town.
In the film, which expands on King's seven-page story, Messina plays a recently widowed therapist whose emotionally distraught family finds itself besieged by a slathering, shadow-dwelling creature of unknown origin. Blair ("Obi-Wan Kenobi") and Thatcher ("Yellowjackets") play his daughters, who must deal with the twin horrors of the death of their mother and the arrival of the Boogeyman.
In order to convincingly pull off a realistic family dynamic, Savage arranged for them to bond through a series of shared New Orleans experiences during the film's two-week rehearsal period.
Playing tourist
So they hung out in the French Quarter. They visited the Audubon Aquarium of the Americas. They went on a swamp tour. They ate and ate and ate.
And then, after 10-year-old Vivien was tucked in for the night, Savage, Messina and Thatcher would hit the local bars and karaoke joints.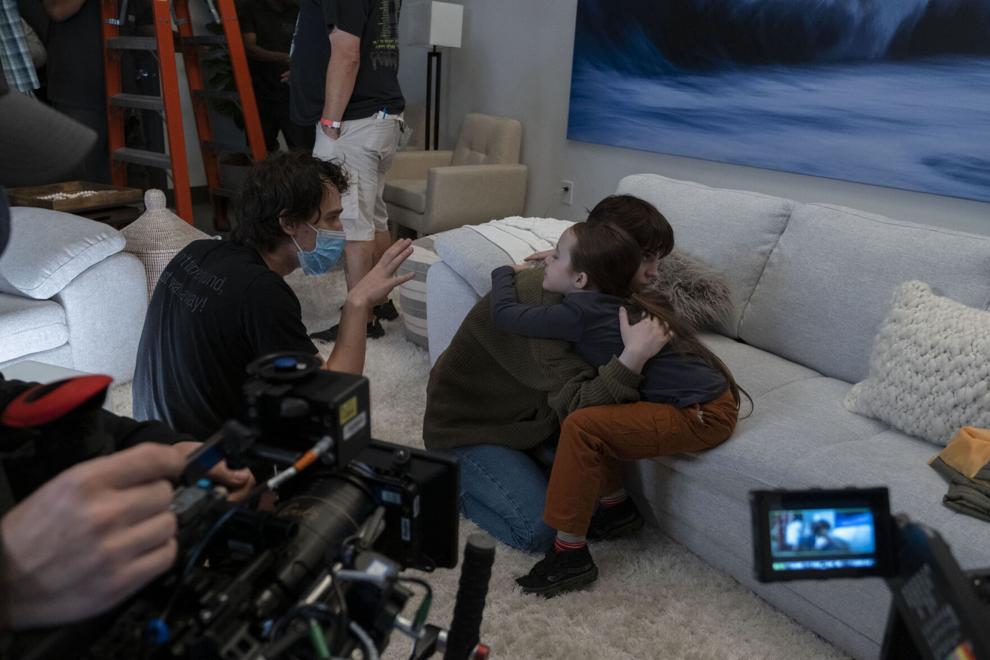 It was fun, to be sure, but the best part was that it worked.
"By the time we got to set," Messina said, "there was so much love and trust — and we had become a family."
That tight-knit vibe extended beyond the main cast. It also included the New Orleans crew, which Savage called the best he has worked with to this point in his young career.
"I felt like everyone who was there in a technical capacity really understood what we were trying to get at with the movie as a whole. Everyone knew the feel of the movie," he said.
"It was the kind of thing that, as I was figuring out what our team could do, I was rewriting and re-storyboarding the next week's sequences because there was something we pulled off and I wanted to build on it. So the movie got more and more ambitious week after week as we moved on."
High praise
One key person who noticed: King, who, after an advance screening, gushed about the film.
A test audience was equally taken with it, prompting studio suits at the Disney-owned 20th Century Studios to scratch what originally was to be a streaming release on Hulu and instead schedule a wide theatrical release for this Friday (June 2).
That might make other filmmakers feel an added layer of pressure. That's not the case for Savage, who is handling it all with a Big Easy-style insouciance.
"It makes me feel validated," he said. "I felt in my gut that we had something special. We had such an incredible group of people, such a great cast. It's nice. I love this movie. I think we pulled something together that's really cool."