In a way, solo art exhibits are always self-portraits. At least they ought to be. Whatever the medium or subject matter of the artwork, it should somehow represent the essence of the artist.
Kimberly Ha's photo exhibit "Full Set" at the Mortal Machine Gallery in the French Quarter is certainly a symbolic self-portrait. Ha's collection of photos of elaborately styled fingernails is the story of a young Vietnamese-American woman who is appreciative of her heritage and inspired by contemporary American culture.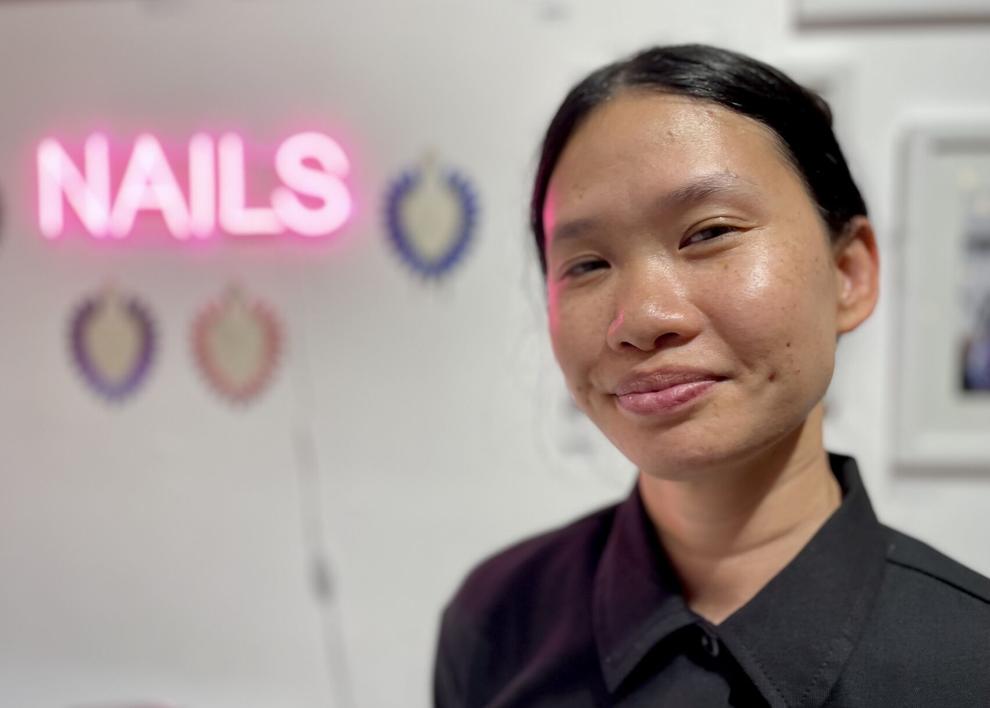 The well-known relationship between Vietnamese emigrants and the nail industry begins in Hollywood in the mid-1970s, after the fall of Vietnam. As the story goes, Tippi Hedren, the leading lady in Alfred Hitchcock's "The Birds" horror movie, visited a group of female Vietnamese war refugees.
Hedrens' intention was to identify possible occupations for the women. When the new American residents admired the movie star's manicured nails, Hedren asked her manicurist Dusty Coots to teach them his techniques. Thus, a future blended-culture industry was born and began spreading across the country.
Like so many others, Ha's mom became a Vietnamese immigrant manicurist. So, as a kid, Ha said, "I'd be in the nail salon a ton."
Ha is 33 years old. She was born in Houston, but her family moved to the New Orleans area when she was about 10. Sometime along the line, she asked her parents for a camera for Christmas. Ha took pictures of pals and later contributed photos to the yearbook at East St. John High in Reserve.
In time, fashion became her focus. Over the years, she shot the hot cars at the lakefront, sneaker culture and streetwear in general. She likes "dressing up my home girls," as she puts it.
And now nails.
But not just filed and polished nails. Ha's photographs document only the most over-the-top nail designs, with embedded jewels, dangling bangles and dazzling painted patterns. She views such extravagant nail treatments as fingertip sculpture.
Ha said that "Full Set" is her way of "paying homage" to the Vietnamese women who pioneered the cross-cultural nail industry and the survivor spirit they embody.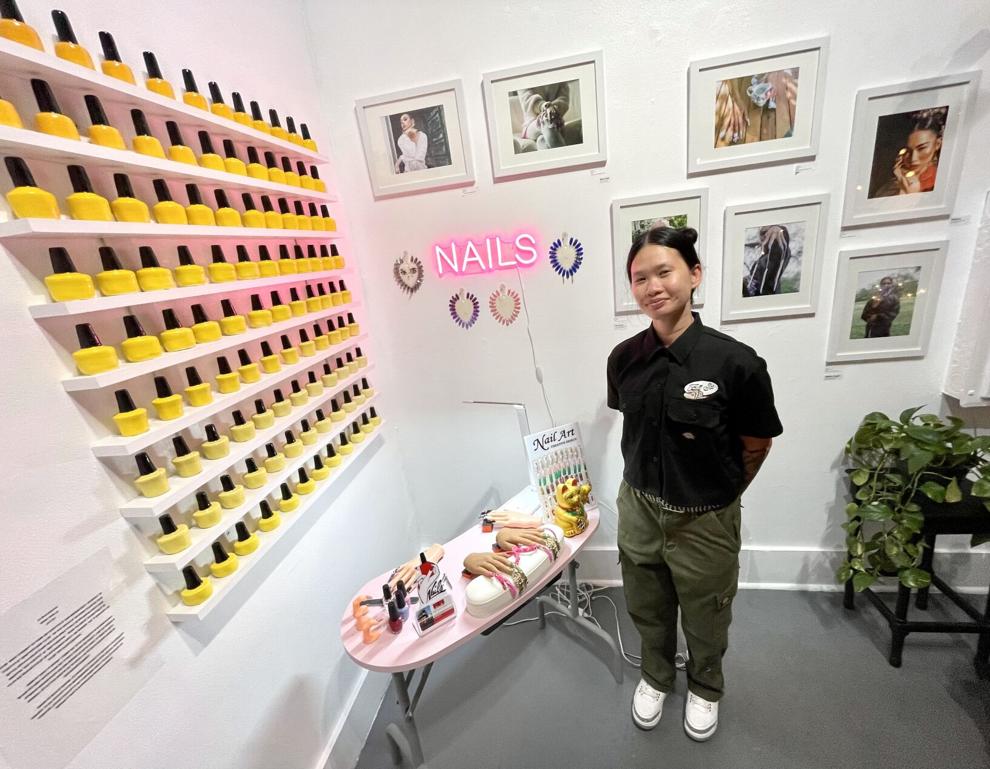 The exhibit was also inspired in part by some iconic fictional women who represent a certain type of bravado that Ha reveres: Fran Fine from "The Nanny," Sharon Stone's character Ginger McKenna from the movie "Casino," and the heroines of Chinese adventure soap operas that Ha watched with her mom.
Ha is the lead artist of the exhibit, but "Full Set" is a conceptual collaboration. The models in her photos, Ha said, helped guide their own glamorous portraits.
She's also invited three sculptors, Angeli Earley, Trinity Barriere and Christian Dinh to contribute to the exhibit. The gigantic paper mache fingers in the windows and array of ceramic fingernail polish bottles in all shades of yellow, are their contributions.  
And, of course, she's selected several artistic manicurists to display their finest applique nail designs: Antoniajose Villa, Da'Juana Henry, Draiya Clark, Katalina Mitchell, Lori Ho, Morgan Dixion, Rachel Eckenrode, and Victoria Nguyen.
Mortal Machine Gallery is located at 940 Royal St. "Full Set" opens with a reception from 6 to 9 on Friday, April 28, with free designer cocktails and live music. The exhibit continues through May 19. Regular gallery hours are Sun-Thurs, 11 a.m. to 7 p.m. and Fri-Sat, 10 a.m. to 8 p.m. Ha's photos range from $400 to $1,200.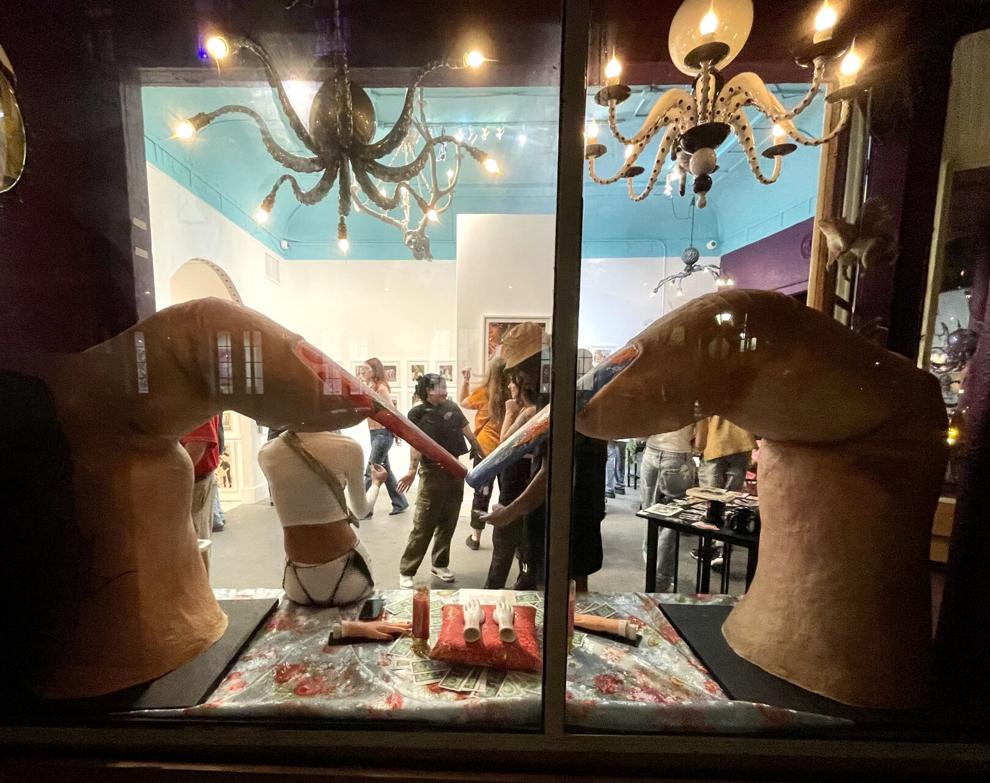 At first glance, the 108 bottles of yellow fingernail polish in artist Christian Anh Dai Viet Dinh's exhibit of ceramic sculpture at the Ogden…