It was a club neither wanted to belong to, yet when Susan Aucoin and Lana Stevens each had babies with congenital heart defects, they joined the 1% of parents in that situation.
Lana and Kevin Stevens' daughter, Harlie, is now 17, and Susan and Dwayne Aucoin's son Henry is 13. Their children's hospital ordeals from birth were very different, but both diagnoses come under the umbrella of congenital heart defects that require cardiovascular specialists from the get-go.
Both families have dealt with multiple surgeries since, and have learned plenty about the anomalies of the heart. Because they've garnered so much knowledge through their experiences, the moms began their own podcast, NOLA Hawts, in December 2020 — a podcast by and for "heart mamas," as they like to say.
Their podcast is broadcast every other Tuesday and is often lighthearted and reflective. The moms have been through a lot, but can still find levity in their lives.
"Lana and I met after Henry was born, through mutual friends," said Aucoin, who lives in Harahan. "We just hit it off immediately, and had so much in common. And we knew eventually we wanted to help others in our position, because there was no one out there to help us all those years ago."
Social media is getting the word out, and the podcast has a string of followers and new ones coming on board all of the time. But Stevens remembers the beginning.
"We didn't listen to podcasts and knew nothing about how to begin, but I started doing a lot of Googling, bought some microphones, and the next thing we knew our podcast was being thrust onto different platforms.
"We're not medical experts, but we've had a lot of unique experiences to talk about. We do interviews with experts along with those in the know about resources."
A frightening diagnosis
Harlie Stevens, born the month after Hurricane Katrina in 2005, seemed like a healthy 6-pound girl until a heart murmur was detected.
Doctors ordered an ultrasound. "One day later, she was diagnosed with Tetralogy of Fallot," said her mom, Lana Stevens, of Metairie.
"We were at East Jefferson General Hospital, where she spent nine days in the NICU. Her first surgery was performed at just 10 days old, after being transported to Children's Hospital."
"Tetralogy of Fallot (after the heart surgeon who named the defect), is a combination of four congenital heart defects," said Dr. Timothy Pettitt, a pediatric cardiothoracic surgeon at Children's Hospital and a professor of surgery at LSU Health Sciences Center, who operated on both children.
"These defects, affecting the structure of the heart, result in a lack of oxygen-rich blood reaching the body and require surgical intervention. It's a lifelong issue to make sure that heart valves are intact and functioning properly," Pettitt said.
Harlie went on to have open-heart surgery at 15 months, followed by her third surgery at 6. Last year, she had a valve replacement. Now, she is thriving.
Twin in trouble
Susan Aucoin was pregnant with identical twins when Henry's problem was discovered.
In a condition called twin-to-twin transfusion, one twin gives away more blood that it receives in return and runs the risk of malnourishment and organ failure. Henry was born with a heart defect.
"He was born along with his twin, Ben, at Lakeside Hospital, but Henry was blue," Susan Aucoin said.
Henry went into the cardiac intensive care unit, while he gained strength for the major surgery he needed the following week. Diagnosed with Transposition of the Great Vessels, he was transported to Children's Hospital.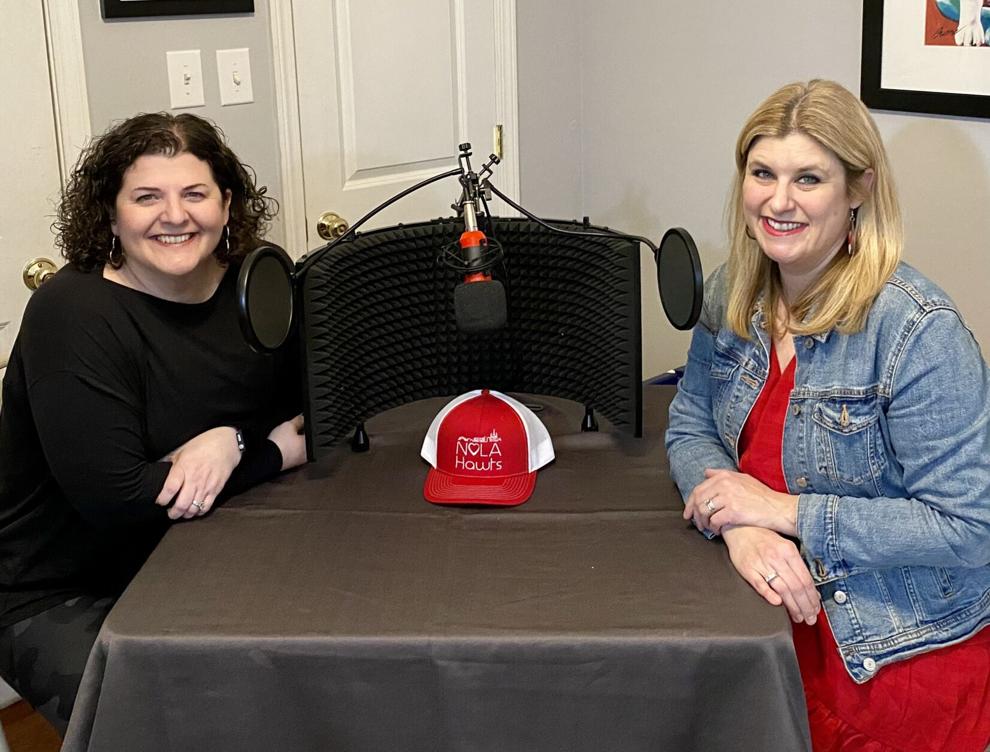 "Frankly, I thought he might leave in a body bag," Aucoin said.
"He was in intensive care after the surgery, with his chest open, covered with Saran wrap." She said that she was shopping for caskets when she dreamed that her deceased father-in-law told her to "have faith."
Technology advances
With this condition, the aorta and the pulmonary artery are switched in position. It's considered a critical congenital heart defect.
"This is a lifelong problem which needs to be monitored," Pettitt said, "but newer technology is making follow-up procedures less invasive."
Henry went on to have a second surgery and still needs a valve in the future, but he's keeping up with his twin brother.
When they aren't in front of their microphones, both podcasters stay busy with jobs and family.
Susan Aucoin is an agent aspirant for State Farm Insurance and runs her nonprofit, the Henry Aucoin Foundation. Besides Henry and Ben, the children include 16-year-old Emily.
Lana Stevens is a community educator and volunteer specialist with the Louisiana Organ Procurement Agency, and mom to Harlie and 12-year-old Carson.
The podcast has provided help for other families in the heart-defect club. 
And, "the bonus has been that talking about all of this has provided a unique sort of therapy for the two of us," Stevens said.