A disturbance in the Gulf of Mexico now has a 50% chance of forming into a "short-lived" tropical depression or storm in the next two to seven days, the National Hurricane Center said Thursday. 
Regardless of development, the storm is not expected to impact the Louisiana coast. 
The low-pressure system was expected to leave the Gulf over the weekend until it slowed down, extending its stay. Showers and thunderstorms associated with the system became better organized between Wednesday night and Thursday morning, leading forecasters to bump the likelihood of development from 20 to 50% overnight.  
While the system is expected to produce heavy rainfall over portions of the Florida Peninsula in the next few days, forecasters say environmental conditions are predicted to hamper further development this coming weekend.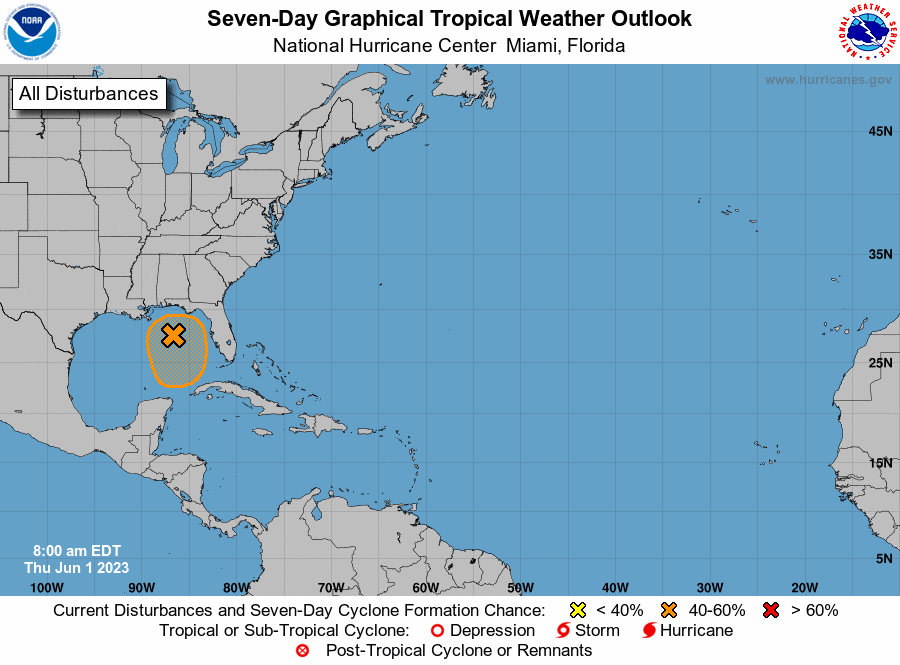 The shaded area in the above graphic is not a track, but an area of potential development for a tropical cyclone. NHC meteorologists create tracks only for named storms.
The 2023 hurricane season
The return of El Niño could bring a wetter second half of the year to Louisiana and a reduced risk of hurricanes.
The National Oceanic and Atmospheric Association's Climate Prediction Center announced March 9 that La Niña, which usually causes more hurricanes to form in the Atlantic, was officially over after an unusually long three years.
El Niño and its sister La Niña are part of the El Niño-Southern Oscillation cycle, a set of conditions over the Pacific Ocean that affects weather patterns across the world. In Louisiana, the biggest effects involve hurricane season in the Atlantic Ocean.
Regardless, this year's first cyclone hit in January, according to National Hurricane Center forecasters, long before the official start of hurricane season.
Hurricane specialists recently reassessed an area of low pressure that formed in off the northeastern coast of the U.S. in mid-January, a standard procedure for the Hurricane Center, and designated it a subtropical storm. It's not unusual for storms to form before June, according to the National Hurricane Center.