This week in Curious Louisiana, reader Tommy Thompson has his attention turned firmly to the rails.
"Regarding the new passenger rail service between Baton Rouge and New Orleans: have you heard any updates?" he writes. "Is it still a go? Will the locomotives be diesel or electric? Where will station(s) be located in New Orleans and Baton Rouge?"
Difficult though it may be to believe in an age of widespread car usage and minimal public transport, the trip between Baton Rouge and New Orleans was once nearly always made by train. Historical accounts often bear this out. In one, the ever-alert Gov. Huey Long kept a suite of rooms at the Heidelberg Hotel (now the Hilton Baton Rouge Capitol Center) so he could watch as recently-arrived politicians made their way from the downtown train station, now home to the Louisiana Art and Science Museum, to the Old State Capitol.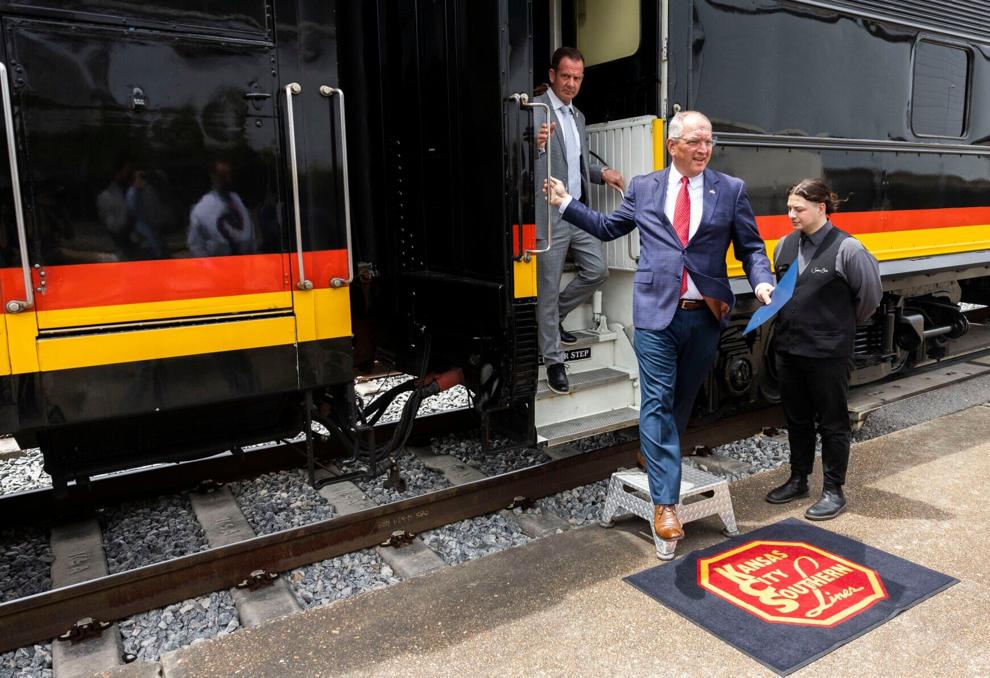 Ultimately, though, the service fell victim to the rise of vehicle usage and a corresponding move away from passenger rail. It was last run in 1969, when Kansas City Southern's Southern Belle finally pulled the plug after years of declining use. 
Over the years, there have been periodic revival attempts. Federal economic stimulus funding was made available in the wake of the 2008-09 financial crisis but was turned down by then-Gov. Bobby Jindal. Another close call came in 2018, when the Louisiana Legislature declined to apply for grants made available under the Federal Railroad Administration's Consolidated Rail Infrastructure and Safety Improvements Program. Reportedly, lawmakers balked at a provision requiring 50% state matching funds.
Recent events, however, have proved more encouraging. A proposed change in the track's owners — to Canadian Pacific Railway, which is in the process of merging with Kansas City Southern — came with an assurance that the new owners would attempt to restart passenger service on the line. Importantly, funding from the bipartisan Infrastructure Investment and Jobs Act was made available to bring the project to fruition. 
The service has been heavily supported by local stakeholders and politicians, including Gov. John Bel Edwards. Last year, Edwards and then-Louisiana Department of Transportation and Development Secretary Shawn Wilson even took a trip down the proposed route.
According to the Baton Rouge Area Foundation, heavy supporters of the project, stops are proposed for downtown and the Health District in Baton Rouge, Gonzales, LaPlace, Louis Armstrong New Orleans International Airport and the Union Passenger Terminal in New Orleans.
There are still issues to iron out. Chief among them is the Bonnet Carré Spillway, which has a 10 mph speed limit and will require extensive work to be ready for passenger service. Some estimates place the repair bill at $80 million. Commenting on the bridge's condition, and its current speed limit, Wilson put it succinctly. "You can climb a rickety ladder," he said, "(but) you can't climb a rickety ladder very fast."
Particulars like how often the service would run, for one, are yet to be determined. The Canadian Pacific/Kansas City Southern merger is also awaiting final signoff from the federal Surface Transportation Board, though a decision is expected soon.
It's unclear whether the locomotives would be diesel or electric, though, for what it's worth, Amtrak trains on similar routes appear to be primarily diesel powered.
Wilson said while there are still challenges to overcome, progress has been encouraging. 
"There are a lot of moving parts," he said. "It's not as easy as just putting a train on the tracks. There's a lot to be determined in terms of cost and time, a lot in terms of the safety element. … It is a puzzle, and these things don't happen overnight.
"But we've seen major, major movement. And if the bipartisan Infrastructure Investment and Jobs Act bill had not passed, very few of these things, if any, would be occurring. So I have to acknowledge Sen. (Bill) Cassidy and Congressman (Troy) Carter for promoting this bill. ... It creates an opportunity that Baton Rouge hasn't seen since the service existed decades ago."
So how confident is he that it will actually, finally, happen?
"I am confident that we have done any and everything in our power to leverage the opportunities to deliver the service," he said.
"I think there's enough resources out there to establish the service, and I think we're making good progress, more meaningful progress, than we've ever had on this particular service. There's been a lot of talk but there has to be some real action, and we're taking steps to create that action."
Curious Louisiana is a community-driven reporting project that connects readers to our newsrooms' resources to dig, research and find answers about the Pelican State. Bottom line: If you've got a question about something Louisiana-centric, ask us.