Built in 1871 by a ship's captain, the Algiers Point Italianate side hall townhome of Gregg Harris and Vinnie Pervel is carefully and lavishly appointed with Victorian-era antique furnishings, art and eclectic personal collections.
When the home was acquired 37 years ago, however, it was an asbestos-covered, blighted eyesore.
"The decayed façade was missing a porch column and balcony railings," said Harris, a psychotherapist specializing in treating trauma and loss. "The front yard was concrete with no garden space."
The couple's relationship has provided a yin and a yang for the renovation. Harris brought passions for gardening and design. Pervel, a Navy veteran and retired general contractor, brought unbridled creativity and a mastery of his craft.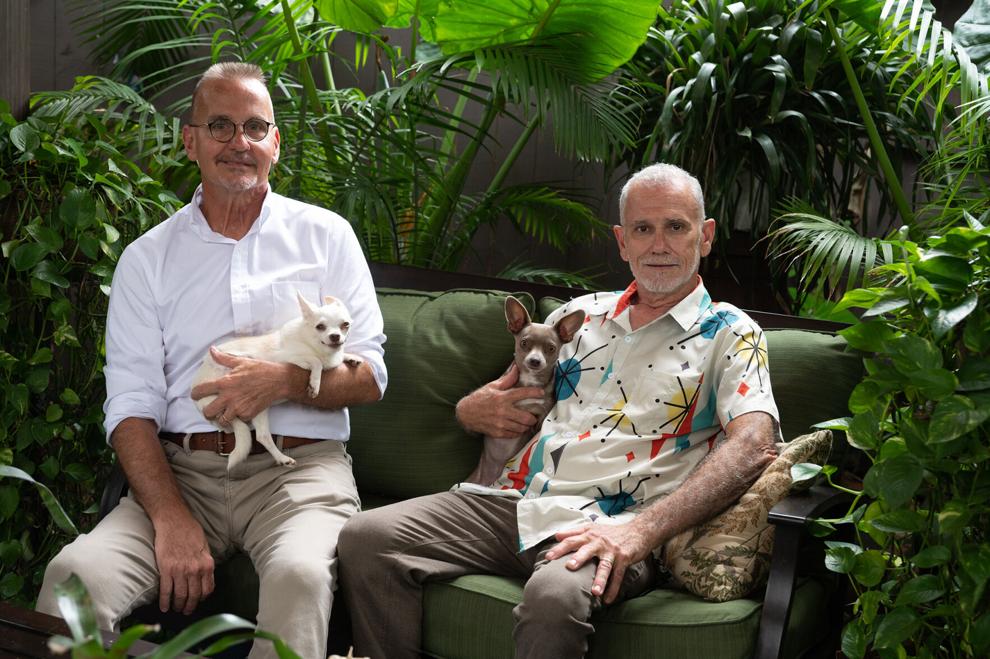 Together they attacked the house, burning through weekends and free time on design, renovation, repair, landscaping and gardening, breaking only for drive-thru daiquiris to fuel visits to estate sales, St. Charles Auction Gallery, The Bank, Ricca's, The Green Project, Strip Ease, the erstwhile Greg's Antiques and the occasional dumpster dive.
Pervel stripped off the toxic siding, remilled the original porch and stairway railings and spindles, and replaced the missing column. 
He restored the front door and transom, adding leaded glass in a design by Harris, all of which is illuminated by period-appropriate gas lanterns from Bevolo.
Inside, decades of paint were stripped from the millwork with a heat gun. The wood was refinished by hand over the course of three years.
They sacrificed the home's driveway to a pair of elegant, arched Gothic iron gates and bid goodbye to the concrete with a jackhammer.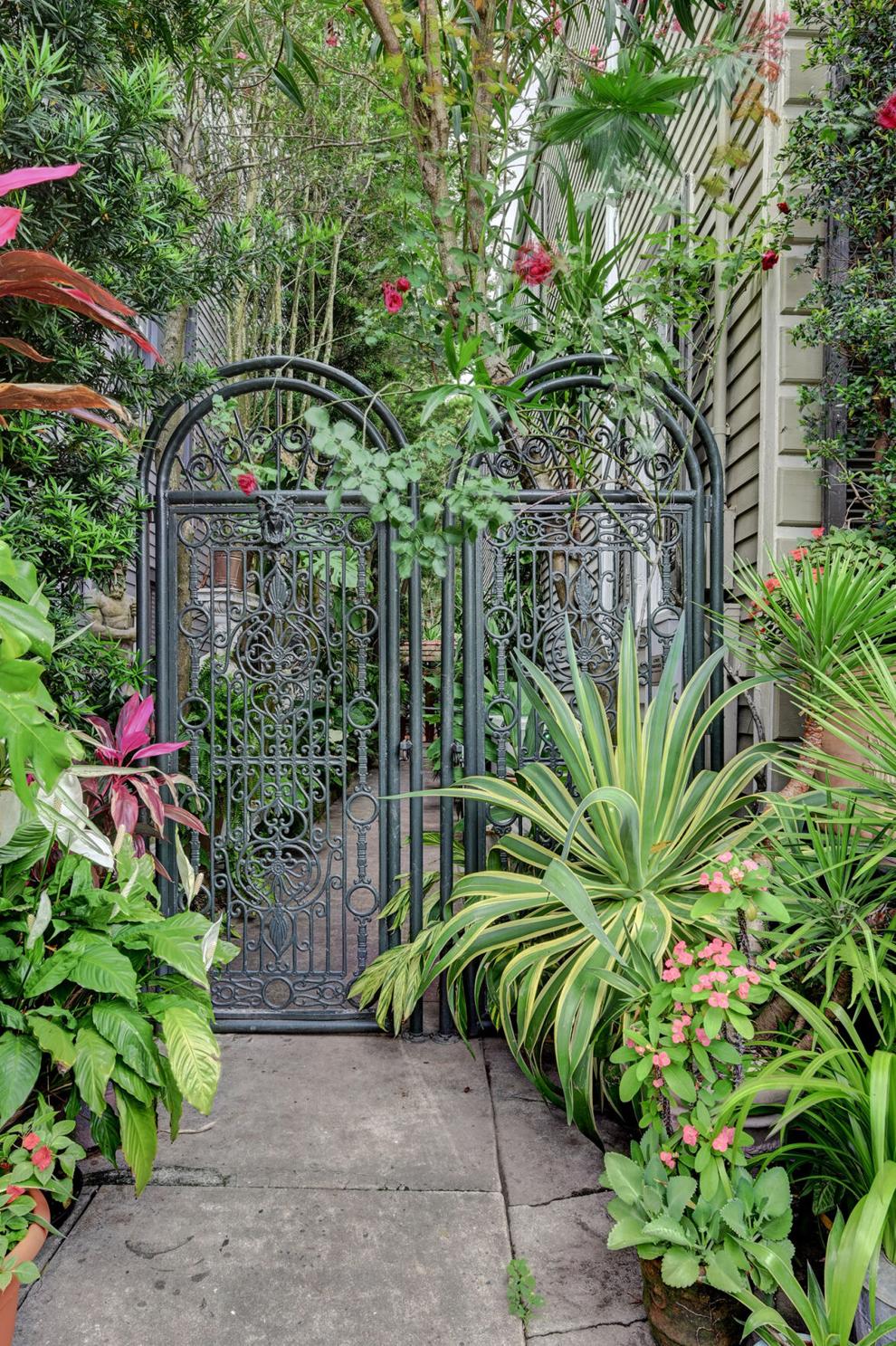 Down the garden path
Today, the lush garden Harris planted begins at the front of the house and trails down the side and beyond the gate before erupting into a deeply shaded tropical paradise inspired by the Jungle Gardens of Avery Island.
A brick pathway that once led from the house to a privy before the advent of indoor plumbing encompasses the first 20 feet of the path. The remainder is comprised of brick salvaged from inoperable fireplace chimneys dismantled during renovations.
The path winds through the foliage through which collections of statuary and sculptures stand sentry, terminating at a large, covered gazebo appointed with stylish and comfortable furniture. Lamp posts salvaged from the nearby Hubbell Library illuminate the garden at night.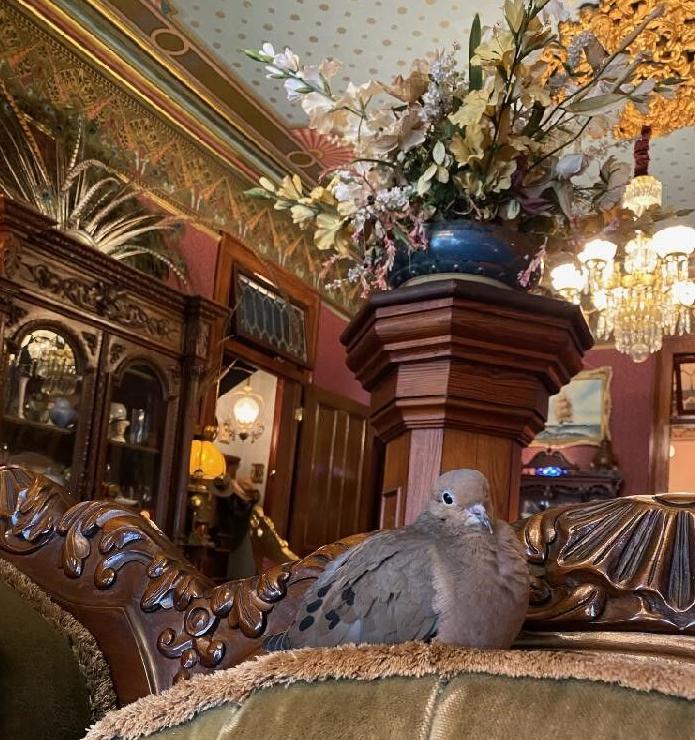 Pervel has made the garden a sanctuary for many species of birds and squirrels, including one who eats from his hand. Over the years, he has rescued and fostered squirrels, possums, raccoons, night herons and bats.
Inside, the home is overseen by Poey, a 10-year old mourning dove rescued from the garden as a featherless hatchling when his nest was destroyed by a storm. Poey remains in his gilded cage when guests visit but otherwise has free rein of the home along with Chihuahuas DJ and Shi, and Baggy, a rescued orange Tabby cat.
Attention to detail
Minimalists Harris and Pervel are not.
"I am extremely obsessive compulsive and very color obsessed," Harris said. "I love antiques. I grew up with them. I decorate and design. Vinnie builds. There was a time when he did not appreciate antiques, but he now does."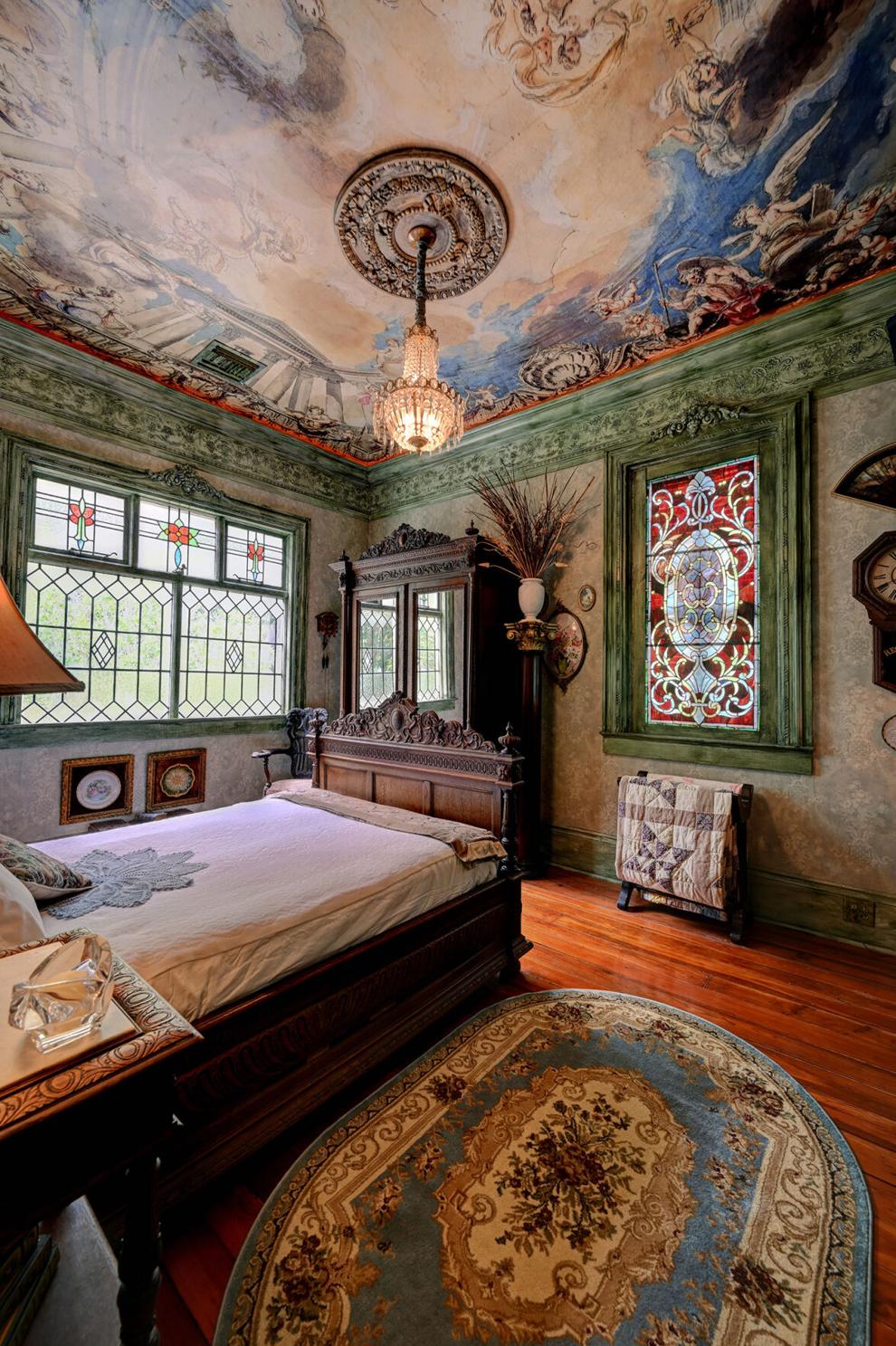 Formal parlors at the front of the house feature the home's original twin gilded plaster ceiling medallions made in Paris in a style known as Four Winds, for the faces of the four women carved into each.
Crown molding, mantle mirrors and a massive antique petticoat mirror continue the gilded theme while reflecting the twinkling light of antique Bavarian crystal chandeliers.
Pervel covered the ceilings in hand-screened robin's egg blue Bradbury silk, the walls in a ruby version of the same.
"I am a man of few words," Pervel said. "I prefer to express myself through my craftsmanship. I believe the more beauty you have around you the more beautiful you feel."
The front parlor was furnished with a set of carved mahogany Victorian parlor pieces upholstered in pale blue velvet.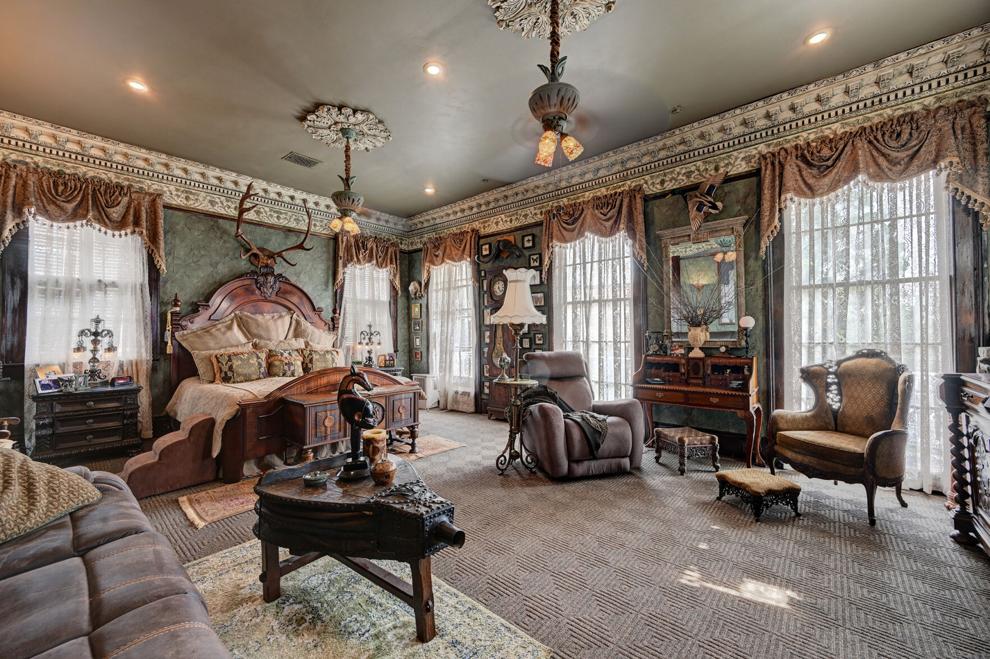 A pair of Blackamoor sculptures reside at either end of the arched passage between the two parlors. The ebony and gold statues, acquired from a set sale after the filming of American Horror Story, hold gilded metal and crystal chandeliers above their turbaned heads.
The second parlor is furnished in a suite of gilded wood upholstered with claret silk heavily embroidered with gold thread. Deep blue velvet drapes flow dramatically to the hardwood floors. Egyptian-style marble mantles are original to the home.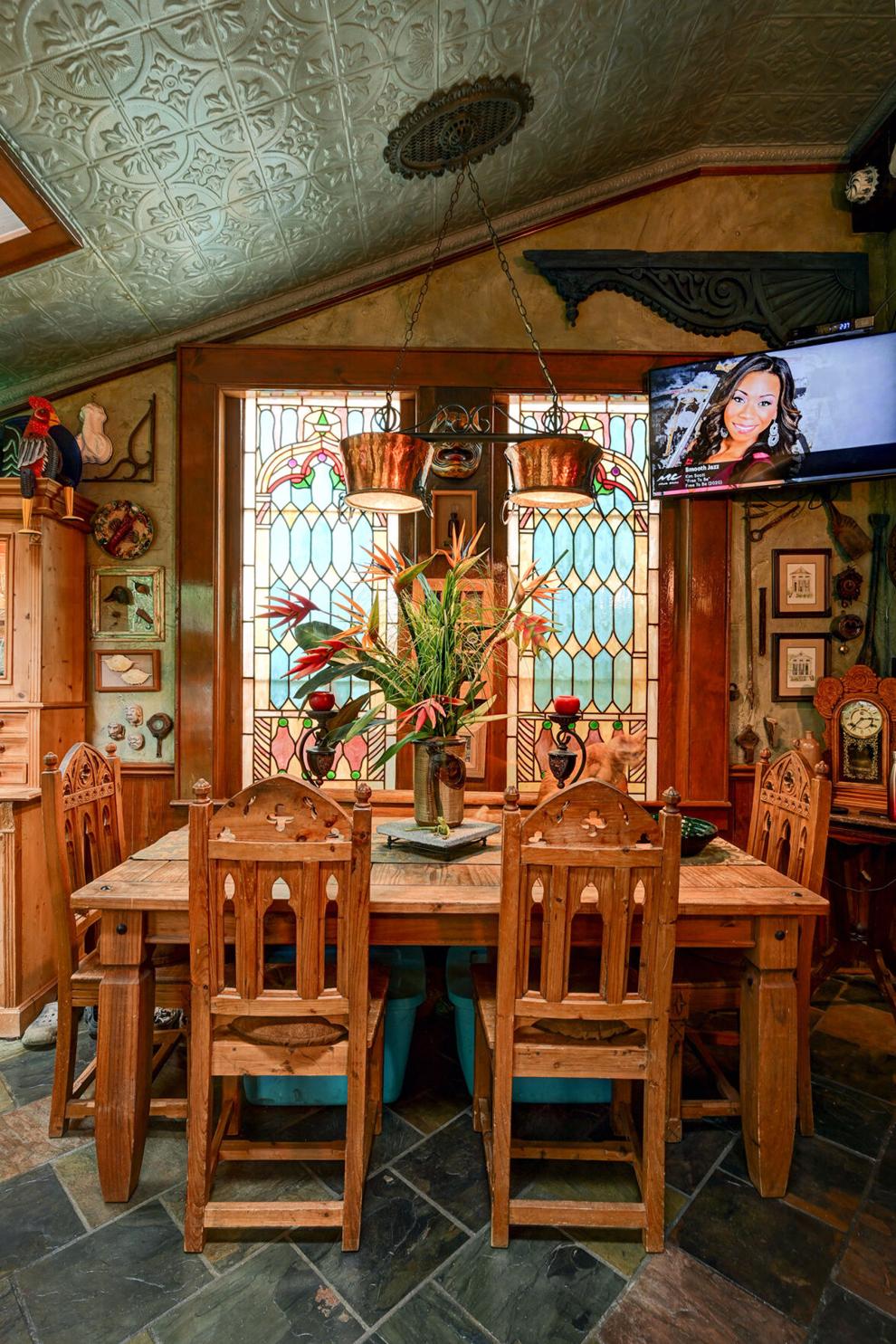 Clocks to mini cars and taxidermy
Born into an American military family in Heidelberg, Germany, Harris has a passion for clocks. There are 37 throughout the house, including eight of the stately grandfather variety.
An enthusiast for automotive history, Pervel collects miniature cars. Together they collect primitive African art and masks, antique weapons, blown glass, and mounted hunting trophies.
"We love animals. We do not hunt," Harris said. "The mounted pieces were acquired at auctions out of respect and to give these once-living creatures a place to reside in respect for their beauty as God's creations."
Their collection includes several taxidermied deer, an elk, a pheasant and a ram.
Culinary counterparts
Harris is a gourmet cook and Pervel an enthusiastic consumer of his culinary handiwork. Pervel renovated the kitchen, once a back porch, into what he describes as an Old World style with antique cabinets, hutches and buffets for storage.
The lacquered turquoise appliances are Heartland Victorian reproductions from Canada. The island, topped in Ocean Flower granite, was fashioned from a burled mahogany buffet built in the 1850s.
He adapted and repurposed a vintage hot water heater into a water cooler and overlaid the Sheetrock walls with Venetian plaster. He installed a tin ceiling. Like the others throughout the home, the brilliant stained-glass windows were acquired from Ricca's Architectural Salvage.
"I am gratified by my work," Pervel said.
"We have merged our lives in such a fulfilling way," Harris said. "Our interests have really made our marriage."