Louisiana Democratic Gov. John Bel Edwards plans to veto three bills that target LGBTQ+ people, he said Thursday, setting up a possible veto showdown with the state's Republican-controlled Legislature.
Three high-profile bills that seek to curtail discussion of LGBTQ+ identity and health care received by transgender people passed both chambers of the Legislature in the session that started April 10 and ended Thursday. The legislation mirrors a wave of similar bills filed in GOP-led statehouses nationwide in recent months in an effort to stir support from the party's base.
Asked at a press conference whether he would veto the three bills, Edwards said: "That is my expectation."
The measures have been proposed in Louisiana before but sailed through the state Legislature this year with more ease than in the past amid the increase nationally in anti-LGBTQ+ lawmaking.
The bills include House Bill 466, which would ban discussion of gender and sexual identity in school classrooms; House Bill 81, which would allow school employees to ignore students' wishes to go by pronouns other than those on their birth certificates, even if students have their parents' permission to do so; and House Bill 648, which would ban access to gender-affirming medical care for minors, such as puberty blockers, hormones and surgeries.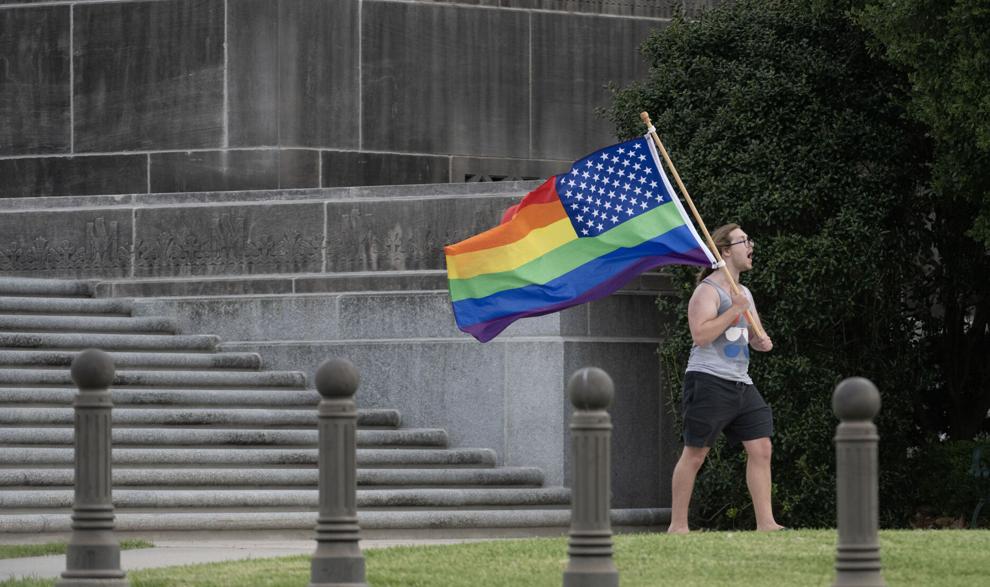 Supporters of House Bills 466 and 81 say they would give parents greater control over how and when their kids learn about sexual identity. Opponents say the bills leave unclear what teachers can and can't teach, and send a message that LGBTQ+ children are unwelcome. 
HB 648's sponsor, Rep. Gabe Firment, R-Pollock, says that measure would protect children from life-altering medical procedures before they're of an age to make educated decisions about whether to receive that care. A majority of leading medical associations say gender-affirming care is safe and effective and leads to better mental health outcomes in transgender youth, who suffer higher suicide rates than the general population.
Testimony in support of the bills has leaned heavily on misinformation.
Addressing the bills, Edwards drew a parallel between people who opposed the Civil Rights Movement in the 1950s and people who are proposing the anti-LGBTQ+ measures today.
"The judgement of history, I believe, will be very clear," he said. "It will be as clear as the judgement of history has been on those who didn't want civil rights in the '50s, for example."
When Edwards vetoes the bills, lawmakers could convene a veto-override session to overturn him. Two-thirds majority votes in each chamber would be required to do so; there has only been one override of a governor's veto in the past 31 years — last year, when lawmakers overturned Edwards' veto of a congressional redistricting bill that eliminated a second majority-minority district. 
The state constitution calls for a veto session to be scheduled automatically when a governor jettisons legislation. But a majority vote of either the House or Senate can scrap the gathering, and lawmakers had canceled every veto session over nearly five decades before the 2021 override session, when lawmakers unsuccessfully challenged Edwards' veto of a bill to bar transgender athletes from school sports.
Asked if lawmakers in his chamber would convene a veto-override session, Senate President Page Cortez said Thursday that it was the first he was hearing of Edwards' expectation that he would veto the bills and would need time to consider the question.