The wildfire smoke that has blanketed the country's east coast drifted down to Louisiana on Thursday, joining other air pollution threats across the state, particularly ozone.
Much of southeast Louisiana, including New Orleans, Baton Rouge, Lake Charles and Monroe, was expected to reach orange level air pollution by midnight Thursday, partly due to wildfire smoke, but mainly because of ozone. The air quality index has six levels, with orange being the third-highest.
"We are seeing some smoke, a very thin layer here from the Canadian fires," said Greg Langley, spokesman for the state Department of Environmental Quality. "There are some small fires along the Mississippi River. Some of that smoke may be coming in too, and all of that has an effect."
He continued that the smoke from the Canadian wildfires was primarily affecting Monroe and other areas in northern Louisiana.
The orange level means the air is unhealthy to breathe for sensitive groups, such as people with respiratory diseases like asthma, as well as for the elderly.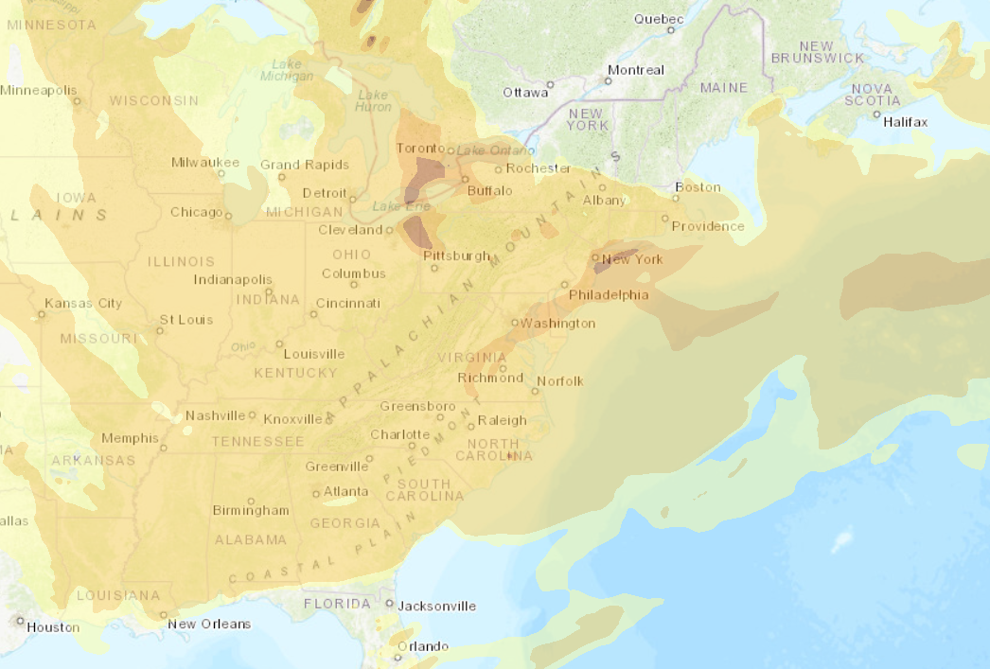 The AQI measures the amounts of ozone chemicals and particulate matter, or small particles of pollution such as smoke, that are in the air. Langley said that "ozone season" runs from the middle of May through the rest of the summer.
"As the year goes along the daylight hours are lengthy, the sunlight is much more direct," Langley said. "In the presence of sunlight is the photochemical reaction that creates ozone." 
Normally, strong winds would be able to blow away ozone chemicals, namely NOx and VOCs. However, National Weather Service meteorologists said that recent thunderstorms have succeeded in blowing only some of the ozone away.
There have also been two light fires near Baton Rouge and one east of Hattiesburg, Miss., that are contributing to particulate matter pollution. In addition to that, some particulate matter has been blown to Lake Charles from Houston.
All of Louisiana is under an air quality action day, according to the DEQ. The department urges residents not to use their grills or gas-powered lawnmowers until after 6 p.m., and to drive as little as possible to stop their cars from contributing to high ozone levels.
This would mean residents bringing their lunch with them to work or walking to get it. If residents are going to a restaurant, they're encouraged to park and go in instead of using a drive through. DEQ officials also recommend residents run multiple errands at once, and to wait until 7 p.m. to fill up their car at the gas station.
Louisiana is expected to drop back down to the yellow level, or moderate air pollution, by Friday. However, officials are not sure if conditions will improve or worsen in the near future.
"The weather system would have to change. Otherwise, we're probably going to see more ozone issues later into the week," Langley said.