Though hurricane season doesn't start until Thursday, bad weather in the Gulf and Atlantic is already gaining the attention of storm watchers.
According to the National Hurricane Center, a grouping of showers and thunderstorms in the middle of the Gulf of Mexico has a low chance of becoming a tropical depression. The system comes a week after another headed towards the east coast last week.
If a tropical depression does form, it's unlikely that Louisianans will be impacted by it. There's only a 10% chance that it will form over the next two days, and 20% chance it will form over the next seven days. No other systems are expected to form over the next seven days.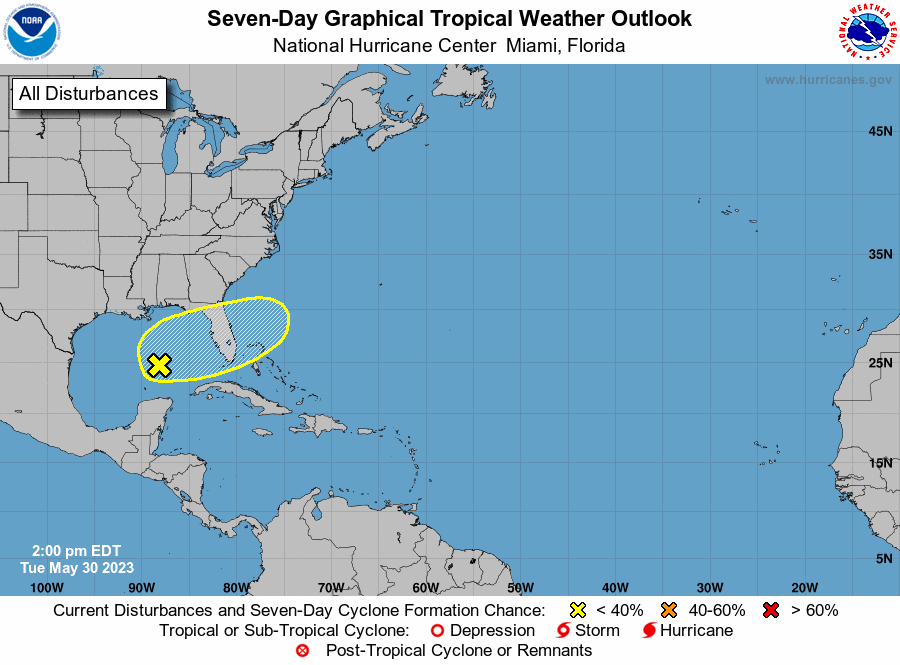 The shaded area in the above graphic is not a track, but an area of potential development for a tropical cyclone. Tracks are only made by NHC meteorologists for named storms.
NHC meteorologists say this system may form due to the thunderstorms being in an area of low pressure and having some wind patterns similar to a cyclone. However, chances for a cyclone to form are low partly because the thunderstorms and showers in the system are still disorganized.
Over the next few days, the system is expected to move east towards Florida, potentially reaching the peninsula within the next week, bringing lots of rain and wind gusts whether a depression forms or not. If it keeps this course, it will move out into the Atlantic Ocean by early next week.
That means chances are low that Louisiana will be impacted. For New Orleans, there's not much rain expected for the rest of the week, with a 20% chance of thunderstorms Thursday afternoon. This weekend, there's a slight chance for thunderstorms Saturday through Monday.
Hurricane season starts on Thursday and goes through Nov. 30. The NHC has forecast the Atlantic hurricane season to have a near-normal level of activity. On the higher end, this would include up to 17 named storms, nine hurricanes and four major storms.
In their forecast, NHC meteorologists factored in El Niño likely returning later this summer. The El Niño-Southern Oscillation Cycle is a set of weather conditions that changes how much wind shear occurs over the Atlantic and Pacific Oceans every two or so years. When El Niño conditions are present, the wind shear over the Atlantic Ocean makes it harder for hurricanes to form.