October isn't the only spooky season anymore. This Saturday, the Oddities and Curiosities Expo is bringing the weird and wonderful back to New Orleans. 
Forget the pool parties and popsicles of June for a second. Ever considered what that bunny that hopped through your backyard this morning would look like as taxidermy? Explore that and more at the expo Saturday (June 10) from 10 a.m.- 6 p.m. at the Ernest N. Morial Convention Center. 
"Our event tends to pique the curiosity of a wide range of people," said Michelle Cozzaglio, co-owner and curator of the expo. "People wander in and wonder, 'What will I find here?'" 
Michelle and her husband Tony founded the expo in 2017 to celebrate bizarre creations and talents, and have since expanded to over 150 vendors and 20 cities. "Every year is different because we're in different cities with different vendors, performers, and visitors," said Cozzaglio. 
The expo invites visitors to explore the creepier side of life. People curious about the strange and unusual have flocked to the event to view unique items from local and national vendors and to participate in off-beat experiences. 
Whether you're shopping for a friend who dabbles in the occult or looking for something oddly specific to add to your collection (a preserved ball python? Skull earrings?), you'll find items you never knew you needed. Guests can browse for animal taxidermy and specimens, antiques, vintage equipment, handcrafted sculptures and art, bones and funeral collectibles.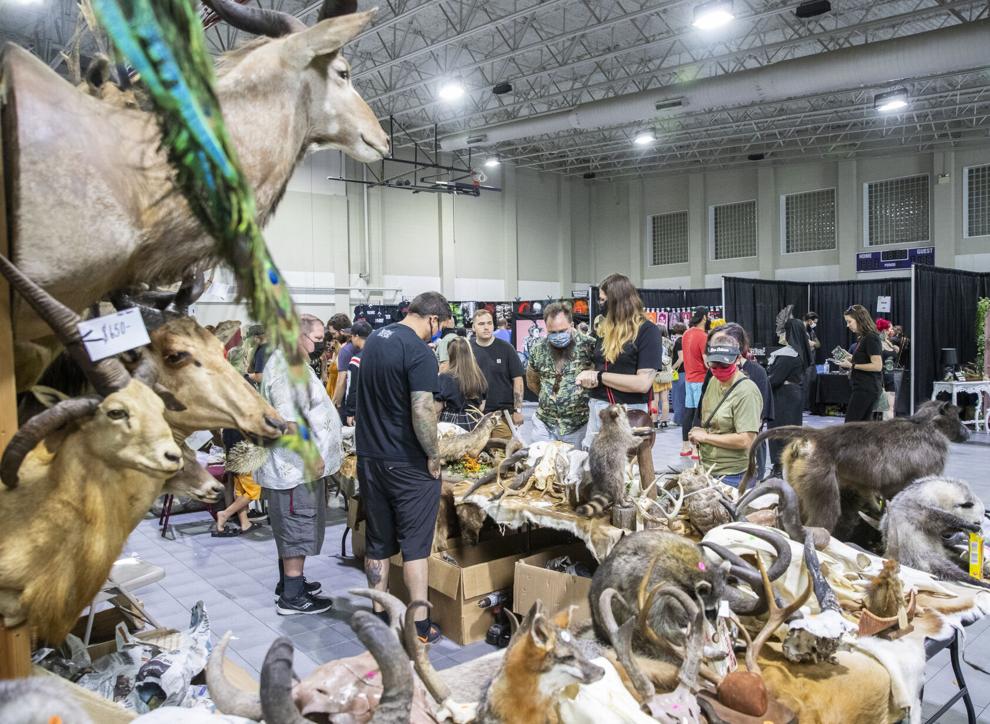 In addition to the vast array of vendors, the expo will also feature photo ops, tarot reading, sideshow performers, and concessions. This year, visitors can also purchase tickets for speciality events such as The Sleeping Sirens' taxidermy class. The class is a day-long event where students will learn to make their own full-sized rabbit mount from sustainably sourced frozen animals. 
Add-on tickets to The Oddities and Curiosities Expo's curated show, "The Cryptic Collection of a Mad Clown," are available for an additional $7. Reminiscent of a 1900s carnival sideshow, the museum attraction is filled with rare surprises you won't want to miss. 
With that being said, it's not for the squeamish. The expo comes with a "Parental Discretion Advised" warning, although the Cozzaglios work to create a family-friendly environment for all ages. 
Tickets can be purchased for $10 in advance, or $15 at the door. Children 12 and under are admitted for free. 
For more information, go to the event website.