Jeremy Patterson was at work Tuesday morning, monitoring the CB radio chatter of truckers for Patterson Structural Moving and Shoring when he got a call he never thought he'd hear.
"He said, '911, 911. Shots fired!'" Patterson said. "We don't even have that on our protocol."
One of the company's 18-wheelers had been traveling westbound down Interstate 10 near Interstate 610 at about 55 miles per hour at about 8 a.m. Two rounds, fired in quick succession from what Patterson believed was a high-powered rifle, entered the truck through the cab's rear window and exited through the driver's side window, shattering it. 
"The glass breaks out, you can hear bullets slinging by, and instantly, they floored it to go faster," Patterson said, describing the shooting.
Patterson called 911 as the driver and passenger, who asked not to be named, fled the scene fearing for their lives. Nobody was injured, but Patterson said the shooter missed the driver by mere inches. He shudders to imagine what would have happened if the fully loaded truck veered out of control as it traveled through rush-hour traffic.
"Seventy-four thousand pounds would have killed everyone around," Patterson said. "They'd still be cleaning up bodies. It would have been catastrophic."
A troubling trend continues
There have been at least 10 incidents in which someone was shot on I-10 since the start of the year. Also, there have been at least three reported interstate shootings that damaged vehicles and at least three other reports of gunfire on interstates.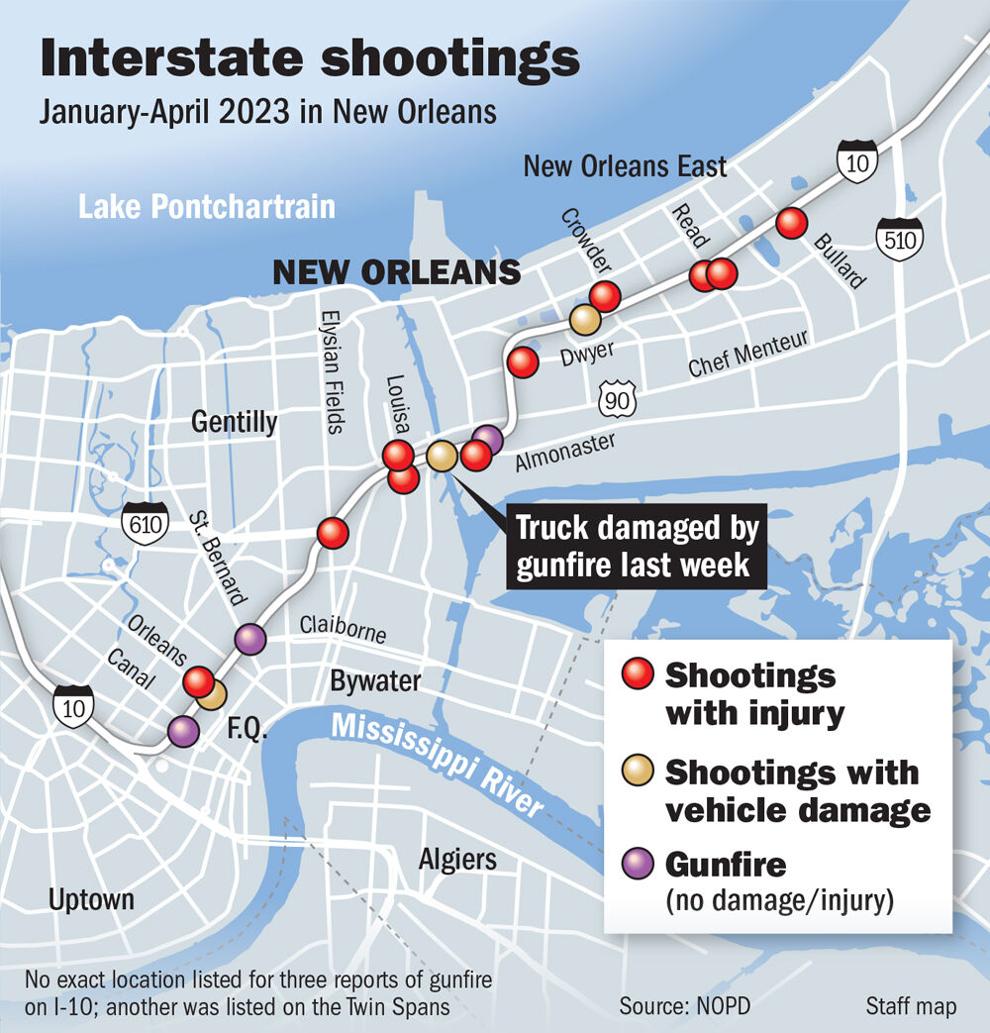 Some of the year's most disturbing violence — including a double homicide that claimed the life of social worker Andrew Stiller, and a quadruple shooting that wounded two women and two children — have taken place on interstates. The violence clusters around the Interstate 10 high-rise bridge and has engendered speculation about the presence of a serial sniper there — a theory New Orleans Police Department has repeatedly dismissed.
In the past, police have attributed interstate shootings to existing feuds, road rage that escalated or crossfire from surrounding areas.
"The department stands behind previous statements regarding possible causes for such incidents," an NOPD spokesperson said Wednesday evening.
Patterson doesn't buy any of those explanations for Tuesday's shooting. The shots were not likely to have have come from an enraged driver because the truck was traveling in the right-hand lane and the bullets entered the truck from the right.
"It had to be from a house, the woods," Patterson said. "It's not from another vehicle. There is no beef here. Zero chance it came from a vehicle or a beef."
Patterson said the precise nature of the marksmanship — the two shots, fired in close succession, were so close together they appeared to enter through the same oblong hole — makes him suspicious. A disabled firefighter and Iowa native who grew up hunting his food, Patterson said he is intimately familiar with the skill it takes to hit a target moving at 55 miles per hour not once but twice.
"To shoot two shells like that is almost impossible," he said. "It's two bullets squeezed together — boom boom — to kill somebody. In case the first shell didn't go through, the second one would.
Louisiana State Police patrols coming
District E councilman Oliver Thomas declined to comment on speculation about a sniper but said he is confident interstate shootings are more than just random gunfire.
"Interstate stuff is mysterious," he said. "A lot of these shootings are not as indiscriminate as people think. They are targeted. I think it is a symptom of a greater problem."
Thomas he'd like to see "ShotSpotter" technology deployed on interstates. The detection system uses microphones to measure sound waves and pinpoint where a gun went off. He said the city is working on launching a third reprisal of Operation Golden Eagle, which partners Louisiana State Police with NOPD to patrol high-crime areas, including interstates.
For Patterson, those reinforcements can't come soon enough. The driver who was shot at has switched to a different occupation and now stays on the North Shore, he said.
"We go over the high rise every day at 8 a.m.," Patterson said. "We're really scared."
Jeff Adelson contributed to this report.