New Orleans police said Thursday they will set up a sobriety checkpoint next week, the first such drunken driving enforcement action that the depleted agency has taken since mid-March.
The move comes as public attention has been focused on the Police Department's handling of a single-car wreck involving former U.S. Rep. Cedric Richmond, who totaled his vehicle when he crashed into a tree along North Claiborne Avenue on April 23. Richmond was not tested for intoxication even though the investigating officer said he was disoriented and slurring his words, and it was unclear what led him to hit the tree.
Mayor LaToya Cantrell has defended the department's handling of the crash, saying, "I'm not about being biased" and stressing that officers followed protocol. A Police Department spokesperson has said that officer Mark Miranda, who investigated the wreck, had no basis for testing Richmond or even asking him whether he had been drinking because Miranda did not smell alcohol on the former congressman's breath.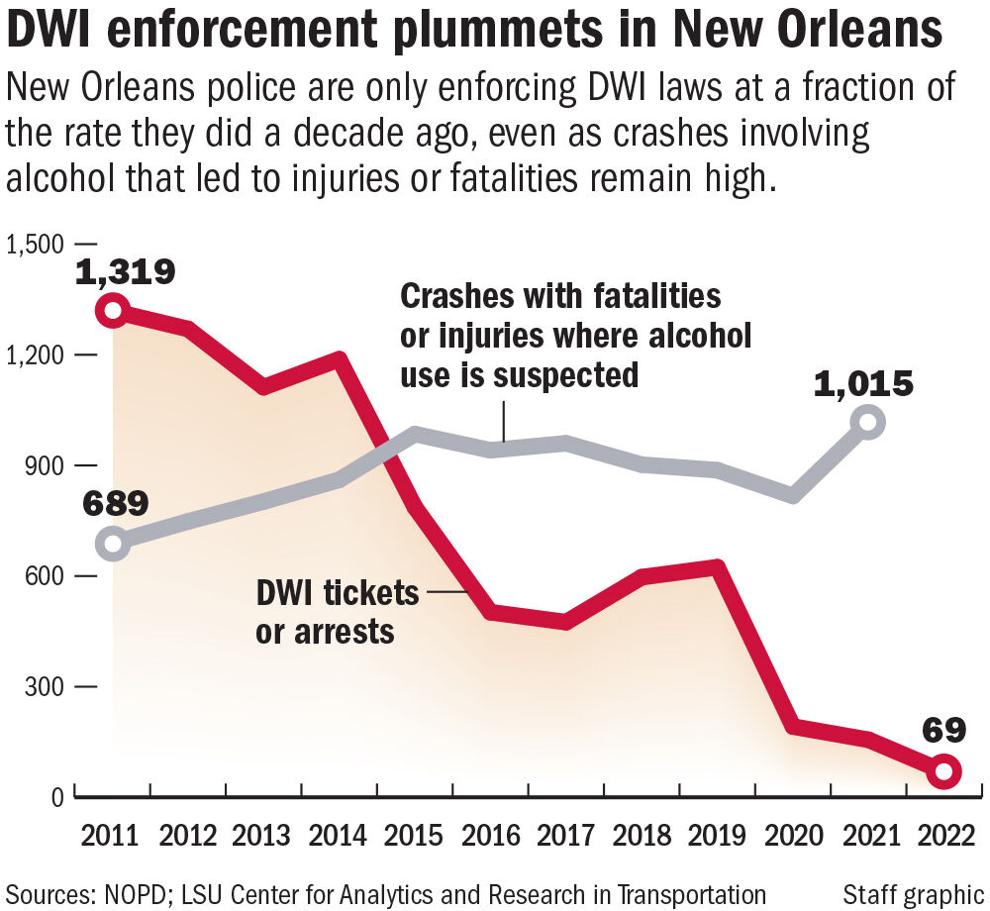 While the episode sparked speculation that Richmond received deferential treatment, it also came at a time when the Police Department has struggled to enforce DWI laws. Remarkably, citations for DWI are down by 95% since 2011, according to statistics the Police Department provided the newspaper in January. Last year, just 69 people were cited for the offense, according to those statistics.
On June 8, an NOPD spokesperson told The Times-Picayune the figures the agency provided earlier this year were incorrect and the agency had actually cited 169 drivers for DWI in 2022. The Times-Picayune has asked for corrected figures for the earlier years as well but has not yet received that information.
Statistics maintained by Louisiana indicate that alcohol is suspected as a factor in about 1,000 serious wrecks in New Orleans each year.
The checkpoint announced Thursday will begin June 15 at 9 p.m. and conclude at 5 a.m., the Police Department said. 
A decade ago, such checkpoints were set up almost weekly, but they have waned in recent years as the police ranks have thinned. The three checkpoints this year actually represents a slight uptick: The department conducted three in all of 2022, five in 2021, one in 2020 and 10 in 2019, according to a review of Police Department news releases.
Editor's note: This story was updated June 9 to include corrected information provided by the NOPD about 2022 DWI arrests. The story will be updated again when the department provides corrected information for earlier years.