As one of the largest aquatic animals at Audubon Aquarium in New Orleans, the green sea turtle King Mydas has long been a visitor favorite. King Mydas has lived at the Aquarium since 1992, meaning many generations have been able to see his growth. Today, King Mydas is estimated to be about 70 years old and weighs 265 pounds.
While King Mydas is getting older, his love for people remains strong. Hignicio Covarrubias, director of husbandry at Audubon Nature Institute, spoke to us about King Mydas and how visitors will be able to enjoy him even more with the Aquarium's renovations.
Why is King Mydas classified as a green sea turtle?
He gets his name from the green layer of fat that he has, which comes from the algae and sea grasses he eats as an adult. When the turtles are younger, they eat shrimp and meat products, but as they get older, they make a dietary switch to greens.
How would you describe King Mydas' personality?
King Mydas lives in our Gulf of Mexico exhibit, which is 450 gallons with 17-foot acrylic windows, so he has plenty of room to move around wherever he wants. But he is so curious and is always in everybody's business. He has serious FOMO. He is always in the thick of things, whether that's snooping around the other animals or swimming around to where construction was taking place to see what people are up to.
He gets fed at the same time as some of our sharks, and they get mackerel and squid, which King Mydas really likes. We feed him lettuce and vegetables, but he'll sneak around and grab the fish from the sharks if they drop something or if he thinks nobody is watching.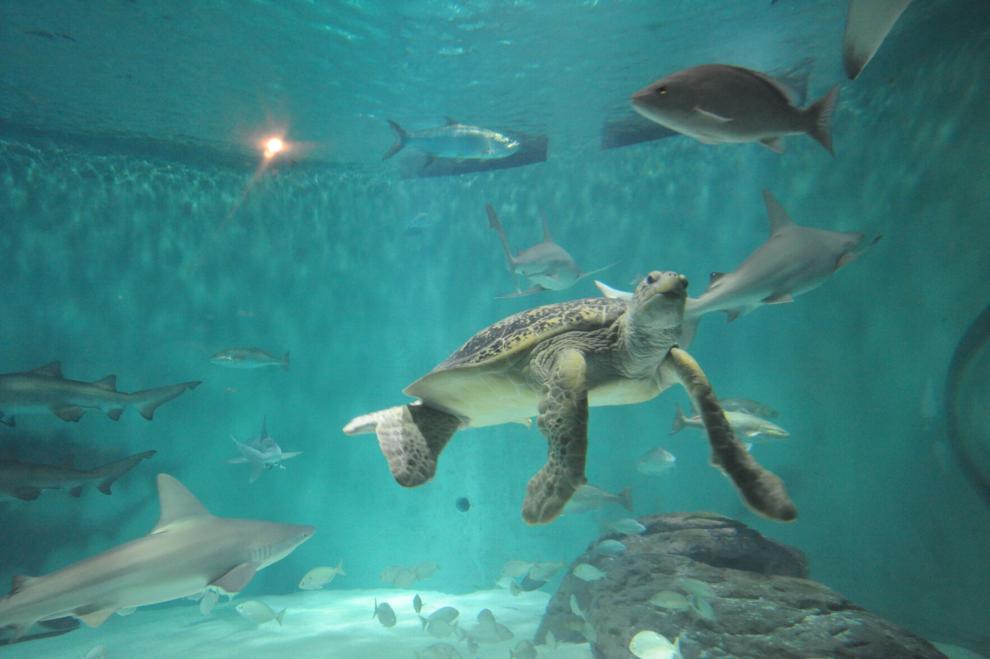 What kind of diet does King Mydas primarily eat?
He is fed every day with a lot of romaine lettuce and a bucket of vegetables. Green sea turtles are natural foragers, so we will put a head of romaine in the exhibit and let it sink to the bottom so he can go and snack on it throughout the day.
What kind of enrichment activities does the Audubon staff take part in with King Mydas?
There is a pool at the top of the Gulf exhibit where he swims to voluntarily. He is target trained, so we put a yellow disc in the water that he can swim up to and touch. He is also free to swim around all day and he is fed in different locations in the exhibit every day, so he moves around quite a bit.
It's important to us that all of our animals participate in their own care as much as possible, so we do a lot of positive reinforcement around that. One of our biggest accomplishments with King Mydas has been getting voluntary blood draws from the neck. He'll extend his neck and tolerate the needle stick. We've done a lot to make the entire annual exam much less stressful for him, so he chooses to participate and helps us out.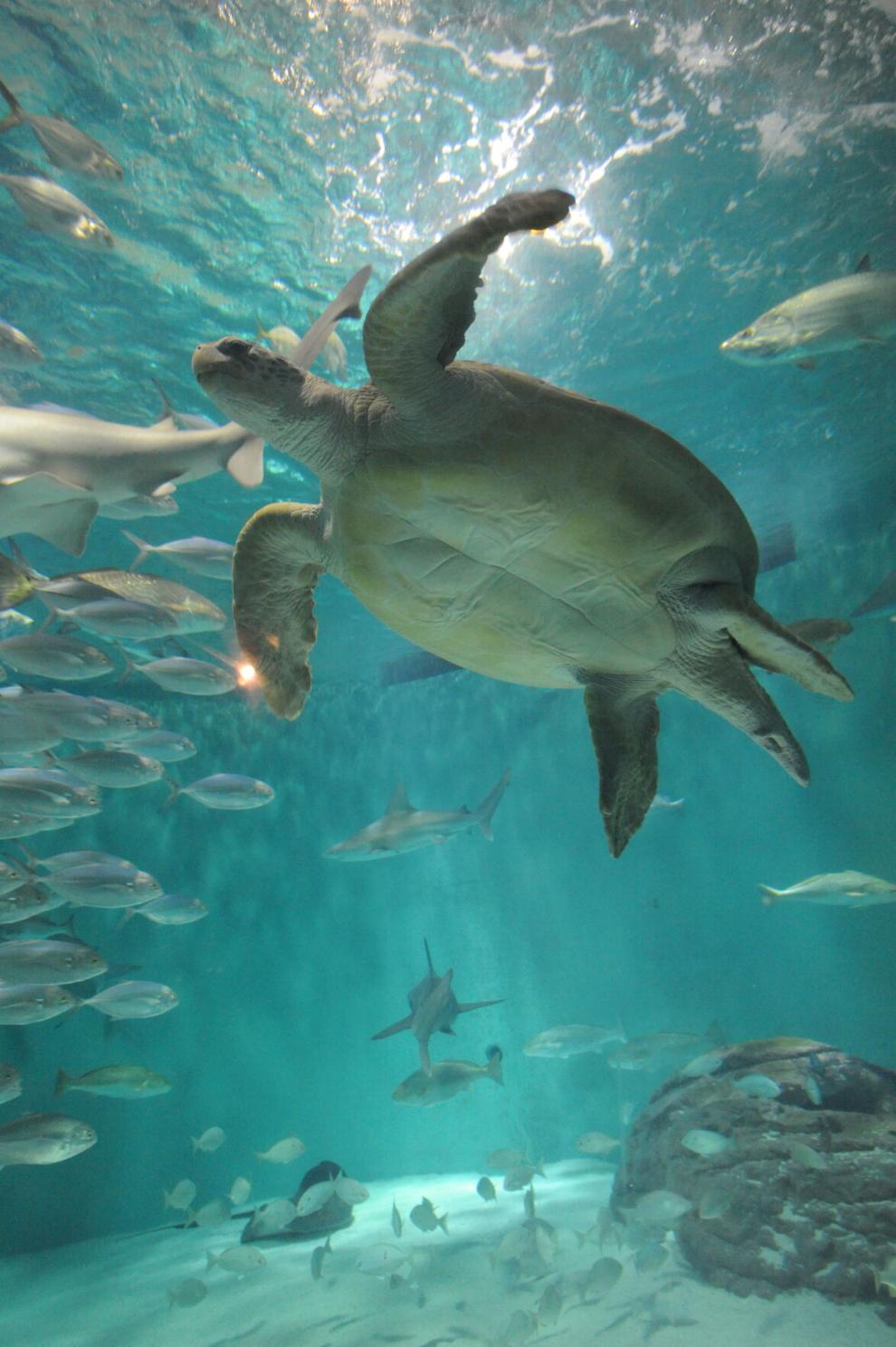 How will King Mydas be able to interact with visitors when the new Aquarium opens on June 8?
They will be able to walk up to the edge of the Gulf of Mexico exhibit and really get up close, which I think he will really love because he's so curious and loves people. He can hold his breath for a long time so they will see him a lot in the water. He's about three feet wide and about three feet long and shaped a bit like a circle, so since he is so large, people will be able to see him from multiple vantage points.
What is the status of green sea turtles in the wild and what are some of Audubon's conservation efforts in this area?
They are endangered in the wild. They often are caught in fishing nets as bycatch. Some cultures eat them and harvest their eggs, which has reduced their numbers.
Audubon Nature Institute coordinates the Coastal Wildlife Network for marine mammals and sea turtles in Louisiana. This network is the only entity in the state that is responsible for the rehabilitation of these animals. We also work with our lawmakers to participate in legislation and education about fishing grounds and ways that people can reduce their impact on sea turtle habitats.
When female sea turtles reach maturity, they migrate to a beach and spend months in nesting grounds, laying about 100 eggs in a nest. Those eggs take about two months to hatch, and those hatchlings then have to make it to the water. We do a lot to educate people about those grounds and how they can be protected. There are also items such as a turtle exclusion device that can be inserted into fishing nets and that prevent sea turtles from getting caught in them. We share a lot of information about that with fishermen to let them know what resources are available.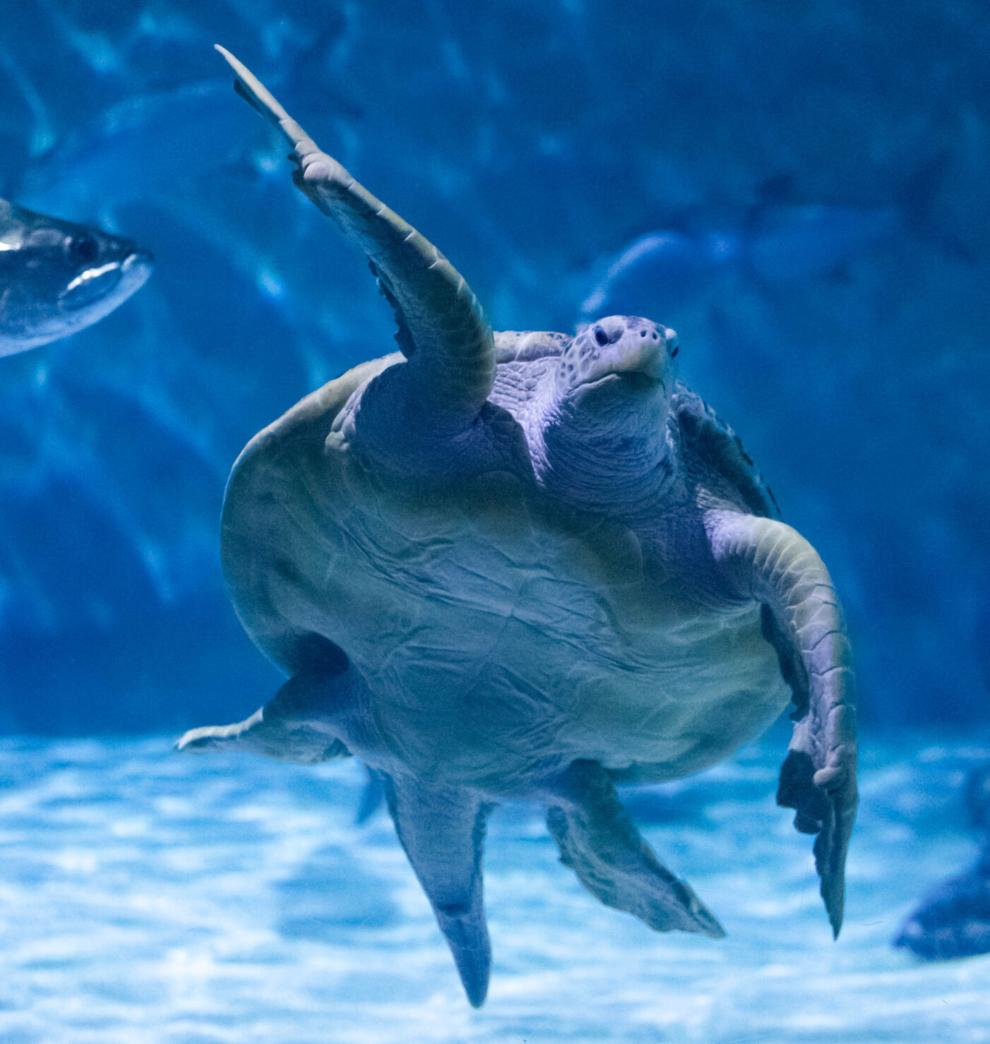 Want to visit?
This summer is the perfect time to visit King Mydas and the other animals at Audubon Aquarium. The new Aquarium will open on June 8 after being closed for the building's most expansive renovation since it opened in 1990. The project included moving Audubon Insectarium into the same building, 17,000 square feet of new exhibit space and a 2,500 square foot lobby with a large staircase and glass and living walls. Visit www.audubonwonder.com for information on tickets and planning your trip, including how you can see both new attractions and save up to $20 with a combo ticket.
The best value if you plan on visiting the Aquarium, Insectarium or Audubon Zoo more than once is to purchase an Audubon Membership. In addition to unlimited visits, Members enjoy discounts at Audubon gift shops, concessions, special events such as Zoo-To-Do and Zoo-To-Do for Kids, Zoo Camps and much more. For a full list of benefits and to find out how you can become a member, visit www.audubonmembership.com and save.