In the early 1980s, Duran Duran and MTV fueled one another's early success. Pinup worthy singer Simon Le Bon, bassist John Taylor, keyboardist Nick Rhodes, drummer Roger Taylor and guitarist Andy Taylor were perfectly tailored — Taylor-ed? — for the new visual medium.
Duran-mania approached Beatle-mania. Decades before BTS and K-pop, the Brits of Duran Duran were the poster boys of U.K.-pop.
Time is often the enemy of such pretty pop idols. Now in their 60s — LeBon, the oldest, is 64 — the members of Duran Duran have held up well. So have their songs, 19 of which they fired up Wednesday during an hour and 45 minutes onstage at the Smoothie King Center.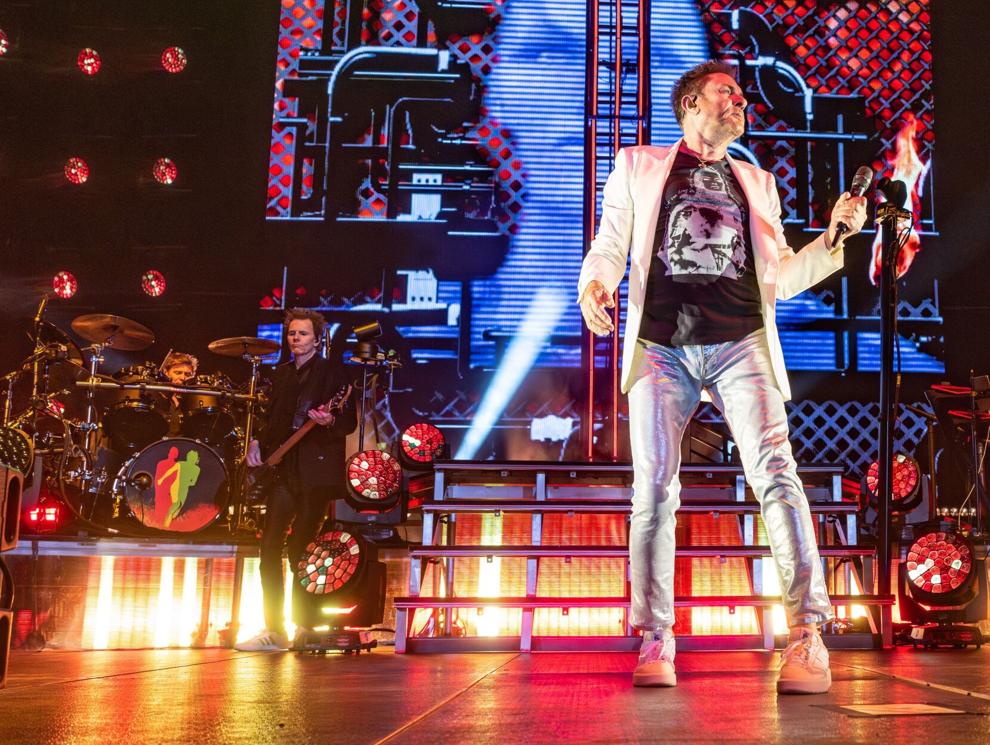 Their current Future Past Tour restores them to arenas, their natural habitat, even though they're not always full. Much of the Smoothie King Center's upper deck was empty Wednesday, even though tickets were selling for as low as $20 as showtime approached. 
On their previous visit to New Orleans, in February 2019, they spent two nights at the 2,500-capacity Fillmore. That stop wasn't part of a proper tour. After being booked at a festival in the Cayman Islands, the band padded the schedule with five additional dates, including the two at the Fillmore.
The no-frills production, on the first night at least, encompassed only a scant 15 songs and omitted "Save A Prayer," "The Reflex," "Is There Something I Should Know" and "Planet Earth," among other essential cuts.
Those hits are restored to the set on the Future Past Tour. Nostalgia hung heavy in the air as the core four musicians first appeared onstage as backlit silhouettes. Counterintuitively, they eased into the set not with a bang, but with the darker tones of "Night Boat."
That understated opening made the subsequent, percussive "The Wild Boys" pop all the more. Dom Brown, the replacement for Andy Taylor and Andy's replacement, Warren Cuccurullo, grafted brash riffs over Roger Taylor's incessant rhythm.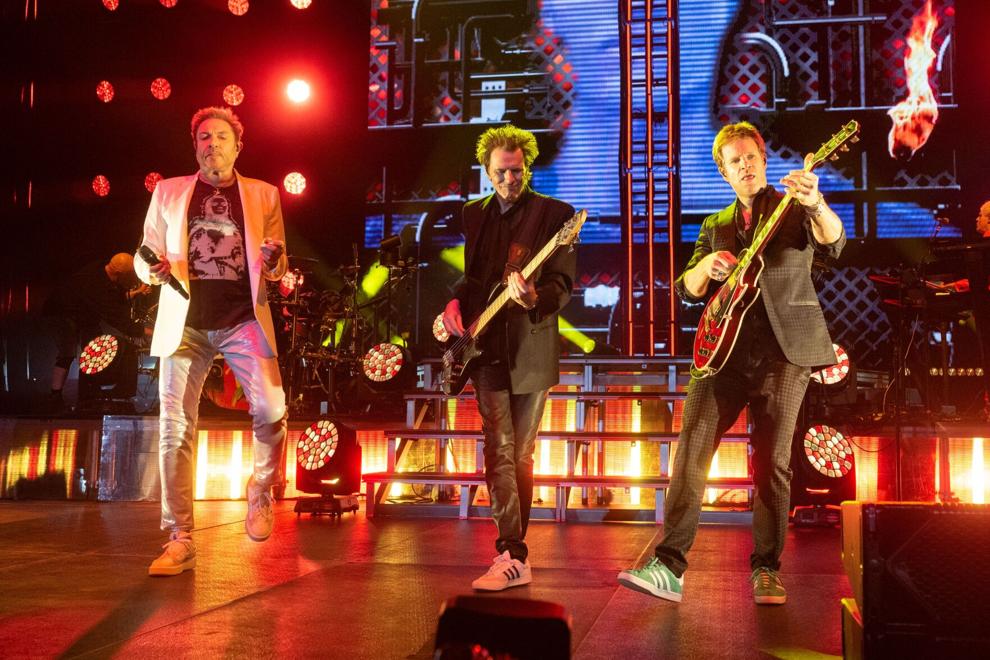 As is their habit, they dispensed with "Hungry Like the Wolf" early on. "A View to a Kill" made use of the LED screens that decorated a stage set that popped with strobes and spotlights.
John Taylor's bass anchored the funky "Notorious" as Brown replicated the funky riffs laid down on the original recording by guitarist/producer Nile Rodgers — who opened Wednesday's show with the current incarnation of his band Chic.
By "Notorious," Le Bon's voice had fully warmed up. Despite four decades as a frontman, he can still come across as awkward onstage, even as he clearly enjoys being the center of attention. He noted that this was the band's second time at the Smoothie King Center, referring to the audience as "you bunch of smoothies."
He was more well-spoken when introducing "Ordinary World," the evocative ballad that resurrected the band's career in 1993. At the time of the song's release, Le Bon said, Duran Duran "was at an all-time low. This song took us out of the darkness and into the light."
He dedicated it to the people of Ukraine, who are "suffering unspeakable terror at the hands of a tyrannical (Russian) regime. All they want is to live in peace in their own country. All they want is an ordinary world."
"Ordinary World" was spot-on. Brown faithfully recreated the soaring guitar solo originally laid down by Cuccurullo.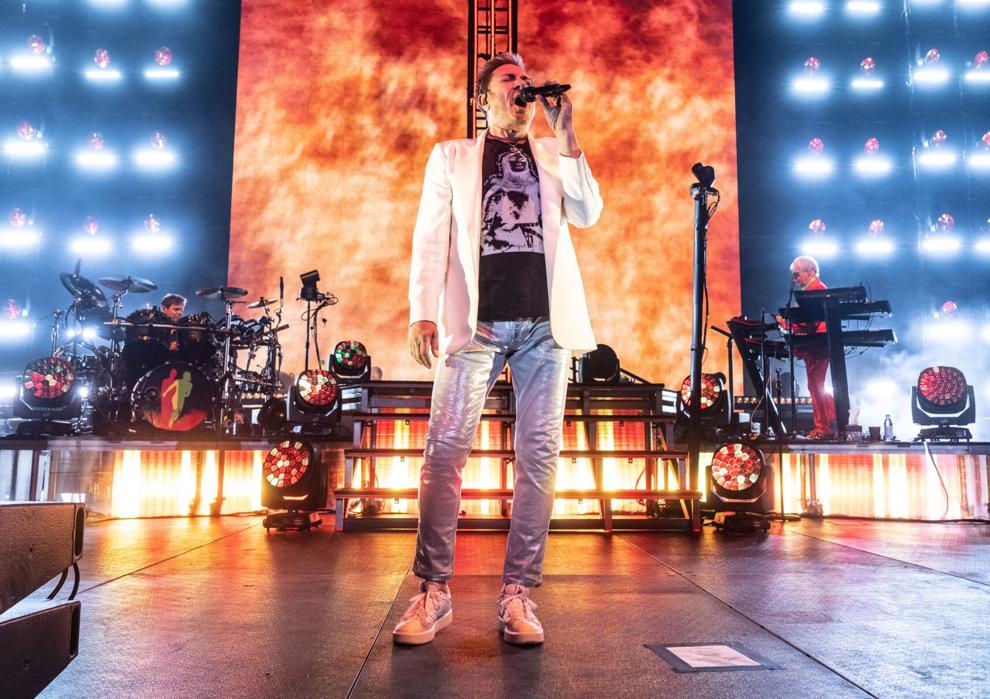 As the band is still technically touring in support of the 2021 album "Future Past," showcasing at least one song from that album was mandatory. "Give It All Up" is solid enough, though it lacks the big hooks of the classics. "Lonely In Your Nightmare," a deep cut from the landmark 1982 album "Rio," slipped into Rick James' "Super Freak."
1980s magazine covers and footage of Duran-inspired mob scenes flashed on the LED screens during "Is There Something I Should Know?" Old-school horror film clips accompanied "Friends of Mine."
The musicians mostly adhered to arrangements that fans have known for decades. They occasionally found moments to add something extra, such as Roger Taylor's big drum fill on the end of "Careless Memories."
"Come Undone," following "Ordinary World," was properly melodramatic. "Planet Earth" flashed its disco underpinnings. Energy remained high for a cover of "White Lines (Don't Do It)" and "Girls On Film."
In the encore, Le Bon requested cellphone lights "turn the Smoothie Center into the Milky Way" for "Save A Prayer." Fans obliged before a final, full-bodied "Rio" delivered one last dash of nostalgia.
The generous show had opened with British pop rock band Bastille. Nile Rodgers held down the middle slot with Chic, the disco-era funk band that is now a vehicle for showcasing his career as a hitmaking songwriter and producer.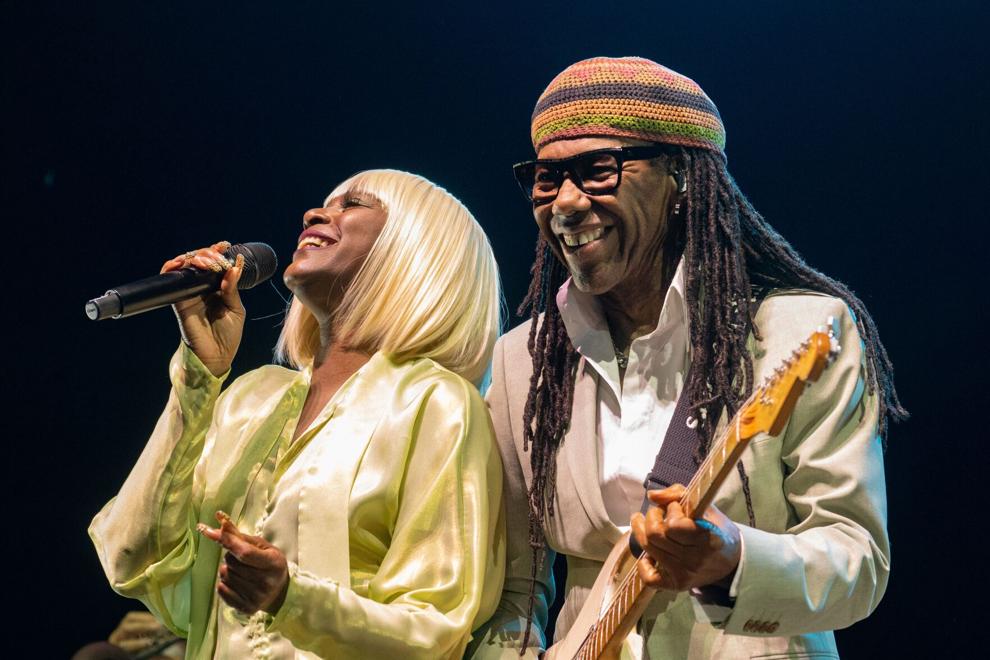 Rodgers, now 70, crafted much of the soundtrack of the 1980s, producing, writing and/or stamping his distinctive "chucking" guitar sound on hits by Diana Ross, Sister Sledge, David Bowie, Madonna and more.
After opening with "Le Freak" and a handful of Chic hits, Rodgers led a tour through his work with other artists. With most of the audience up and dancing, he segued from Ross' "I'm Coming Out" to her "Upside Down" and Sister Sledge's "We Are Family," all of which Rodgers co-wrote with late Chic bassist Bernard Edwards.
Backed by two female vocalists, trumpet, sax, drums, guitars and two keyboardists, Rodgers revisited Madonna's "Like a Virgin" and "Material Girl," which he produced. He recalled urging Madonna to name her 1984 album "Material Girl," only to be overruled when she went with "Like a Virgin."
He wrapped Bowie's "Modern Love" and "Let's Dance" around "Get Lucky," the 2013 Daft Punk smash that featured his guitar and production work. He concluded by circling back to Chic's "Good Times" and a detour into the Sugarhill Gang's "Rapper's Delight," which sampled "Good Times."
One hit that Rodgers produced and played guitar on but didn't perform with Chic on Wednesday: Duran Duran's "Notorious."
Duran Duran did it just fine by themselves.