Louisiana legislators who last year demanded answers from Gov. John Bel Edwards on whether he was complicit in a cover-up of state troopers' deadly arrest of a Black motorist have quietly abandoned their work without hearing from the governor or issuing any findings.
Lawmakers involved in the special committee probing the 2019 death of Ronald Greene offered an array of explanations, including election-year politics, concern the probe of State Police wasn't playing well with Louisiana's mostly conservative voters and even a lack of resources in the Legislature.
"We only make $17,000 a year, and as much as I want to get to the heart of the Ronald Greene matter for justice, I also want my kids to have dinner tonight," said state Rep. Tanner Magee, a Republican who chaired the bipartisan panel and ran unsuccessfully last year for a state judgeship.
"We're not the feds with unlimited resources," Magee said. "Behind the facade, it's a Mickey Mouse organization trying to do its best."
Republican House Speaker Clay Schexnayder, who launched the panel and is now running for secretary of state, said lawmakers ultimately decided to take a back seat to a U.S. Justice Department investigation that predated the committee's formation by two years. And he accused the second-term Democratic governor of declining to participate.
Edwards recently told reporters he would still be willing to testify about his handling of the Greene case but added "there wouldn't be anything new to be gained."
For Greene's mother, Mona Hardin, who last month marked the fourth anniversary of her son's May 10, 2019, death, it's another disappointment in a long wait for justice.
A state grand jury late last year brought the first charges in the case, indicting five law enforcement officers on counts ranging from negligent homicide to obstruction. But the Justice Department still has not indicated whether it will bring federal charges following a yearslong civil rights investigation. Hardin says the abandoned legislative inquiry cuts deeper because of the hope and spotlight it promised.
"No matter where you turn there's nobody who can be trusted," she said. "I'm bothered more than anything that everyone can just continue on their merry way."
Greene's death at the end of a high-speed chase in rural northeast Louisiana was shrouded in secrecy from the beginning, when troopers told grieving relatives and put in initial reports that the 49-year-old died in a car crash — an account questioned by both his family and an emergency room doctor who examined his battered body. But it would take 464 days before State Police opened an internal probe, and officials from Edwards on down refused for more than two years to release the troopers' body-camera video.
That all changed in May 2021 when The Associated Press obtained and published the footage that showed troopers stunning, punching and dragging Greene by his ankle shackles as he wailed, "I'm your brother! I'm scared! I'm scared!" It showed the heavyset Greene forced to stay face-down on the ground for nine minutes before he eventually went limp. One trooper was later captured on video admitting in a phone call to a colleague that he "beat the ever-living f--- out of him."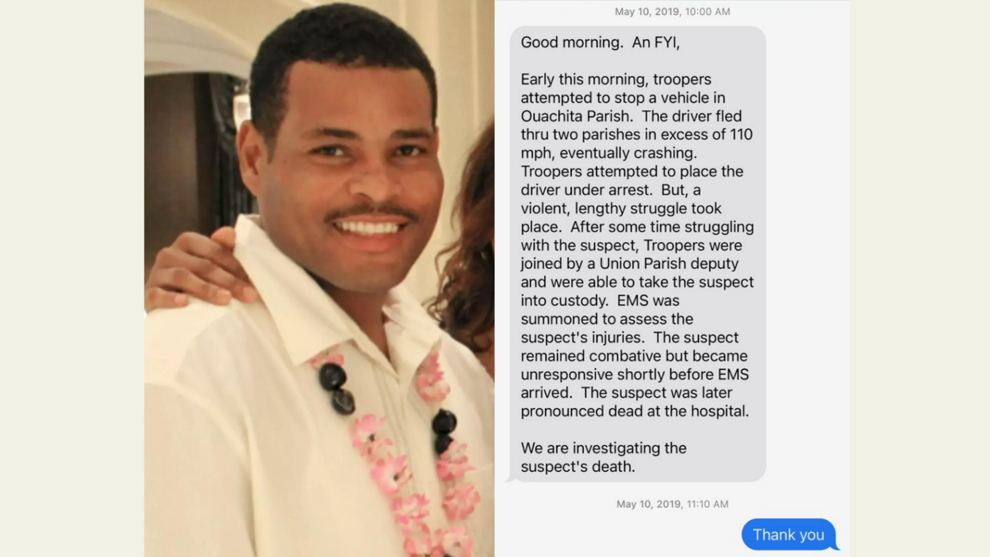 Lawmakers began looking into Edwards' role early last year after an AP investigation found he had been informed in a text from the state police within hours of Greene's death that troopers engaged in a "violent, lengthy struggle," yet the governor stayed mostly silent on the case for more than two years as the state police he oversees continued to press the car crash theory.
Another AP report found that Edwards in 2020 privately watched a key body-camera video of Greene's deadly arrest six months before state prosecutors say they knew it even existed, and neither the governor, his staff nor the state police acted urgently to get the footage into the hands of those with the power to bring charges.
Fellow Democrats on the Legislative Black Caucus berated Edwards behind closed doors over his handling of the case, and GOP leader Schexnayder invoked the language of impeachment from the outset of the probe, saying the governor's actions "would demonstrate gross misconduct."
But Edwards has repeatedly said he did nothing to influence or hinder the Greene investigation and eventually described the troopers' actions on the video as both criminal and racist. He also said there was no way he could have known that the footage he privately watched in 2020 had not already been turned over to prosecutors.
After initially dismissing the legislative inquiry as a "witch hunt," Edwards agreed to cooperate and testify. Lawmakers postponed his first scheduled testimony last June due to a special legislative session. When the committee invited the governor to testify again at its last meeting in November, it gave him only a few days notice and Edwards instead attended an out-of-town ribbon-cutting ceremony.
Since then, Edwards hasn't received another invitation, his spokesman told AP, and the committee "never made any requests for documents from us."
Schexnayder acknowledged there were no plans for the committee to meet again and he seemed resigned to move on. "Our role was to be a voice for the people who were demanding a fair and unbiased investigation of the matter," he said. "I believe that mission was accomplished."
Lost in the demise of the committee is that its handful of hearings elicited testimony that revealed several new details and expanded the ongoing criminal investigations.
A State Police supervisor told the committee he had been instructed by superiors not to turn over body-camera footage to prosecutors, the agency's own use-of-force expert described Greene's death as " torture and murder," and detectives testified they were pressured by commanders to hold off on arresting the trooper who boasted of beating Greene and was seen on body-camera video striking him in the head.
But perhaps the most significant revelation came when a state police official admitted he had "sanitized" the cellphones of former State Police Superintendent Kevin Reeves and two other top commanders who retired amid the FBI investigation of Greene's death. That testimony prompted the state's internal watchdog to subpoena information about all three officials' iCloud accounts, according to court filings. Federal authorities also examined the cellphone wiping as part of their investigation into whether State Police brass obstructed justice, according to law enforcement officials who spoke on the condition of anonymity to discuss the ongoing inquiry.
"We uncovered a lot of things the general public did not know, but there needs to be some accountability," said state Rep. C. Denise Marcelle, a Baton Rouge Democrat who served on the committee. "I don't know that we actually got to the bottom of what happened and I don't think the mother got the answers she was looking for. I think there was a cover-up, and the question becomes: Who is going to look at this any further?"
The committee's "death by legislative neglect" is especially unsettling for people of color, whose trust in the state police was shattered by Greene's death and the years of delays in anyone being held to account for it, said Silas Lee, a political analyst at Xavier University of Louisiana.
Even if Edwards escaped the limelight, Lee said, the governor can hardly claim a political victory because there are so many unanswered questions about his handling of the case.
"This isn't going to go away just because it's not happening now," he said. "This chapter may be coming to an end, but there are still a few others beyond the control and influence of state and local government."