Pitchers who throw inside, beware. If you lose control of your fastball, or if your curveball doesn't break enough, you might hit an LSU or Kentucky batter. They don't mind getting plunked. They even seek the pain in some ways, daring you by crowding the plate, and they will gladly jog to first base in exchange for the occasional bruise.
You see, LSU and Kentucky embrace getting hit by pitches, using them as one piece of broader philosophies that prioritize on-base percentage. Kentucky has been hit 130 times this season, the most in the Southeastern Conference. LSU broke a single-season school record with 126. The teams have different offensive styles, but both rank in the top 10 nationally in hit-by-pitches because they want base runners.
"Part of our approach is to win what we call the free base war," LSU coach Jay Johnson said. "We want to walk, get hit by pitches, make less errors than our opponents, advance on balls in the dirt, steal bases when it allows. If you win those categories, you'd be amazed at how little else you have to do to win the game."
This quirky statistic, then, is a subtle key to the Baton Rouge super regional that begins Saturday inside Alex Box Stadium. Kentucky was hit 22 times last weekend, including nine in a 16-6 win over Indiana. Before the potential elimination game, senior catcher Chase Stanke suggested a change to batting practice. The Wildcats turned into balls thrown at their legs during the last round. Teammates cheered whenever someone got hit.
"This is a player's idea," Kentucky coach Nick Mingione said after the game. "This is player-driven that they're going to stand in there and in batting practice they're just going to get hit. Real baseballs? Or did we do — "
"Real baseballs," sophomore outfielder Nolan McCarthy said, cutting him off.
"Come on, this is not normal," Mingione said. "This is not normal. Like I've told you, these guys are very unselfish."
The hit-by-pitches help generate offense. Kentucky has hit 51 homers, the fewest in the conference, but it applies pressure once it reaches base. The Wildcats, whose .418 on-base percentage is second in the SEC behind LSU, lead the league in stolen base attempts, steals and sacrifice bunts. Extra runners let them create stress.
"The more runners and the more traffic you have on, the harder it is for them to play defense the way they want to play it," said Justin Haire, the coach at Campbell, a school that has recently specialized in hit-by-pitches. "If you can pressure them in any way, shape or form, you certainly should. I think a big piece of offense is getting guys on and having traffic on the bases. And hit-by-pitch is just one of those areas."
Since 2017, Campbell has led the nation in hit-by-pitches in three full seasons and finished in the top 3 every year. The Camels were hit 146 times this spring, the second-most in NCAA history behind Delaware State's record 152 hit-by-pitches in 2012. With more base runners, Campbell scored 9.6 runs per game, the second-most in Division I, to reach the NCAA tournament.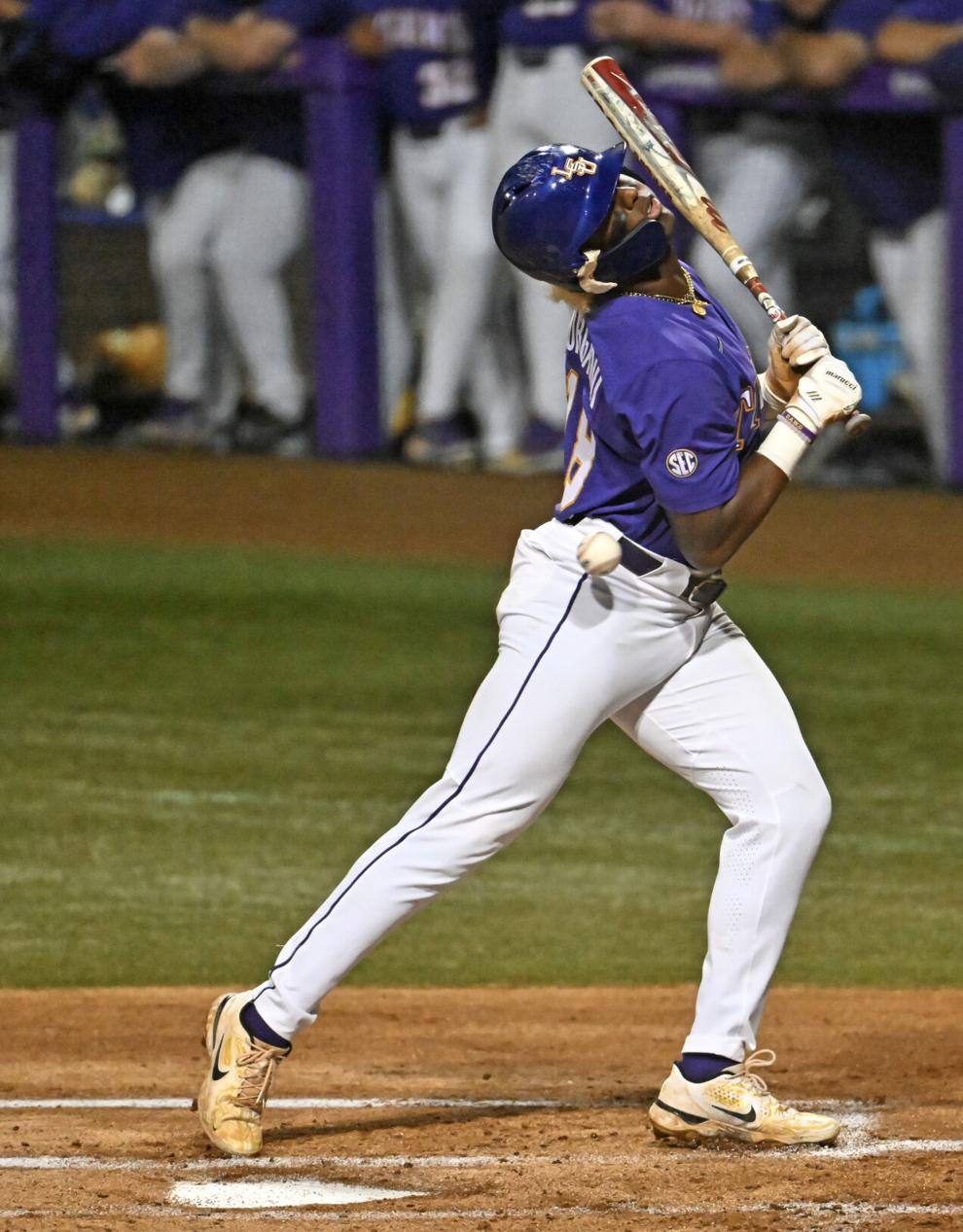 Haire learned the value of letting yourself get hit while spending seven years as an assistant to former Campbell coach Greg Goff, now the head coach at Purdue. They harped on hit-by-pitches, and when Haire became head coach in 2015, he continued the philosophy. He believes batters feel settled and have a deeper sense of ownership over the plate when they accept getting hit.
Trying to retrain natural instincts, Haire discusses proper technique so "we're getting glancing blows, and in areas that got some meat on the bones," like thighs or calves. He wants the players to think about filling the batter's box while protecting themselves, creating more surface area. Haire estimated 95% of the hit-by-pitches would plunk them anyway.
"When the pitcher makes a mistake that can cost them," Haire said, "then it's our responsibility to allow that pitch to hit us and make them have to pay for that mistake."
In practice, Campbell teaches with tennis balls and the Incrediball, a softly wound ball designed by Easton to be "sting-free." Incrediballs get mixed into batting practice. When a coach throws one inside, players are supposed to turn their upper body and not move their feet. It becomes muscle memory, and their instincts change.
"Over the course of time, it becomes part of the identity of who you are and what your team's about," Haire said. "Honestly, the teammates that have been there for a while and understand how it can change and affect your offense in a positive way, they let those guys hear about it if they're moving their feet. Now all of a sudden, it becomes the cool thing to do and the team thing to do to hold your ground."
LSU took a similar approach when Johnson arrived in 2021. He emphasized leading the nation in on-base percentage, and that meant accepting hit-by-pitches. Multiple players remembered Johnson saying he wanted to break the single-season school record. During fall practice, players have thrown Wiffle balls at each other to work on not moving their feet.
The year before Johnson was hired, LSU had been hit 69 times and had a previous season-high of 110 in 2000.
The Tigers have now been hit 251 times over the last two years.
"I think the reason we are obliterating the records is because more guys are invested in the approach of, 'Hey, I'm going to do whatever I have to do to get to first base, and I'm not going to move my feet,' " fifth-year senior second baseman Gavin Dugas said. "I think previously, some guys wanted to hit. If they saw a ball coming their way, they moved out of the way."
Seven players have been hit at least nine times this season, none more than Dugas. He has been plunked 27 times, which leads the SEC and ranks fourth in Division I. Kentucky senior outfielder Jackson Gray is second in the conference with 25 hit-by-pitches.
Before this year, Dugas had been hit 33 times over the previous two seasons. But he suspected those stemmed from Keratoconus in his left eye, a cornea condition that started his junior year and gradually worsened until he was almost legally blind.
With such distorted vision, Dugas swung at a bad pitch last fall, and Johnson told him to have his eyes checked.
"I was able to get hit by more pitches because my mind was telling me that the ball was not as close as it actually was," Dugas said. "It wasn't purposeful, getting hit in a certain way. It just happened. My body would turn."
Once Dugas had his vision corrected, he changed his stance. His feet almost rest on home plate now, baiting pitchers who throw too far inside. Those who don't go inside may give him pitches over the middle. He tries to avoid anything above the neck, especially after getting hit in the head, but he said most of them don't hurt.
"I don't try to get hit on purpose," Dugas said, "but if it's coming in my direction, I don't move."
At the beginning of every season, LSU's players receive a booklet with team goals. It says which categories they want to lead in and what they want to accomplish. One of them was on-base percentage, and with a little boost from getting plunked, LSU ranks second in the country (.438) behind Campbell.
For the Tigers, hit-by-pitches complimented a potent offense that also tops the conference in batting average, slugging percentage, hits and home runs. The Tigers have more power than Kentucky. But they both value the extra base runners and defensive stress offered by a ball to the back.
"Respect," Dugas said, grinning. "We do the same thing."