However, with the deal requiring approval of the state Bond Commission for its financing -- and implicit backing from Gov. John Bel Edwards -- the port relented and released a redacted version of the appraisal this week.
"After careful consideration and discussion and recognizing the tremendous impact this transaction has on various governmental interests, the region and the state, the port finds it important to release this redacted appraisal and welcomes the opportunity to discuss this document," Peter J. Butler Jr., the port's lawyer, wrote in a letter accompanying the appraisal.
Several experts consulted by The Times-Picayune said the appraisal appeared to rely on optimistic assumptions, helping to drive up the price.
'Phenomenally complex'
Wes Moore, whose firm conducted the appraisal after a site visit last August and other research, said in an interview Thursday that coming up with a valuation for the vast facility was "phenomenally complex."
Typically, to price a going concern like Avondale Global Gateway, as the former shipyard is now known, an appraiser would look for recent similar transactions to get a ballpark figure. But Moore said he searched high and low, domestically and overseas, and was unable to find any other transactions he thought were comparable.
Ironically, the most recent similar transaction was T. Parker Host's own purchase of the Avondale site in 2018 for $60 million. The appraisal notes that Host claims it has invested another $100 million in cleaning up the site and making other upgrades.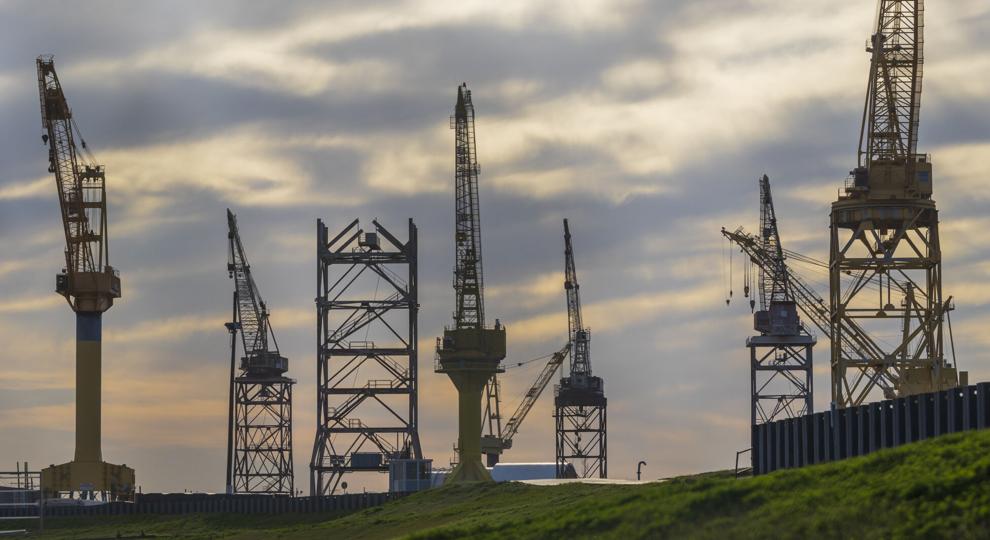 The huge growth in the price tag over such a short period is one reason industry watchers were so surprised by the deal, and why Edwards has said he is withholding support until further due diligence is done to justify the increase.
In the absence of other comparable deals, Moore relied heavily on a so-called income approach. That means he had to estimate how much revenue the facility would generate over the next eight years, subtract the forecasted expenses, and then apply an appropriate risk-weighted discount rate to come up with a "market value."
The process is highly subjective and requires a considerable amount of judgment.
'Devil is in the details'
Robert Prilmeier, a professor at Tulane's Freeman Business School who teaches MBA students how to value transactions, said, "It's 70% art and 30% science, and even that is a guess. The devil is in the details -- that is to say, in the assumptions you make."
To arrive at his $445 million price tag, Moore forecast that the facility will more than double its revenue from about $22 million at the end of this year to around $51 million in 2030. For the same period, he forecast expenses would rise much more modestly, from $8.3 million to $10.5 million. Also, it was assumed that the port would have to invest another $21.5 million, primarily to bring two additional docks into use.
Moore's assumptions would mean that net operating income would nearly triple, from about $14 million to more than $40 million. He said these conclusions were based partly on limited financial data supplied by Host, which asked that information about their current tenants be redacted, and from estimates of how port business in the region will develop.
Harold Asher, an asset valuation expert at Asher-Meyers in Metairie, said the assumptions appear very optimistic, given that Host has rented out just 25% of its space and has yet to close a deal with an anchor tenant.
"Avondale is like Andy Dalton right now, a perfectly serviceable quarterback," Asher said. "But you don't want to be paying a Patrick Mahomes price until you see how it performs, until he gets you to the Super Bowl."
As the appraisal makes clear, there are many unknowns: how the world and local economy will perform, how regional port traffic might grow, and what competitors will do. It makes the point that Port of New Orleans' proposed $1.5 billion Louisiana International Terminal in St. Bernard Parish — which recently secured $800 million in private sector investment — could well be a drag for Avondale's business.
"If ultimately funded and built, the LIT facility in Violet ... will have notable competitive advantages (superior positioning, superior accessibility, and new/state-of-the-art facility)," the appraisal notes. Still, Moore said Thursday that the LIT might also help Avondale's business.
With projections so speculative, Asher said a deal like this would typically include an "earn out" clause. That would mean the port would pay the purchase price in stages as revenue and profit targets were met. The port proposes keeping T. Parker Host on to manage Avondale if it successfully buys the facility.
Still talking
Port spokesman Micah Cormier said Thursday that an "earn out" stipulation might well factor into negotiations. "It would be unusual, but we intend to keep all options on the table at this time," he said.
James Richardson, emeritus professor of public administration at LSU and an occasional adviser to the state government, said there is also a question about the discount rate used to come up with the $445 million price. The rate is meant to reflect the risk involved for the purchaser and can make a big difference to the valuation.
Moore used a discount rate of 8.5%, which was arrived at by surveying rates typically used for real estate transactions. But if the objective was to come up with a price that a private sector buyer would pay, a rate of 10%-to-12% or higher might have been more appropriate, Richardson said. That would have lowered the valuation significantly.
Richardson said he would want to ask the port and their appraiser: "Would you have used the same estimates if a private concern was asking you to provide a market value of these properties?"
A question of taxes
Experts also had questions about the property tax assumptions in the deal. Host has a deal with the Jefferson Parish Economic Development Commission allowing the company to pay a fixed price that is significantly below the theoretical taxes another private company might pay. Host paid $100,000 a year over the last four years. That number is set to rise by $25,000 this year and each year over the next 15 years, assuming it meets employment targets.
Moore values that tax deal at $50 million -- for a theoretical private sector buyer. But that means Port of South Louisiana, which is exempt from property tax, would be including in its purchase price the value to a private sector buyer of Host's tax break.
Prilmeier, the Tulane business professor, said the correct tax value of the deal to the port is debatable, but he added that theory ultimately gives way to negotiation. "At the end of the day, what matters in determining the value is what the market would pay for it," he said.
Cormier, the port spokesman, acknowledged Thursday that the price announced last month is still under scrutiny, though he wouldn't go so far as to say it's negotiable. "We are conducting further financial analysis to ensure cash flows, which were largely the basis for the appraisal, are reliable," he said.
This story has been edited to clarify Prof. James Richardson's role vis-a-vis the La. state government.