Public health officials are warning that despite some slight case declines, Louisiana remains in the thick of one of the nastiest respiratory illness seasons in recent years, with a swarm of influenza, COVID and other viruses afflicting the state ahead of holiday travel.
Five of Louisiana's nine regions ranked "high" or "very high" for flu activity in the state's weekly report, making it the most active flu season of the last five years. 
The four regions in southeastern Louisiana — including New Orleans, Baton Rouge, the north shore and the River Parishes — were seeing fewer cases and remained mostly in the "moderate" range. The Acadiana region was among those ranking "high."
"For the past three or four weeks, we've really just been teetering up one week, down one week," said Dr. Joe Kanter, state health officer at the Louisiana Department of Health. "It's just as likely we go back up next week as we continue going down."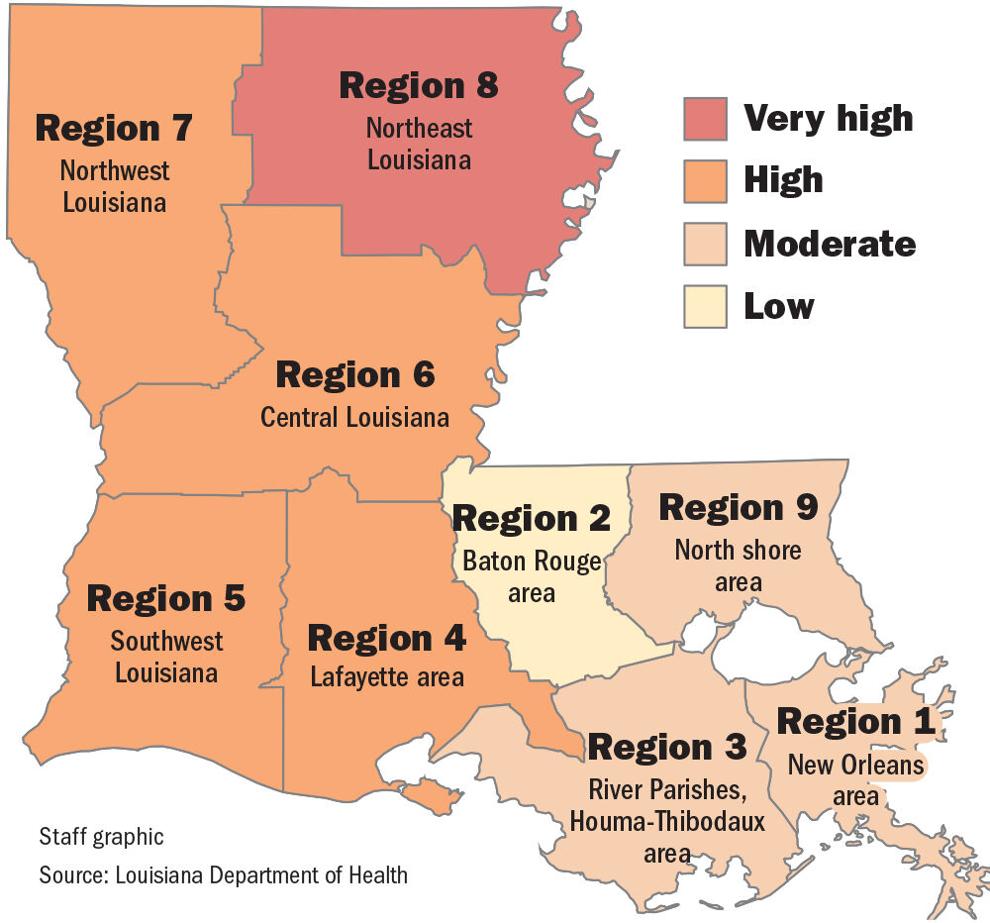 Louisiana's rate of patients coming to hospitals with flu symptoms in the first week of December was at about 8.42% compared to 7.2% nationwide. At the same time last year, patient visits in Louisiana due to flu were at 2.35%.
Of all the tests given for influenza, nearly one in five are coming back positive in Louisiana this year. Last year, it was about one in twenty.
"It's roaring all throughout the South, big time, and we're seeing a lot of it in emergency departments," said Susan Hassig, epidemiologist at Tulane University. "The virus variant of influenza that's circulating right now is notorious for making people really sick."
The dominant flu strain circulating right now is the same one that caused record-high mortality rates in the 2018 and 2019 flu season, said Hassig. The flu vaccine, which is formulated each year based on which groups of flu are most likely to cause illness, is a good match for this year's dominant strain, and Hassig encouraged vaccination to protect against any incoming surges.
Flu season typically lasts until February.
Tamiflu shortage complicates kids' recovery
Flu-like illness is by far the highest among kids, according to state data. Although the number of kids testing positive for flu is about one-third what it was in October at Children's Hospital New Orleans, physician-in-chief Dr. Mark Kline said the current level of respiratory illness is still outpacing previous years.
"The numbers are much, much higher," said Kline. "They're still higher this year than they typically are."
With cold weather finally making an appearance in the state, pushing people indoors, and the holidays bringing people together and shuffling them through airports, viruses will have an opportunity to keep circulating.
According to AAA, this holiday season is expected to be the third-busiest for travel since 2000, when the company started tracking travel volume. The number of air passengers traveling through New Orleans during Thanksgiving was up 12% this year, nearly back to pre-pandemic levels. AAA forecast a similar travel recovery for Christmas and New Year's. 
"Is that going to put some energy back into these epidemics?" said Kline. "That's the wildcard in this now."
Complicating flu recovery for kids is a national shortage of Tamiflu, the only antiviral approved for young children. Parents are calling the hospital saying they can't find a pharmacy that will fill it, said Kline.
"We've got a lot of really sick kids less than five, and now we don't have Tamiflu available for many of them," said Kline. "We seem to fail our kids every single time. Instead of children first, it's children last."
Infectious disease experts point to a couple of years without exposure to illnesses during the height of the pandemic as the reason so many viruses are surging now.
"People were sheltered between masking and social distancing," said Dr. Mark Alain Dery, chief innovation officer at Access Health Louisiana and a physician at West Jefferson Medical Center. "We didn't get our yearly dose, which primes the pump a little bit and keeps our immune system intact."
COVID creeps up
While flu is Louisiana's most prominent respiratory virus, it's not the only thing circulating. A so-called tripledemic — a collision of flu, RSV and COVID — is sweeping across the U.S.
Louisiana has felt less pressure than some states because RSV, or respiratory syncytial virus, was high in this state over the summer, said Kanter, offering some protection in the winter months. But COVID hospitalizations are creeping back up.
"It certainly looks like we're entering into another surge," said Kanter. "We've added 100 inpatients over the past two and a half weeks."
There were 255 people hospitalized with COVID in Louisiana on Wednesday, according to the most recent report. One month prior, there were 94.
An uptick in COVID is not the crisis it once was due to immunity from prior illness and vaccines, and health officials feel more prepared for an increase in illness. But if rates of other illnesses go up, it could create strains on the health care system.
"Each surge makes me more confident," said Kanter. "The question will be if our flu rates continue to increase, if RSV picks back up, will we be able to weather them all together."