The stage is lit, and the unmistakable introductory strains of "Also Sprach Zarathustra" begin.
As if Nick Perkins, wearing one of the 27 jumpsuits he calls "my superpower," needs much more stimulation.
If you're an Elvis Presley tribute artist (never say impersonator), your skin should already be tingling.
"When I hear that music, I close my eyes and there's an energy that just goes through me," said Perkins, 23, who's been channeling the king of rock 'n' roll since he was in high school. "You never know how the audience is going to react when you walk out there, but it always gives me the edge to get me going."
No matter that on this particular night, the "stage" is small and not elevated, that instead of a band and backup singers there's only a sound man equipped with music tracks, and that the setting is a suburban Mexican restaurant with perhaps 50 patrons who are chatting and eating as they watch Perkins do his thing.
"Some people come here just for the food, but they also know it's Elvis night," the Tangipahoa Parish resident said. "I'm always going to give them my best show."
'The illusion of Elvis'
There's a hold that Elvis has on folks, even approaching a half-century after his death.
Perkins likes telling the story of the moment he knew that being an Elvis tribute artist was his life calling.
He was still in high school in Independence when he played a show in a local retirement home.
"One of the ladies from the memory section told me she'd seen me in person in 1972 and I was still just as good as I was then," Perkins recalled. "She really thought I was Elvis and she'd loved me all these years.
"I realized that if I could move people like that, or at least give them the illusion of Elvis, then this is what I was meant to do."
On the other end of the age spectrum, there was the time he was 17 and booked for a private party, which turned out to be of the bachelorette variety. He found out he was expected to strip (he sang instead).
And sing he does, sometimes going through a two-hour concert of 35-40 songs from Elvis' 1970s concert years without a break.
Perkins never does the same show twice, dipping into his catalogue of around 400 songs out of the 786 that Presley recorded, and sometimes doing exclusive '50s or '60s sets.
He and his fans require authenticity. That's why, counting his jumpsuits, Perkins has an estimated $175,000 in wigs, jewelry and other Elvis apparel.
An Elvis Presley tribute artist, Nick Perkins, performed a selection of greatest hits from the "King" in a New Orleans Mexican restaurant for fans.
"You can actually wear them out," Perkins said of his custom-made jumpsuits, some of which cost $4,000.
On stage, Perkins does the expected — "Bridge Over Troubled Water," "My Way," "American Trilogy," "Suspicious Minds" and "How Great Thou Art."
But he also does the more obscure, like "The Girl of Mine," a 1973 B-side, which is the latest he's learned.
'Elvis would approve'
He puts in the moves — some from Elvis, some of his own — and perhaps unconsciously lowers his natural speaking voice to an Elvis-like cadence, although when he thanks the audience, he doesn't add, "Thank you very much." That would edge over into parody, a no-no for Elvis tribute artists. 
Perkins also throws in some non-Elvis songs, notably "Walking in Memphis," where he substitutes, "Tell me, are you a Christian, child?" with "Tell me, you an Elvis fan? Ma'am I am tonight!" to great reaction.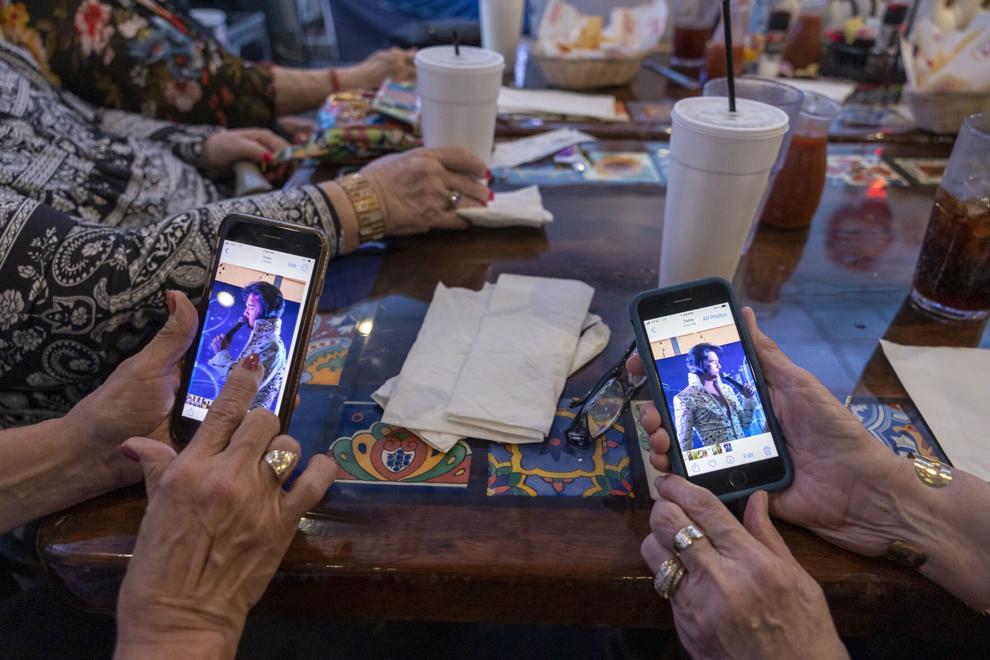 When he's done, Perkins doesn't leave the building. Instead, he chats with fans and poses for pictures for as long as someone's there.
"Nick's my man," said Carolyn Weaver, who commands a reserved front-table seat at the Slidell El Paso where Perkins performs every Wednesday. "He not only loves Elvis, but he's just so down-to-earth and humble.
"I saw Elvis twice when I was young, and Nick puts on the best shows I've seen since."
Added Sylvia Merritt, an actual fourth cousin of Elvis who discovered Perkins when she and her family pulled into the El Paso parking lot and heard the music from inside, "I think Elvis would approve."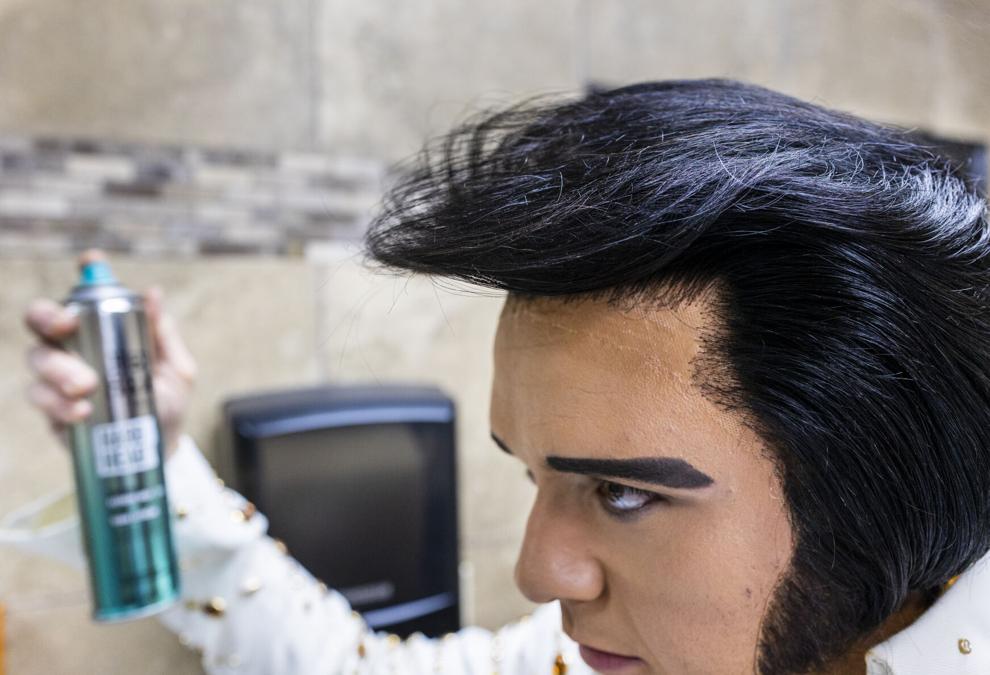 Going places
Certainly, Perkins is going places.
He started out at age 16 in a $40 jumpsuit purchased for him by his late grandmother, Phyne Guzzardo, from her card-playing winnings. He learned to play guitar from his part-time musician father and grandfather, Since then, Perkins has emerged as one of the best Elvis tribute artists out there.
Come August during Elvis Week in Memphis, Perkins will be in both the Ultimate Elvis and Tribute to the King world championships, the two top competitions in the tribute universe, thanks to winning qualifiers in Tennessee and North Carolina. He's already had previous top five finishes in both of them although professing that the contests are his least-favorite performance modes.
Dan Barrella, a veteran Elvis tribute artist who has appeared with Perkins several times emulating Frank Sinatra, can see Perkins winning one or both titles this time.
"A few years ago Nick Perkins was this chubby kid who was a little unsure of himself," Barrella said. "Since then, he's lost 40 pounds, gotten professional wigs and spent a lot of time polishing himself.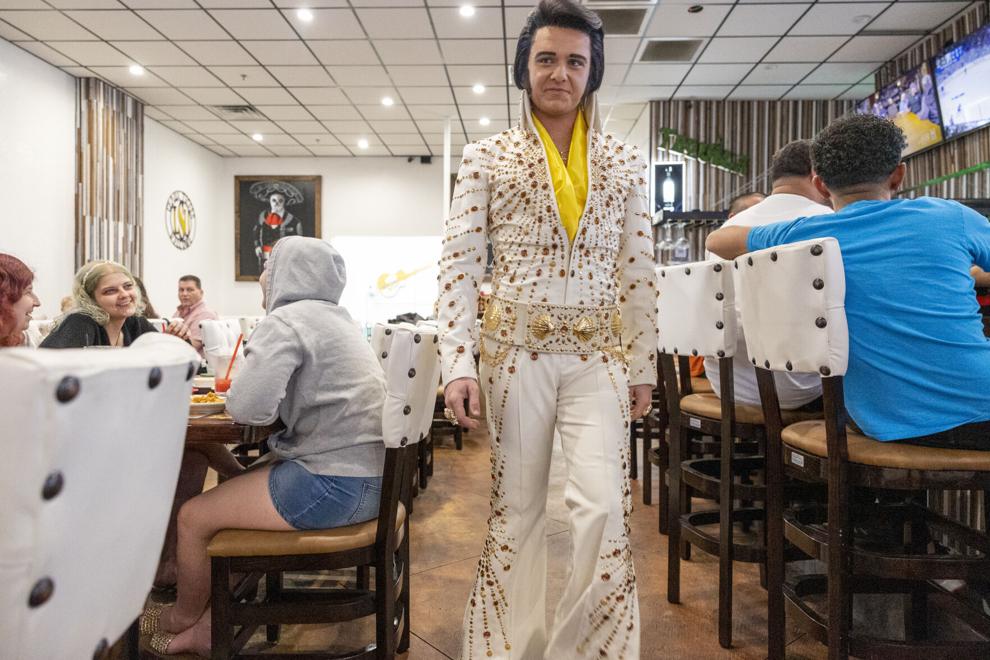 "He always had the talent, but that goofy kid has developed a great business sense."
For Perkins, Elvis Week will be bracketed by two personally-produced big events, ETMania in Hammond, June 2-4, and the Louisiana Bayou King Festival at the Clarion Hotel in Kenner, in November.
And that's on top of an impossibly busy regular schedule — upward of 280 bookings this year — which includes weekly gigs at the El Pasos in Slidell, Kenner and Denham Springs. Perkins, who will celebrate his 24th birthday at his May 24 show at the Slidell El Paso, primarily stays in the area because he prefers to return each night to his home in Independence.
Competitions can open doors
"He could probably do casino and cruise shows for a couple of weeks at a time and then come home, but Nick is making as much with his current schedule and he's having fun and is in control of his decisions," said Deborah Walls, a retired secretary and Elvis devotee who became Perkins' personal manager when he was 18. 
"Of course, winning the big competitions can open doors. But there are drawbacks to that, too because of the guarantees you have to make."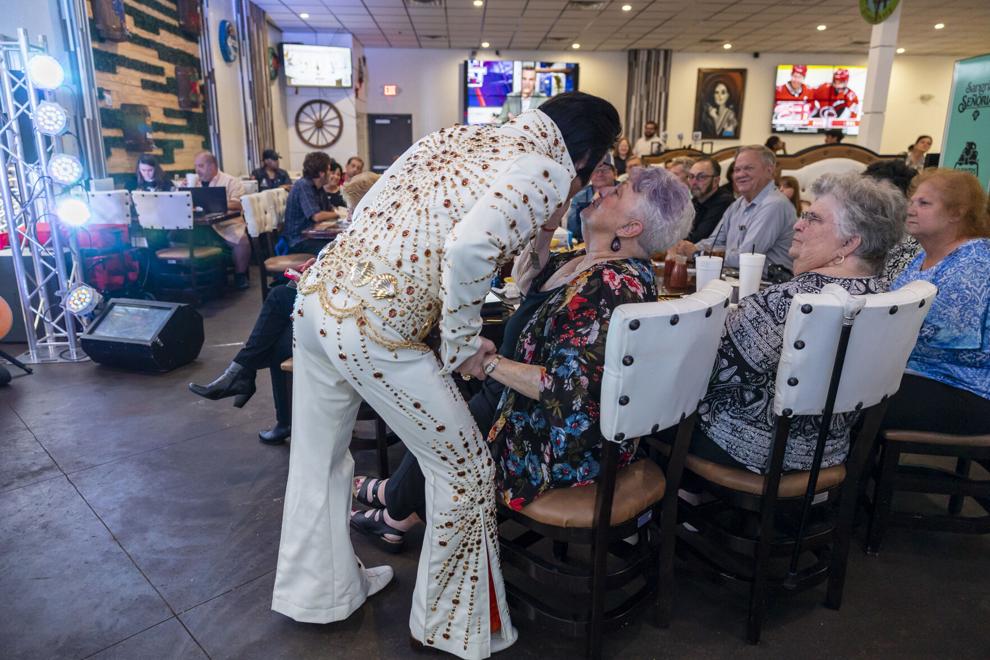 Surprisingly, for all the success he's having, Perkins doesn't see himself continuing as Elvis past age 40, instead perhaps transitioning into fronting '80s tribute bands or getting into real estate.
That would be a switch, since music is the only job Perkins has ever had with the exception of the COVID period when he delivered pizza (but never as Elvis) when bookings dried up.
But the Elvis fan base is aging, even if a movie about the King released last year created a blip of interest among younger people.
"Right now, Nick is comfortable in what he's doing and where," Walls said. 
No doubt, Elvis would approve.