NOAA is forecasting a hurricane season with a normal range of storms compared to previous years, it announced Thursday.
It predicted 12-17 named storms for the season that begins June 1 and ends November 30. That includes five to nine hurricanes and 1 to 4 major storms, or those Category 3 and above.
An average year means 14 named storms, seven hurricanes and three major hurricanes.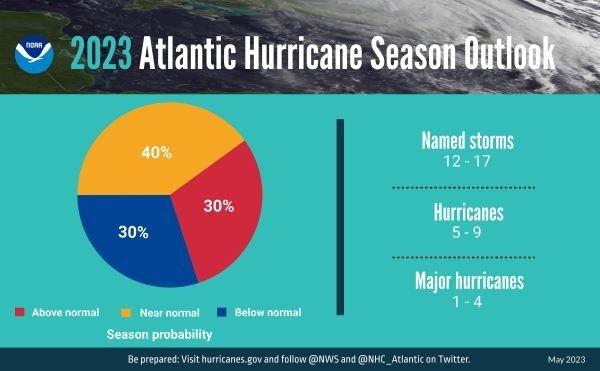 The El Nino weather pattern is one factor expected to lead to a reduced number of storms compared to recent years. El Nino causes wind shear that can suppress hurricane formation.
At the same time, there are other factors this year favorable to storms, including warmer-than-normal sea surface temperatures in the Atlantic and Caribbean. 
Those factors and others led to the forecast of a near normal season.
Louisiana was spared last season after two brutal years in a row that saw a couple of the strongest storms ever to make landfall in the state. Those included Hurricane Laura, which ravaged southwest Louisiana, and Hurricane Ida, which tore through the southeast.
But Florida was not as lucky in 2022, with powerful Hurricane Ian taking a heavy toll on the state. 
Officials are reminding residents that, no matter the forecast, preparations are key since it takes only one storm to cause enormous damage and threaten lives.
"As we saw with Hurricane Ian, it only takes one hurricane to cause widespread devastation and upend lives," said FEMA Administrator Deanne Criswell. "So regardless of the number of storms predicted this season, it is critical that everyone understand their risk and heed the warnings of state and local officials. Whether you live on the coast or further inland, hurricanes can cause serious impacts to everybody in their path."